Pregnancy insurance is a special option to regular travel medical insurance for those traveling abroad on vacation and for travel, which applies to countries around the world, including the Schengen countries and the CIS. Due to the increased risks in the insurance of pregnant women, there are many peculiarities and nuances. Not all companies can buy such insurance. Officially, this type of insurance is called «Insurance in case of complications of pregnancy» - since pregnancy itself is not a disease.
During pregnancy (if it is proceeding normally and there are no contraindications of the doctor), you can travel, but you still need to understand that there is more responsibility in this case and unforeseen costs may arise, so the choice of insurance must be taken seriously.
The content of the article
Pregnancy insurance companies
Companies periodically change insurance conditions, introduce new rules and restrictions. If you look at the reviews on the forums for insurance for pregnant women, you can see that for the same insurance users indicate different periods of pregnancy.
Therefore, just in case, check in the online chat Cherehapa or Instore about each insurance. There is very adequate technical support, which knows the answers to all questions, and will be able to help you even with an insured event (and not just before buying a policy).
Below are the main pregnancy insurance companies and their brief insurance terms.
ERV (Euro-centr)
Life hack. If you buy using the link, it will be 12% cheaper and you will be given the option "Telemedicine" as a gift. This is an online consultation with Russian doctors, you can always find out whether to go to the hospital, clarify the prescription of a Thai doctor, ask about medications, etc.. detailed instructions.
ERV insurance with a 12% discount>
This insurance offers the best conditions for pregnant women up to 31 weeks. You need an OPTIMA or OPTIMA-annual program with an insured amount of 100 thousand euros. They include risks that many insurance companies remove from contracts or severely limit the amount:
- medical expenses in case of a sudden complication of pregnancy (the entire sum insured)
- expenses for premature birth (the entire sum insured)
- for the care of newborns in case of premature birth (limit 10,000 euros)
As far as I know, no one else has care for a newborn, as well as insurance for the full amount in case of a complication. So the conditions here are very good.

Arsenal (Balt Assistance)
Insures pregnant women up to 31 weeks in case of complications and premature birth when choosing «Insurance in case of complications of pregnancy». Limitation on the sum insured in 1000 ye.
Arsenal price>
Rosgosstrakh
The company insures pregnant women up to 31 weeks. The coverage amount is 10% of the insured amount you selected when purchasing the policy. That is, if the policy is for 100 thousand ye, then complications of pregnancy and premature birth in the amount of 10 thousand ye will be covered. Be sure to select the option «Insurance in case of complications of pregnancy», otherwise it will not be in the insurance.
Price on Rossgorstrakh>
Consent (Balt)
Provides coverage for pregnant women up to 24 weeks. In this case, they work with the assistance Balt-Assistance. Program F - in case of complications during pregnancy, as well as the provision of necessary assistance in connection with the threat to the life of the mother / fetus. For any risks, the payment is not more than 5,000 euros. But, as I understand it, such insurance cannot be bought over the Internet, you need to contact the office.
Sberbank insurance (Europ Assistance)
Provides insurance for pregnant women up to 12 weeks. Cases of sudden complications with a threat to life are covered. There are no restrictions on the amount, that is, within the limits of the insured amount. Catch my LIFETRIPRU promo code for a 9% discount.
Discount price for Sberbank>
Liberty (Class)
Program B (Standard) provides coverage for pregnant women up to 12 weeks. Such a program is sold on Cherehapa. Program A, which is only on the official website, does not insure pregnant women at all. At any time, the insurance includes an emergency artificial termination of pregnancy, the need for which arose as a result of an injury to the insured, which can be recognized as an insured event.
Liberty Price>
Alpha Insurance (Savitar, Best / Class, GVA)
Alfa does not have a special maternity insurance program, but when buying regular insurance for traveling abroad, there are cases «a sudden, life-threatening complication or a documented accident with a gestational age of up to 8 weeks» - are considered insurance, by default it is included in the insurance, you do not need to select anything additionally.
Just in case, I remind you, if you haven't read this from me yet, you can buy Alpha for Schengen through the Eurotour with a big discount (for my blog), and the assistance will be better - Savitar than on the official website of Alpha. With Assistance Best / Class you can buy from Cherekhapa. On the Alpha website, there is only GVA, which is bad.
Alpha Price>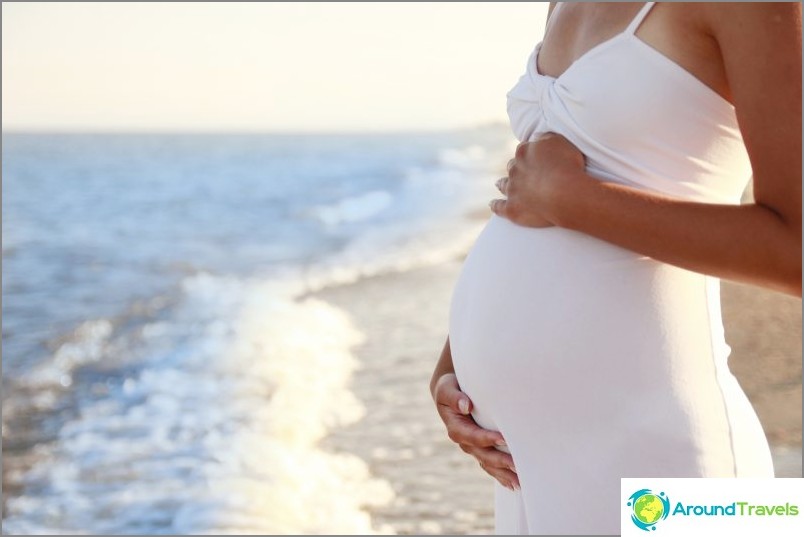 How to choose insurance
What you need to pay attention to when choosing insurance:
what stage of pregnancy should be at the start of the trip;
what stage of pregnancy should be at the end of the trip;
the maximum duration of the insurance (usually insured only for a short period);
what is the amount of the insured amount, what amount can be paid for insured events related to pregnancy;
look at the exact wording in the contract, which cases are recognized as insurance by this company, and which are not;
Of course, it will be difficult to immediately grasp the nuances of all insurance programs, given that everything is not always on the surface. Therefore, I can advise you to take as a basis my list of insurance for pregnant women..
In general, the easiest and fastest way is to use special filters in insurance buying services. Only two services provide such: Cherehapa and Instore.
After Cherehapa has given you a list of insurances for the required dates and for the required country, put a tick in front of the option «Insurance in case of complications of pregnancy». It is located at the bottom right of the page in the block «Additional options». Then choose the required number of weeks and see the results. The service will filter and show you only those insurance companies that insure pregnant women.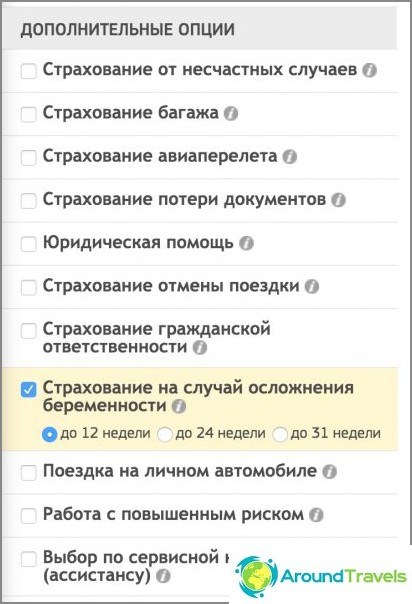 It's about the same in Instore. Under the form where you put dates, click on «Show additional options» and then indicate the presence of pregnancy: up to 12, 24 or 31 weeks.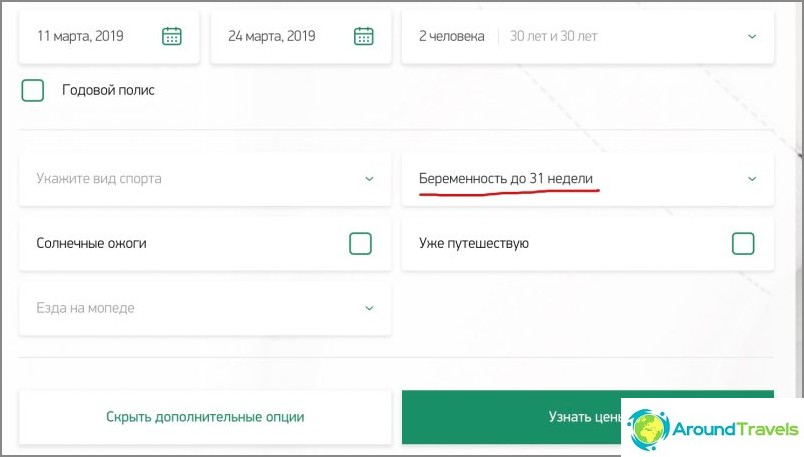 Such a mini-life hack, do not forget to try to play with insured amounts (30,000-50,000-100,000 dollars / euro), as well as a tick «Annual policy».
Pregnancy insurance problem
Regular medical travel insurance, if it does not provide insurance for pregnant women, covers all insured events provided for in the contract, except for those related to complications of pregnancy. If you are still swimming in matters of travel insurance, then be sure to look at my insurance rating. There and about all the nuances of choice it is said.
It is necessary to distinguish when going to the doctor will be part of the usual travel health insurance, and when it will be «complication of pregnancy». For example, if you go to the doctor during pregnancy because of a runny nose, regular insurance will also cover this. But this is a simple obvious example, and there are more complex cases. Therefore, so that the insurance company does not have unnecessary questions about whether your case is related to pregnancy, if there is already a pregnancy, it makes sense to make insurance that provides for this clause..
Usually companies are divided into those that insure pregnancy for periods up to 12 weeks, or up to 24 weeks, or up to 31 weeks. Russian insurance companies do not provide insurance for a longer period of time. Often, insurance companies provide insurance for pregnancy up to 12 weeks, since usually there is no risk to the life of the insured during these periods of pregnancy complications. But for long periods (and these are just more serious cases) very few companies insure.
ERV insurance with a 12% discount>
Insurance companies usually write «with a sudden complication of pregnancy», that is, it is assumed that there were no pathologies before. Some companies may ask you to provide a certificate from your doctor stating that there were no contraindications for travel and pathologies. For example, there may be contraindications to flying during pregnancy for a number of reasons. Therefore, before the trip, it is better to take such a certificate and make a copy of it, so that if something happens, send the insurance.
Most often, the insurance contract prescribes coverage of life-saving services only for women in case of complications of the course of pregnancy. At the same time, the maximum amount is often limited to $ 5,000-10,000. Anything in excess of this amount will have to be paid independently. In addition, insurers can limit the duration of the insurance to 10-14 days. The costs of childbirth and childcare after childbirth, premature birth, and termination of pregnancy are often not covered. The exception for the last two points is the risk to a woman's life. Then the costs can be paid by the insurance.
P.S. Information compiled from reading insurance contracts and traveler reviews. I would be glad if you share some more information on such insurances. If something is not clear, ask.