I wanted to go somewhere for the New Year holidays 2010, so that it was on a budget. Therefore, we decided with my wife to go to Estonia to visit relatives, or rather to Tallinn from Moscow by car. Since even a reserved seat on a train came out somewhere in 2 times more expensive than gasoline. And the car is somehow more romantic. And we had only 4 days for everything about everything.
The content of the article
Estonian visas
Visas to Estonia were easily obtained without contacting travel agencies. We went to the website of the Estonian Embassy, ​​read what documents are needed, everything is written in detail there, filled out an electronic form (they only accept these now), and then it was necessary to submit the documents and pick them up. Everything is fast enough, without any special queues, you just need to make an appointment by phone. As a result, only 35 euros per person. By the way, who will go to visit relatives or friends, now there is no need to make an invitation, just indicate the contacts of the person being visited.
And honey insurance was bought not near the embassy, ​​but in advance for 1200 rubles (my post about all the nuances of insurance). It is important to choose it so that it turns out to be working, and not buy the first one that comes along somewhere along the way.
Green card cost 2450 rubles (my post about all the nuances of the green card). The most convenient way is to order online and bring home.
Information for those who are going to travel from Moscow to Estonia - there are about visas, and about the roads, and about all sorts of other points. And about the independent receipt of a Schengen French visa, I wrote here How to get a Schengen visa.
Where to stay in Tallinn
Just in case, I picked up an apartment in the capital, you never know what. Since we were staying with relatives, they were not useful to us this time. Nevertheless, I share with you - City Heart Apartments and Estinn Apartment. Reviews are good, well located, in general you can recommend and book.
Moscow Tallinn by car, start
After reading the forums, and being afraid of the queues in Narva, we decided to go through the Kunichina Gora point (on the Estonian side of Koidul), located near the town of Pechora, and for some reason is not shown on maps on the Internet.
This was our first such long-distance road trip. We were a little worried: will the road be cleared of snow, how the car will behave, how they drive abroad, like a queue at the border on New Year's holidays. Worried in vain.
We left at 8 am on a new barn on the route: Moscow-Pustoshka-Ostrov-Palkino-Izborsk-Pechory. We didn't take maps with us, but there was a navigator with Navitel for Russia, and IGO 8 for Estonia. The detail of the maps is good, they did not let us down, in Tallinn he laid the route to the address without problems.
A good road ends with the Moscow region. The Tver region is full of potholes, and it is better to pass it before dark. The roads are so-so cleared, what the cars rolled out, that's what you go. Pleased with the names of some settlements, one of the memorable «Davydov's end».
We were at the border at 16 o'clock, we were the first, passed quickly enough. If we had filled out the declaration in advance, it would have been even faster. The border guards did not check us especially, although we didn't really have any things with us. Please note that meat and dairy products cannot be imported. There is a booth in front of Kunichina Gora, where you have to pay 150 rubles. For travel on a toll road 100 meters long. Perhaps that is why there are fewer queues at this border crossing, as most of the queue is created by cunning Estonians who come to Russia for vodka and gasoline and ride back and forth all day. These are mainly Volkswagens with large tanks. Also in this booth you can buy a green card, at the same price as in Moscow, I specifically recognized it (no more expensive as they say on the forums). Perhaps this only applies to Kunichina Gora. One more thing, before the border, it is imperative to fill a full tank, since gasoline in Estonia costs 16.5 kroons per liter (about 1 euro).
Estonia
Then Estonia began. It was decided not to exceed, and to be honest, I didn't want to. Everyone drives calmly, according to the rules, they do not cut short, literally a couple of times they overtook me. Speed ​​limits: on the highway maximum 90 km / h, in settlements 50 km / h. On the road there are cameras that show your speed in real time. I liked the roads, cleared, with good asphalt, not even on the highways. There are reflective posts on the side of the road, it is very convenient to drive in the dark.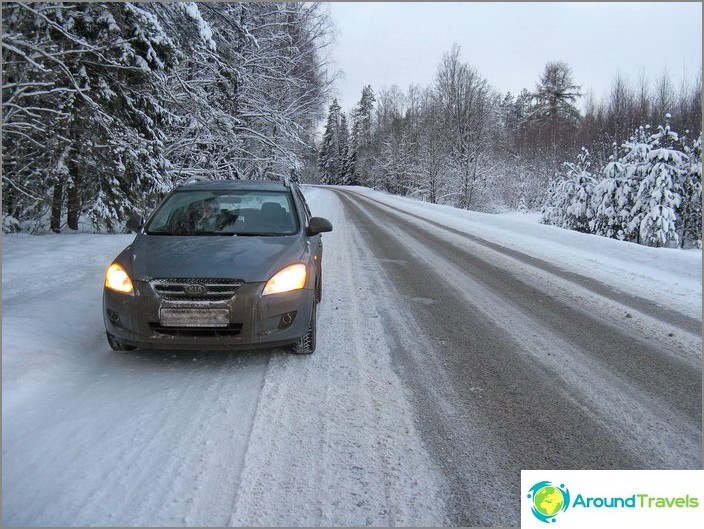 Another difference is that the villages along the road are well-groomed, there is no such devastation. We arrived in Tallinn at 22 o'clock (at 21 local time). In total, the road took 14 hours along with the border. Kilometers in Russia 770 km, in Estonia 280 km.
The next two days we walked around Tallinn. The first thing that caught my eye was a large number of shopping centers, more than in Moscow per capita. And in our Butovo there is still no sensible center. By the way, the technique there seemed to be more expensive to us, clothes and food are about the same.
Of course, we visited the old city. Very much like Europe, with its cobbled narrow streets and old buildings. But the rate of the euro to the kroon, there is extortionate. Therefore, it is best to change money in Swedenbank, there are many of them around the city. The currency of Estonia is kroons, at least for now, and the exchange rate at the bank is 1 euro = 15.6 kroons.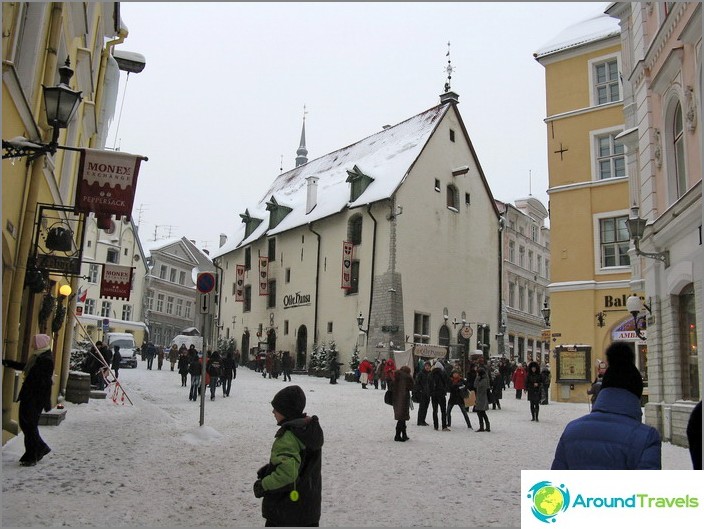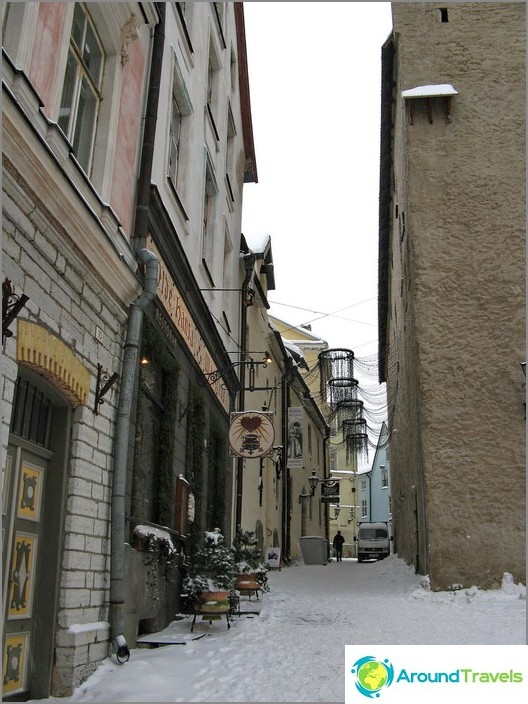 We visited the observation decks of the old city. Unfortunately, it was snowing, so only the nearest snow-covered roofs were visible. In summer, it looks more impressive, a combination of red roofs and green trees all around.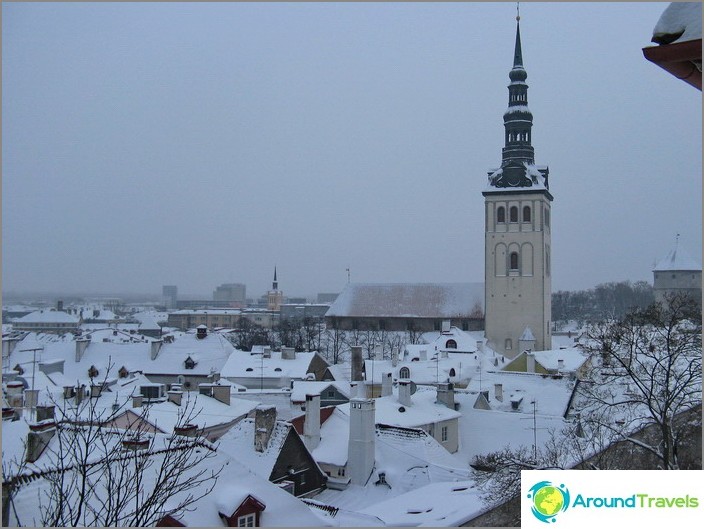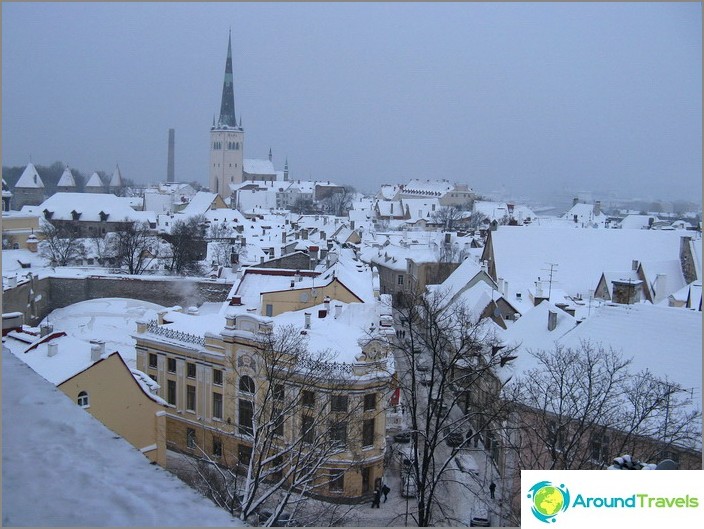 We went to American Pizza, quite inexpensive and tasty, and there is also a selection of vegetarian pizzas, which was relevant for us.
Before our arrival, there were snowfalls and the whole city was covered with snow. They clean it, of course, but somehow not willingly. Apparently so much snow is nonsense, it's winter! Many cars are covered with snow on the roof.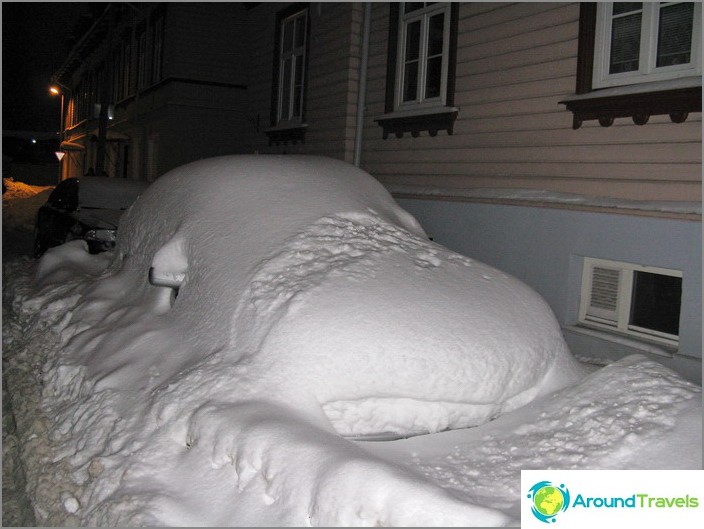 We visited Kadriorg, an analogue of Peterhof, quite such nice buildings. The private sector almost in the city center also resembles Europe, cute cottages and streets.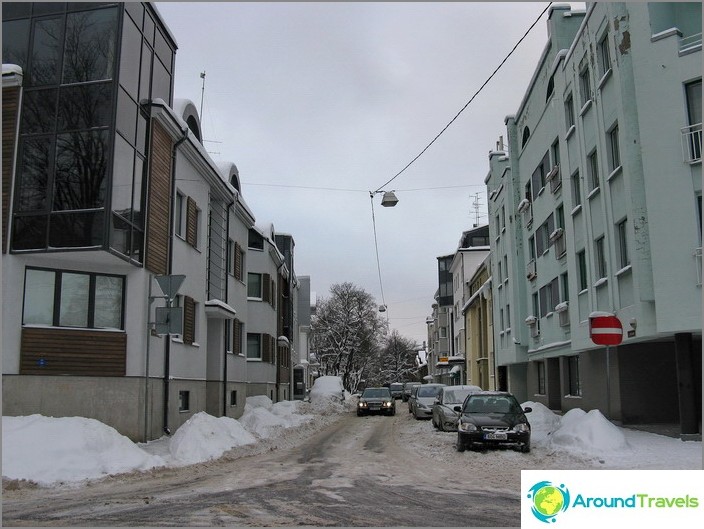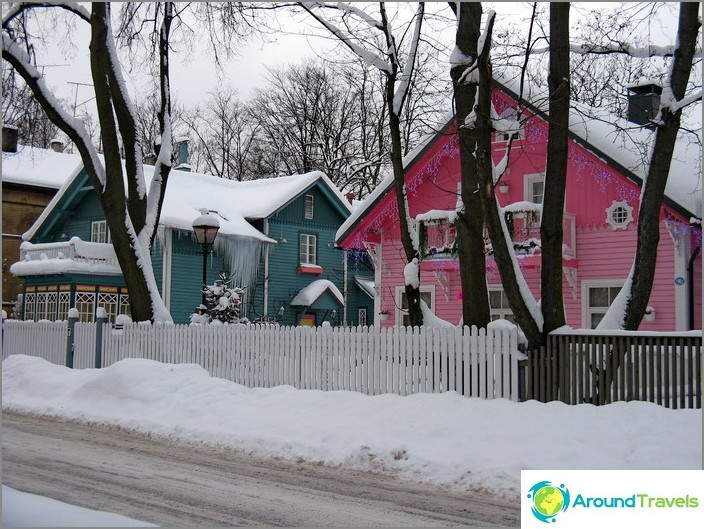 We walked along the embankment opposite the singing field (music plays there, and in the summer people perform). There are many seagulls and ducks on the embankment, but unfortunately we did not take a roll with us in order to feed these well-fed creatures..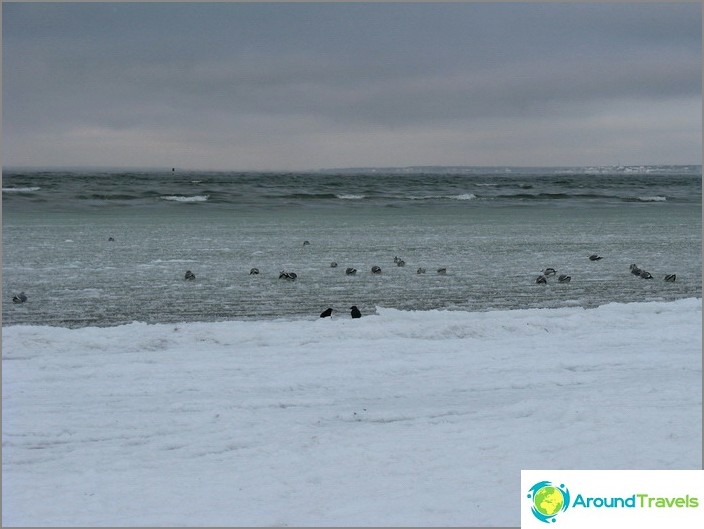 We visited the port, looked at the ships painted like Ikea. Unfortunately, we could not get on the ferry Tallinn - Helsinki, there were few days.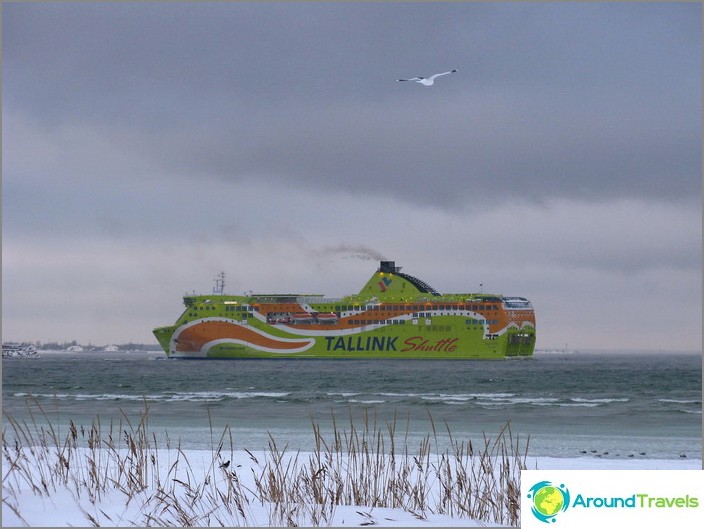 We went to Keila-Joa to the waterfall. The newlyweds come there in the summer, and the groom must carry the bride in his arms across the river with a fast current. In winter, of course, everything is slightly frozen there, but it's also beautiful. There is a space between the frozen waterfall and the stone wall, and you can go there. After we drove to Mount Hamlet, there is a lookout to the sea.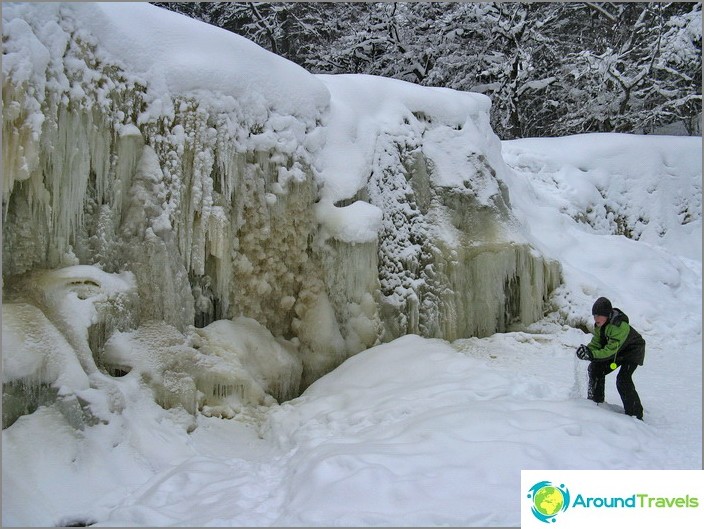 There are a lot of Russians in Estonia. As we were told, about 30%. Only once in the store did I have to speak English. Basically, only the younger generation speaks Estonian and does not know Russian. Discrimination against Russians takes place, and it is more difficult to get a job, and in life it is somewhat more difficult. But this has nothing to do with tourists. Relatives said that several years ago there were almost no beatings of Russians, and the press was silent about this.
I didn't want to go back. In Estonia, we liked it in general, it is something intermediate between Western Europe and Russia. There were even thoughts of moving there to live, because it is easier than moving, for example, to France or England, but at the same time it becomes possible to travel on the Schengen and live in a more or less civilized country. True, and there are enough minuses ...
The way back
The way back took the same amount of time, we went along the same route. All the way we discussed with my wife what is in Estonia as in Europe and what is not. However, we fully agreed that the roads and settlements in Russia make a truly depressing impression after Estonia (the Moscow region does not count), and the trip Moscow Tallinn by car was worth it 🙂
After a year driving independently in Europe by car (Czech Republic, Germany, France), I nevertheless remained unconvinced - Estonia is a cool country, no worse than its Schengen neighbors.
P.S. If you see cars with Estonian license plates at the border near the toll road barrier, then you should know that they are waiting for you. So that after you have paid for the fare, you have time to slip through while the barrier is raised.