To travel to Europe by your car, you need to take out a GreenCard insurance policy or our Green Card, which will work abroad. Green card insurance policy, in fact, is an analogue of our OSAGO (not to be confused with CASCO). That is, it saves the culprit of the accident from paying for the repair of those cars that have suffered through his fault. Nobody pays anything to the culprit of the accident in this scheme.
Collected as much information as possible on green cards in one place, from the purchase to the accident.
The content of the article
Green Card cost to Europe
The cost of the Green Card is set by the Russian Union of Auto Insurers (PCA) and it is the same for all insurance companies. PCA publishes tariffs on its website and they are freely available. They carefully monitor that the price is the same for everyone. So do not look for any promotional codes and discounts - there are none and cannot be.
For example, a Green Card for 15 days in January-February 2019 costs 2830 rubles (depending on the euro exchange rate).
The price changes every 30 days on the 15th. In the past 2018, basically the price was the whole year - 2450 rubles in 15 days, but rose to 2830 rubles.

Where can I buy
Buy a green card online in Moscow and St. Petersburg
Since you will need the original of the Green Card, you cannot travel abroad with an electronic policy. But you can buy it online with delivery to your home or office in Moscow and St. Petersburg, after all, the 21st century is already in the yard. It is much more convenient than going to the office on your own. You will save a lot of time. The price is exactly the same.
Order a green card at home>
I have already bought insurance from accredited Alpha Insurance a couple of times through polis812, and once in Liberty's office. Yes, Liberty is an intermediary, but when everything is official, what difference does it make. But I don't want to go to the office anymore, there is no point when they just bring it home.
If the trip is canceled or postponed to other dates, then the money can be returned only before the start of the policy. Polis812 returns 100% back with no problem. Accordingly, when transferring a trip, you need to return the policy and then buy it again.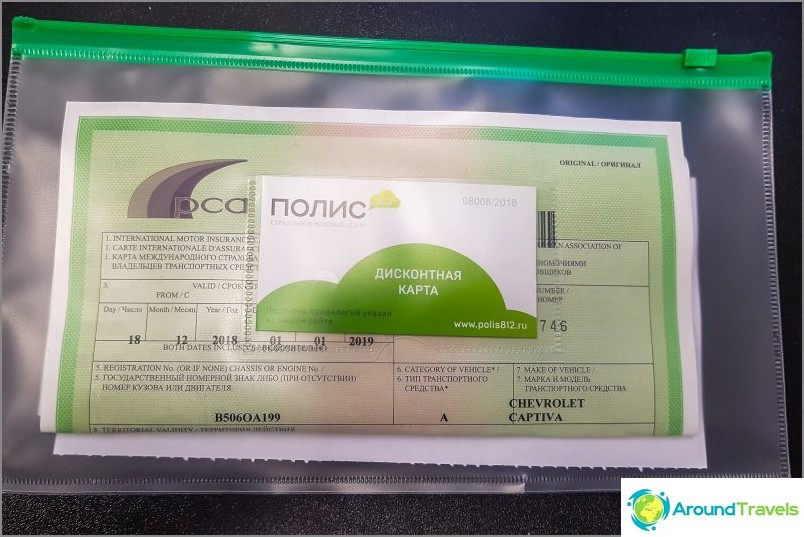 Purchase in the office in the regions
There are only 8 officially accredited insurance companies that can issue a Green Card. These are the companies that have entered the Green Card system. Some companies refused this, since the Green Card has a large liability limit. Others act on behalf of one of these 10 or sell fakes.
OJSC «AlphaInsurance» (most often everyone buys here)
JSC SK «Twenty first century»
SPAO «RESO-Garantia
PJSC SK «Rosgosstrakh»
OOO «SC «Agreement»
SAO «ERGO»
SAO «VSK»
JSC SG «Spassky gate»
You can find this list on the official PCA website.
There is no difference in which company to issue the policy. Since this is OSAGO, and not CASCO, then in case of any problems, you will not deal with your insurance, but the injured party in the accident (and since this is Europe, then, most likely, his lawyer). Therefore, it doesn't matter to you how well or poorly your insurance company is doing..
Buy insurance at the border
You can buy a Green Card at one of the points at the entrance to the border on the Russian side, spending time on this. I don't know why it is needed, but people do it. Maybe the trip was very spontaneous, that the courier with the policy could not wait, and the insurance offices were already closed. Of course, an acting Schengen visa, to go so spontaneously.
Border points are usually either mini-offices of specific insurance companies, or small points at gas stations, cafes, or minibuses parked along the road. There is a chance in this case to buy a fake than buying online or in the office. There is also a chance to purchase a policy, which later «forget» add to the database. That is, it seems like I bought the insurance, but when checking or in case of an accident, it turned out that it was not valid.
From 01.04.2014 Russian Bureau «Green map» prohibited the handwriting of policies, all policies must be drawn up on a computer and immediately entered into the database.
Why do you need Green Card insurance
If you don't want problems and hassles, immediately buy a Green Card in Russia before your trip. Or study all the nuances and prices so as not to get stuck in history.
Insurance is always asked at the border when entering Schengen. If it is not there, then you will not be allowed into the country and may even be fined. If you are traveling through Belarus to Poland, then the Belarusian border guards will not let you out of Belarus and you will have to go back to Russia to buy a green card.
To cross Belarus, you also need insurance, either their local or Russian green card. Based on the previous point, you still have to buy a Green Card.
In the absence of a green card at the border with some countries, you will be forced to buy local border insurance at a specified price. And its price is far from always low; a Green Card purchased in advance would be cheaper. For example, in Finland, such insurance will cost ~ 100-130 euros.
You will also be asked for a green card upon your return from Europe. If it has already ended, then there will be a fine. At the Polish border, they take 3700 zlotys (~ 850 euros) with payment on the spot. If there is no money, then the impound parking lot in the nearest town. The fine will be added to the cost of a tow truck (150 euros) and for each day of parking. Then you have to buy Polish border insurance, another 20 euros. Therefore, it is better to make a Green Card for all days of your stay in the EU, and not just for the first 15 days, as some do to save money. You can do this «save», which will not seem a little.
Very harmful advice: «Drove back, no insurance was asked». Yes, there are cases when you did not ask for insurance, but you risk getting 1000 euros.
Sometimes they stop in Europe to check documents. Especially if you have broken something. And in that case, they can ask and check the insurance. Of course, the probability is small, but if there is no insurance, the consequences will be unpleasant..
In the event of an accident, of course, the Green Card is simply necessary, otherwise you may have to compensate for the damage out of your pocket..
Buy green card online>
Do not forget that in order to apply for a Schengen visa, you will need travel medical insurance. I have a separate detailed post about honey insurance to Europe, read. There, and about the choice of medical insurance, and about how to save money, and about all the nuances.
What you need to know when buying a Green Card
Documents and terms of validity
Green card insurance is issued for the car and the policyholder is indicated in the policy, not the driver. That is, any person can drive the car and he does not need to be registered in the policy. It is very convenient!
In general, buying a green card is an extremely simple procedure. For this you will need:
Passport or international passport
Certificate of registration of the vehicle (or PTS).
The policy can be issued for at least 15 days, for a maximum of a year, but in monthly increments - for 1 month, for 2 months, and so on. If you are going to spend 16 days in Europe, you will have to buy a green card for a month.
The insurance is valid on exact calendar dates starting from the date indicated on the policy. That is, if you issued a policy from January 1 for 15 days, then it will be valid for exactly 15 days from January 1 to January 15, regardless of when you entered, when you left and whether you entered at all.
Which countries are included in the Green Card
The Green Card system includes 46 countries: Russia, all of Europe, Israel, Tunisia, Morocco and Iran. For Russia, there are two categories of green cards:
All countries of the system «Green map»
Cheaper category operating in the territory «Ukraine, the Republic of Belarus and the Republic of Moldova»
How to avoid getting scammed
There are several main types of green card fraud.
An agent can sell an outright fake, that is, just a well-made copy printed on a printer. A green card has degrees of protection, like a banknote, but it is difficult to check it without special equipment. Like a banknote, actually.
The agent can sell the buyer a policy for a year, and in the copy of the policy that he gives to the insurance company, indicate that the policy is for 15 days. You need to carefully check what is written on the part of the policy that remains with the insurance company.
The agent may forget to give his part of the policy to the insurance and register it in the database or do it with a delay.
Buy a green card in a verified place>
What to check at the time of purchase
When buying a Green Card, you must check 2 things:
Firstly, the insurance company from which the policy is issued must be a company from the accredited list.
And secondly, check the policy for errors, whether the registration number of the car is indicated correctly. The question often arises whether there will be problems if the transliteration of the name in the policy (as in the passport) differs from the transliteration of the name in the rights. This shouldn't be a problem..
Frequently asked Questions
How to get a Green Card earlier than 30 days
This is only necessary if the consulate requires a green card when applying for a Schengen visa. Doesn't happen often. The easiest way is to buy for a longer period than necessary, apply for a visa, and then return it with a full refund before the start of the policy. Then buy again already on the required dates.
Read my post with all the ways, How to solve this problem.
Is it possible to buy a Green Card already abroad
NO.
Buying a Green Card in another country is illegal. By agreement, Green Card policies in all countries where this system operates are issued only for cars registered in that country. Accordingly, in another country it is illegal to buy a green card for a car registered in Russia.
What is border insurance
Frontier Insurance is not a Green Card, although somewhere on the Internet, unknowingly, it may be called that. Such insurance is bought at the border of the country of entry. Unlike a green card, it will be valid only in some Schengen or EU countries, or even only in one country. The conditions will need to be clarified for each insurance / country.
Read my post, how to save money by buying border insurance.
To travel abroad from Russia, you still have to buy a Russian green card, at least for 15 days. After all, the Belarusian border guards will not let you go to Poland without a Green Card. And then it will already be possible to buy «border insurance». By the way, the Russian green card is also valid in Belarus, so there will be no need to buy separate insurance for Belarus..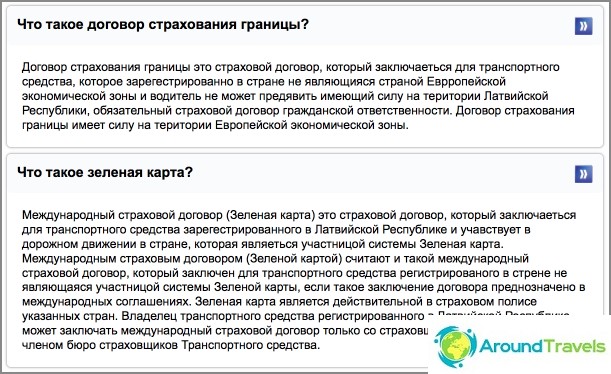 Is it possible to renew the Green Card
NO.
What if the insurance is over and business forces you to stay in Europe? In fact, solving this question is not a trivial task. In fact, there are only 2 options:
Buy border insurance
Ask your friends in Russia to go to the insurance office and then send it to you via DHL.
I do not consider the option to let everything take its course. Riding with a printed copy, not the original, is not an idea. Alternatively, make an agreement in social networks or on a forum with someone who will fly to your area. But IMHO it is much more difficult than sending via DHL or other transport companies.
What to do in case of an accident
A green card is an analogue of our OSAGO, the injured party receives money from the insured party responsible for the accident. And as in any similar situation, the insurance company is looking for ways not to pay or reduce insurance payments. What should be done to increase the likelihood of receiving money from insurance.
Together with the rest of the participants in the accident, you must fill out the Accident statement - the European form of notification of an accident. It can be either with the second participant in the accident, if he is a European, or with someone from the eyewitnesses. Or you can find it at a gas station or at a roadside cafe. Here or here there is this form in Russian and English and the rules for filling out.

Before signing it, you must make sure that everything is clearly understood..

The main difference between an accident in Europe and an accident in Russia is that the police do not come if the damage is not significant and everything is clear from the perpetrators of the accident. For European insurance companies, this form, completed and signed by both participants, is sufficient. But in the event that both participants in the accident are from Russia and, accordingly, have to contact the Russian insurance company, it is better to go to the police and ask them to certify this form with a seal.
Take contacts from all participants in the accident, from eyewitnesses, from the police, if she was called. The insurance company may require some information, and it would be good if you have a phone to call them from Russia and collect the necessary information.
The perpetrator of the accident must call his insurance company and inform them of the accident. You can call the information center of the Russian Insurance Society (RSA) at tel. +7 (495) 641 27 87 and to the foreign bureau Green card (the phone number is on the back of the policy). According to reviews, PCA does not help in such a situation, although it should, but the foreign bureau of the Green Card can help.

If you do not have a common language with the second participant in the accident and / or the police, or have any difficulties and questions, you can call the Russian consulate of the country in which you are.
P.S. I will be glad to your comments and good luck on the road!