I can't help but write my own review about Railay Peninsula in Krabi province. It is for his sake that many come to Krabi, and in particular to Aonang (from there, the closest to the peninsula). Naturally, we are not talking about winterers, but about those who are for a couple of weeks. However, winterers also come there quite often, because the beaches there are excellent, and it takes only 10 minutes to sail by boat..
We drove on Railay while lived in Aonang for 2 months. A good place for wintering, I still remember fondly. By the way, if you rent a house in Krabi, I remind you that we have personally assembled catalog of houses in Krabi, where more than 70 houses with a map and a photo. Housing for a short period, while you are looking for a house, you can book through RoomGuru, this is the most convenient service.
The content of the article
What is Reilly
Railay is a peninsula (not an island) located in Krabi province near Aonang. It is also sometimes called Railay, Rayleigh, Riley, Riley or Raleigh, since it is written in English Railay and everyone pronounces it as it happens. It is correct to say Riley, well, but Reilly is more familiar, for some reason everyone writes like that everywhere ...
So Railay is the name of two beaches on this peninsula, East Railay Beach and West Railay Beach. The peninsula, one might say, is a cult place, people come here from all over the world, since the beaches here are considered very good and are included in some TOPs. There is also a mecca for rock climbers, because one of the Ton Sai beaches is very well suited for this activity..
In general, many come here for 1-2 weeks to stay away from civilization, because there is almost no civilization here. A number of cafes, bungalow hotels, that's all. Well, and amazing nature, of course. Beautiful so that you want to swear.
My impressions
Of course, I liked Riley. There really are good beaches and the ebb tide is not so felt. Indeed, on the same Aonangovsky beach, even a small low tide makes the sea quite shallow. It is good for children to splash, but it is difficult for an adult to swim. And what stunning nature on Railay is, the rocks around, the turquoise sea, peace and tranquility, such a small tropical paradise.
On the other hand, I like beaches, and on Samui, and on Phuket, and even in Hua hin. Everywhere is good in its own way and each place has its own advantages. In the case of Reilly, this is the place for short-term rest, but not for living or wintering. Although, probably, someone will be able to live in a bungalow for several months, but this rather again concerns rest, when nothing else is needed.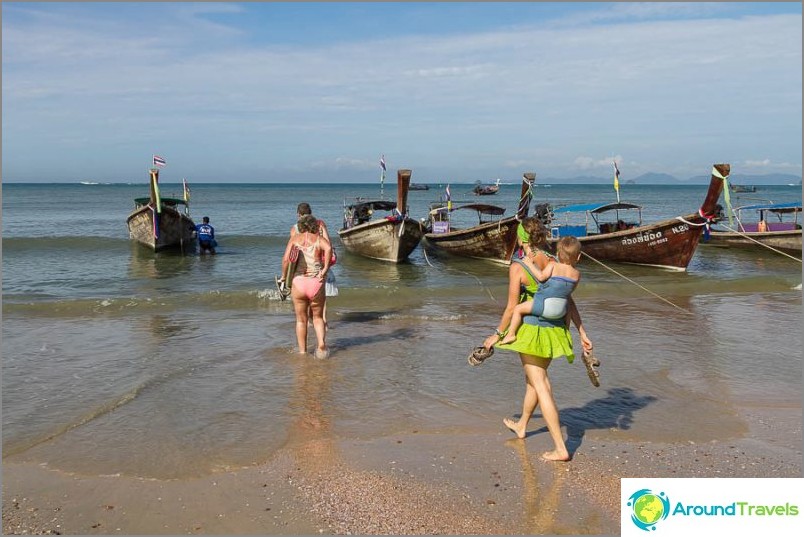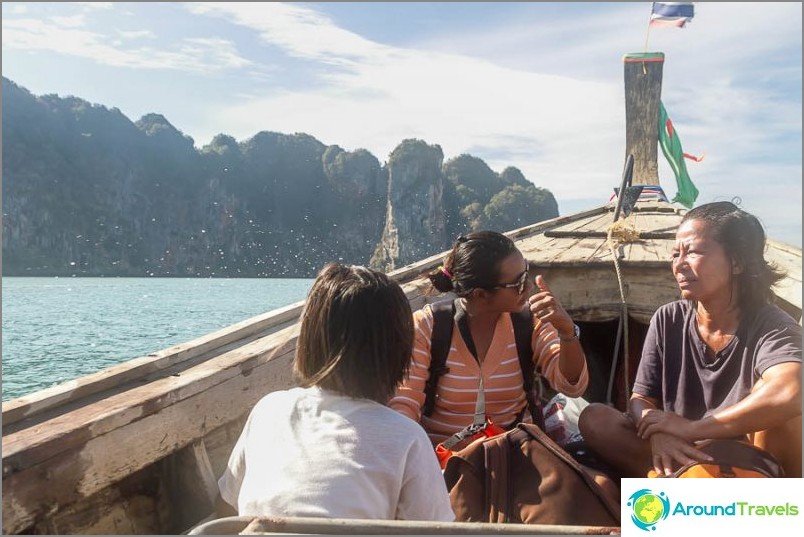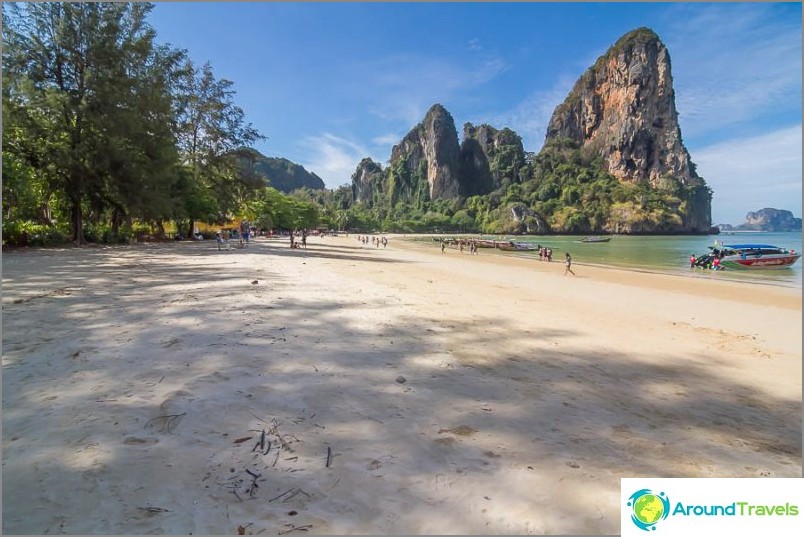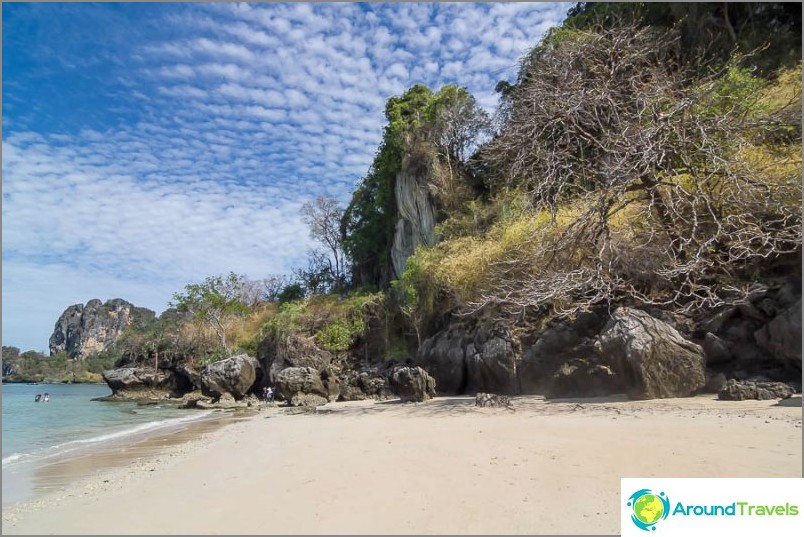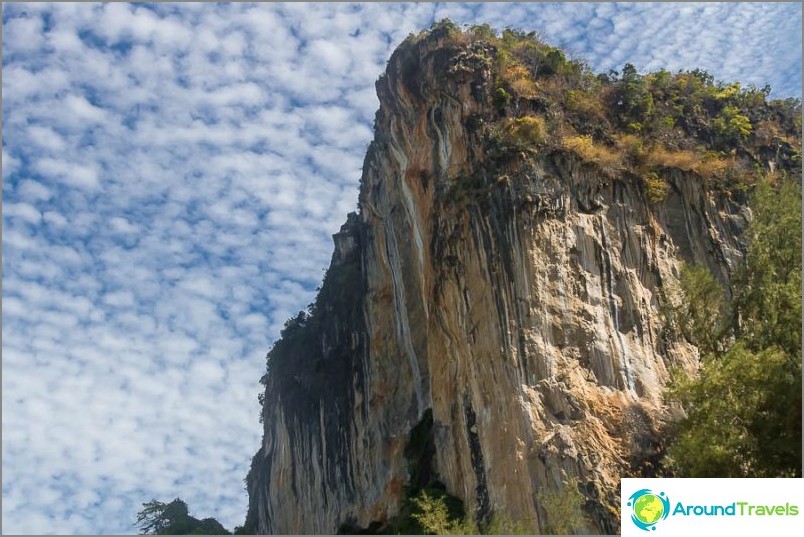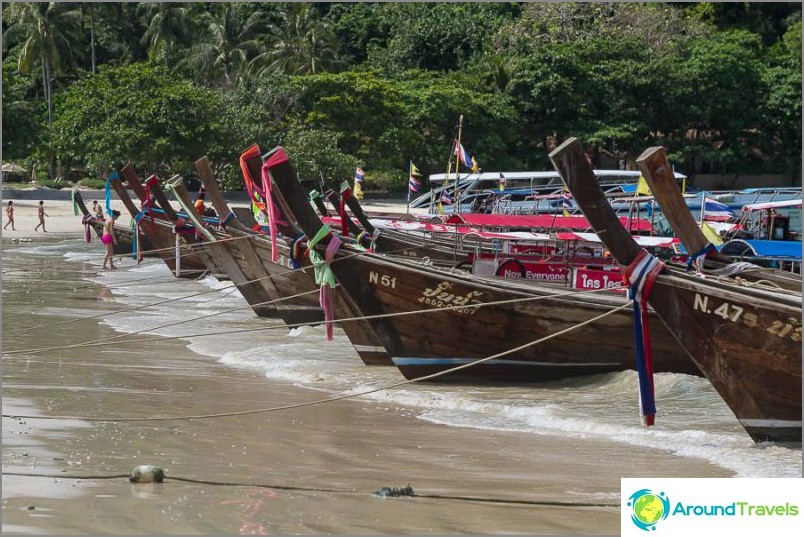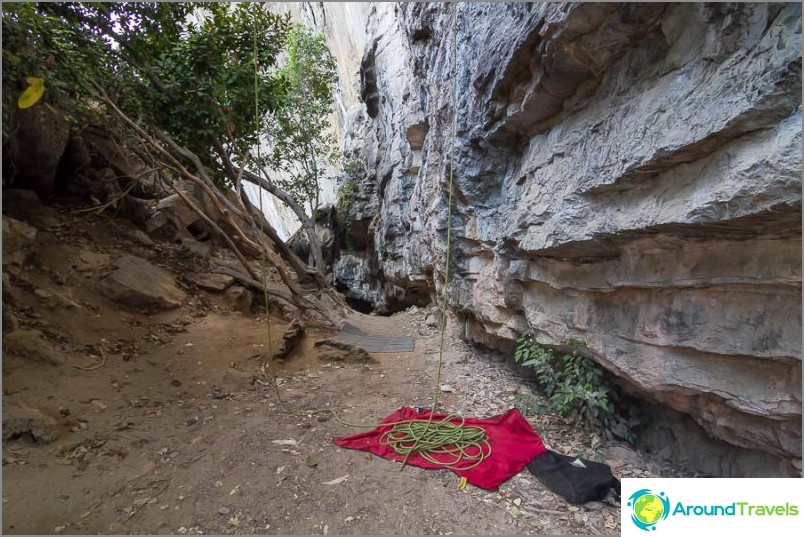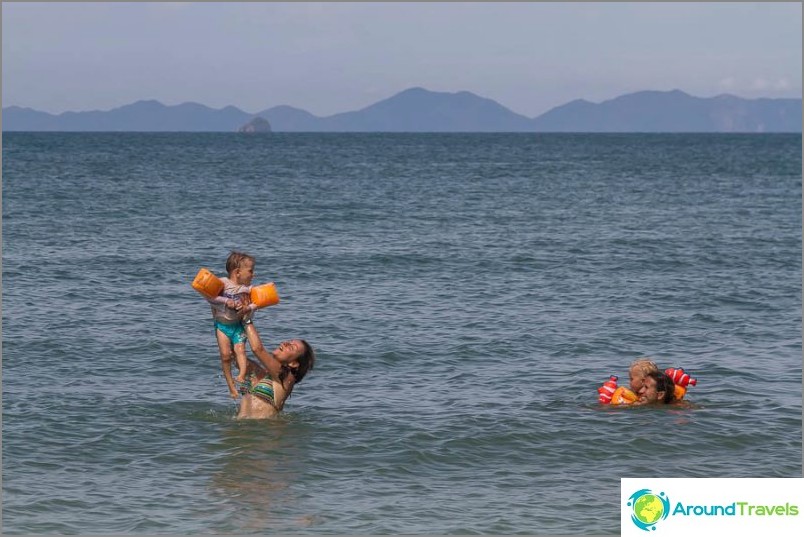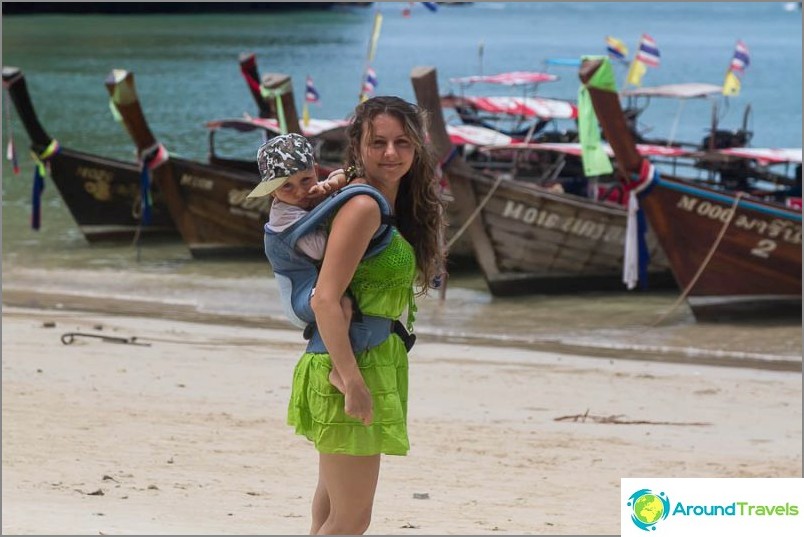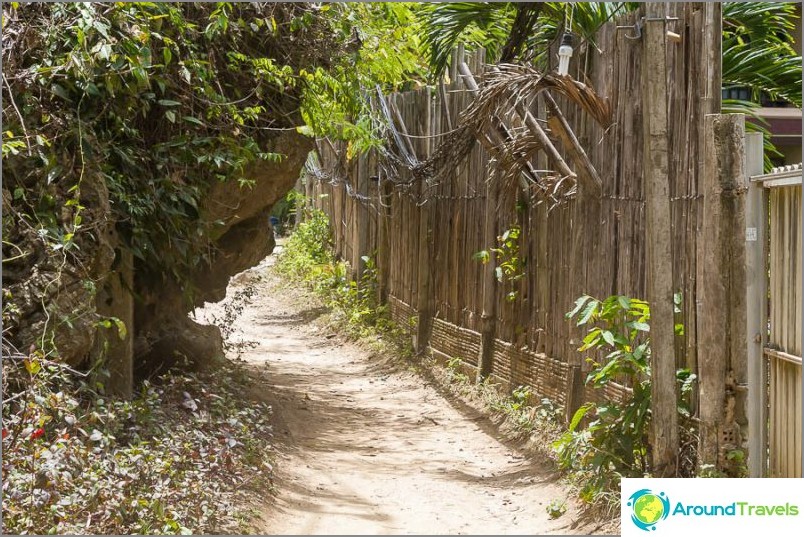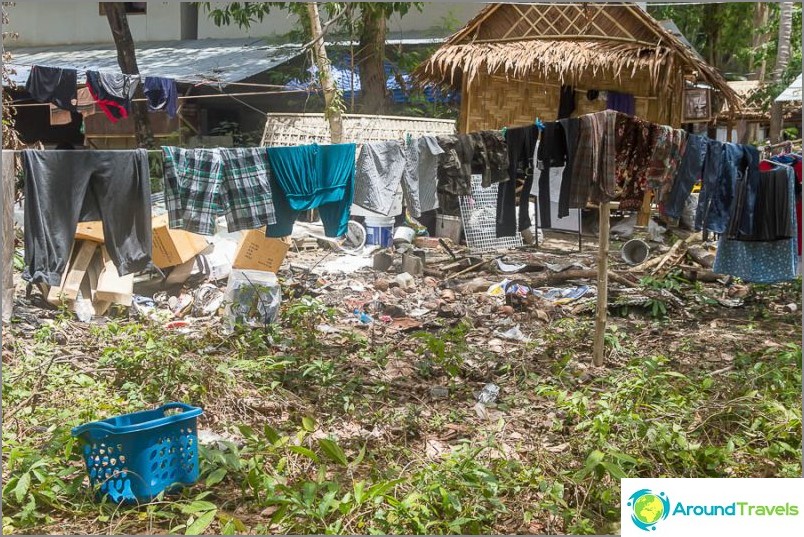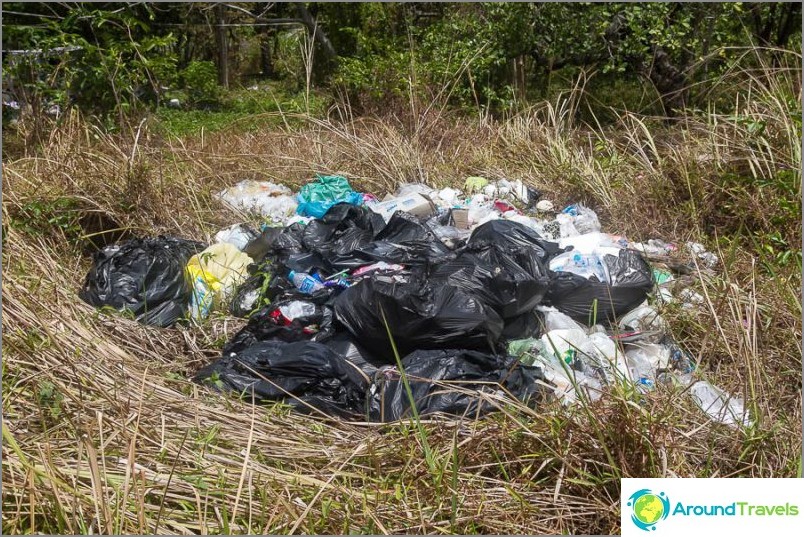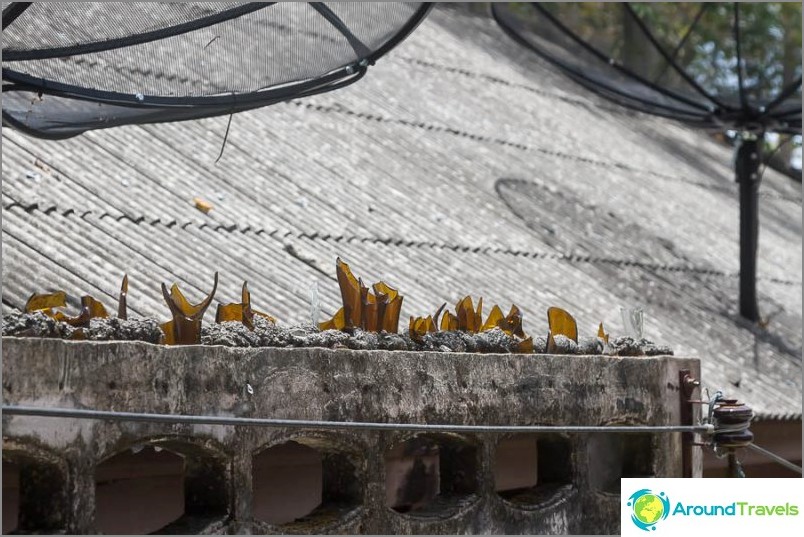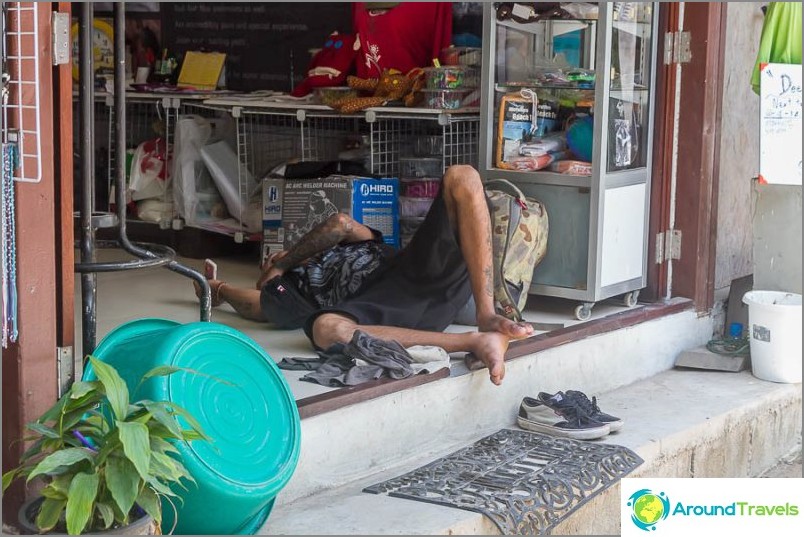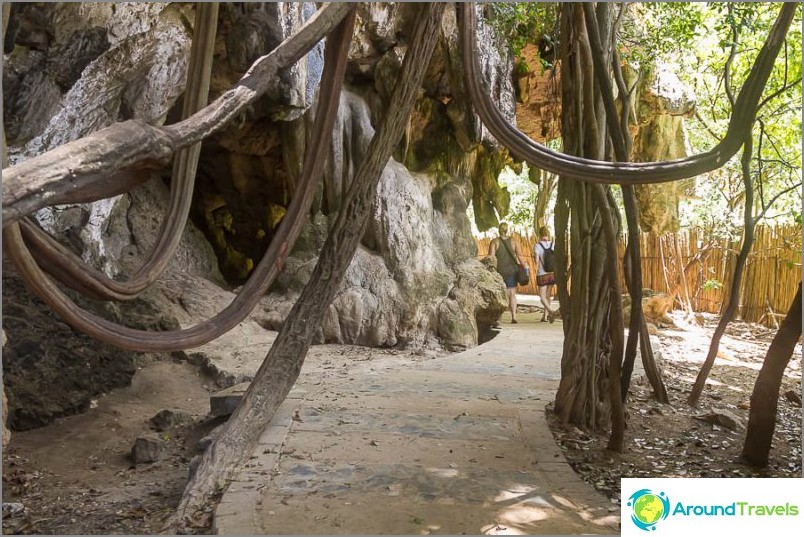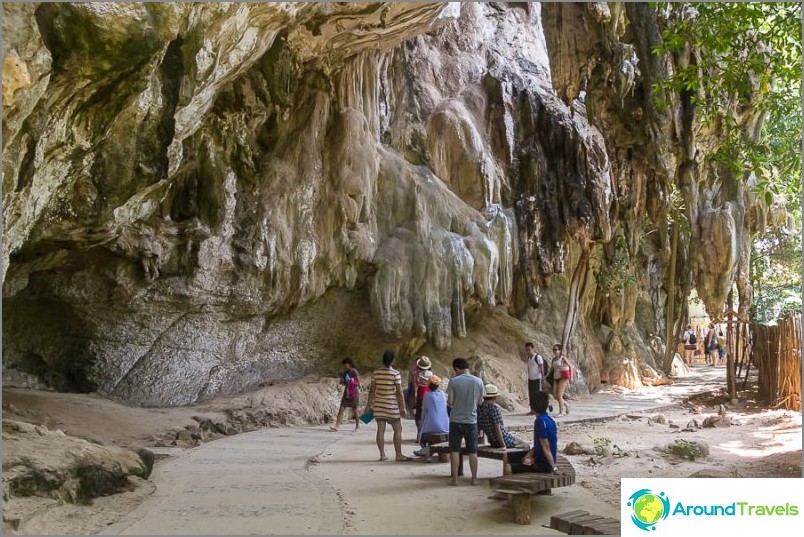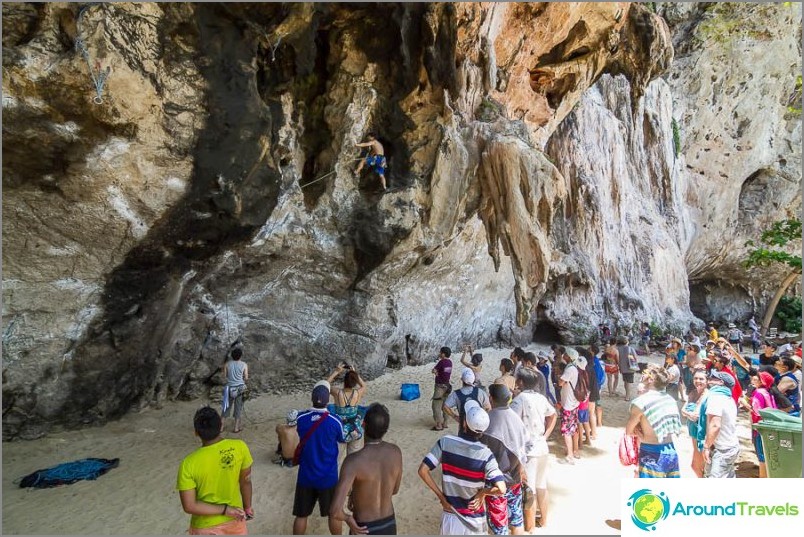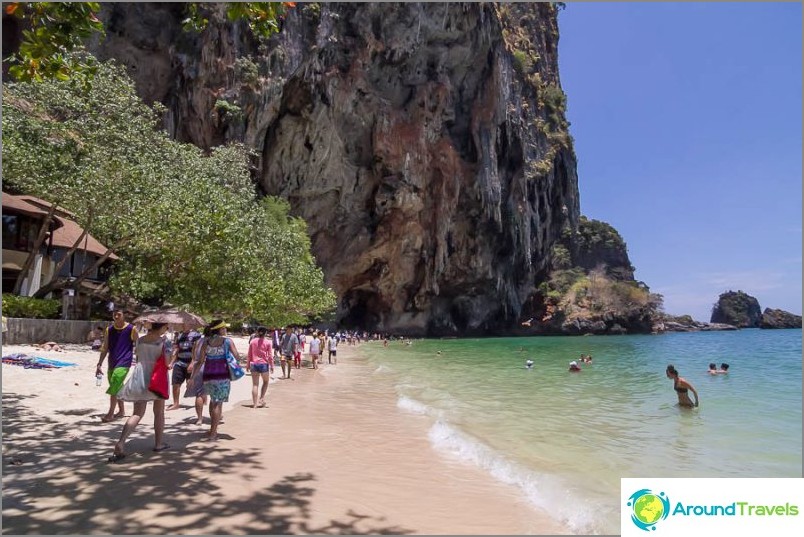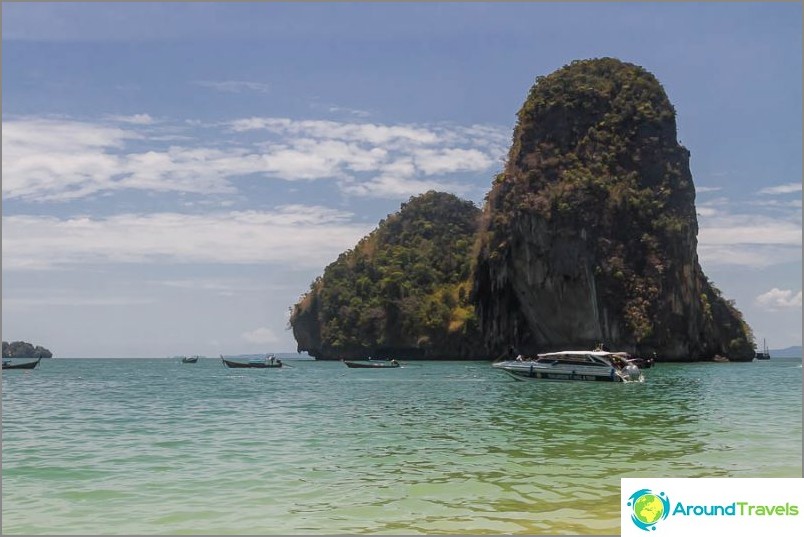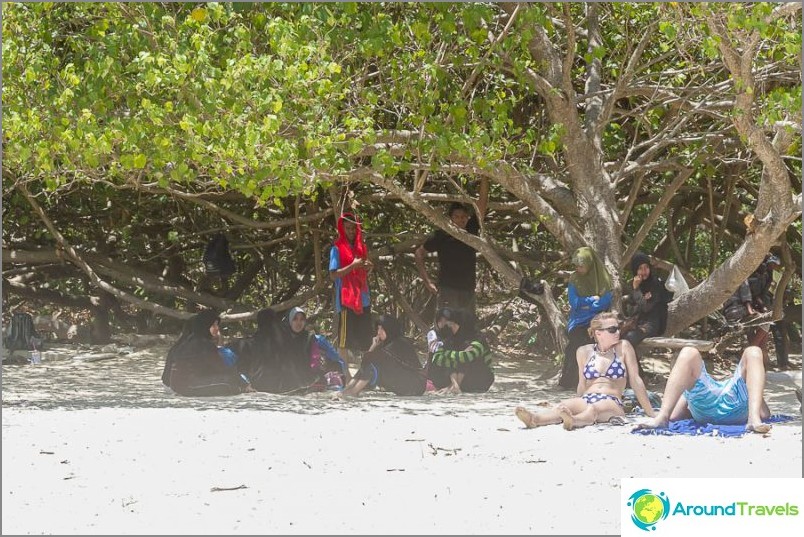 What to see and do on Riley
List
Usually they come here in the morning, and leave in the evening, at 18 o'clock before sunset. Many come for a few days, so as not to wander back and forth. Therefore, in addition to sunbathing all day, you can also walk around the peninsula. It is compact, you can get around everything pretty quickly. Directly you will not see the sights here, because the main thing is nature..
Beaches. First of all, you can walk along all the beaches, but we walk. But about the beaches below.
Phranag Nai Cave.
Phranang Cave.
Rock climbing on Ton Sai. You can purposefully go to Ton Sai to climb the rocks. There is an instructor and equipment for rent. 500-1000 baht cost, depending on time and other conditions.
Observation decks.
Walking street.
Go kayaking (canoeing). It costs 200 baht per hour, or 900 baht for the whole day. At least there is on West Railay, but it may well be found on other beaches..
Railay Peninsula beaches
Best for swimming are West Railay and Phranang. The second is more beautiful, but the first has fewer people and more infrastructure. However, as I already said, if you come for the whole day, then it is not a problem to visit both. East Railay is not suitable for swimming and you will pass it between the first two. And Ton Sai is for climbers, well, in the evening there you can hang out in cafes a little.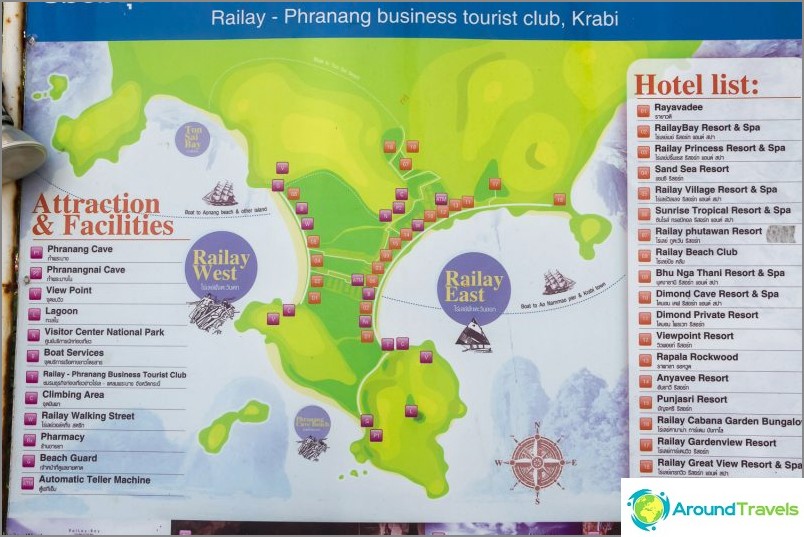 Phranag Nai Cave (Dimond Cave)
Entrance to the cave 200 baht per adult, 100 baht per child. It is quite ordinary, but for those who have never been, it may be interesting. In any case, it takes about 10 minutes to walk from East Raily to it, so it's not far. Probably the most important attraction on Railay.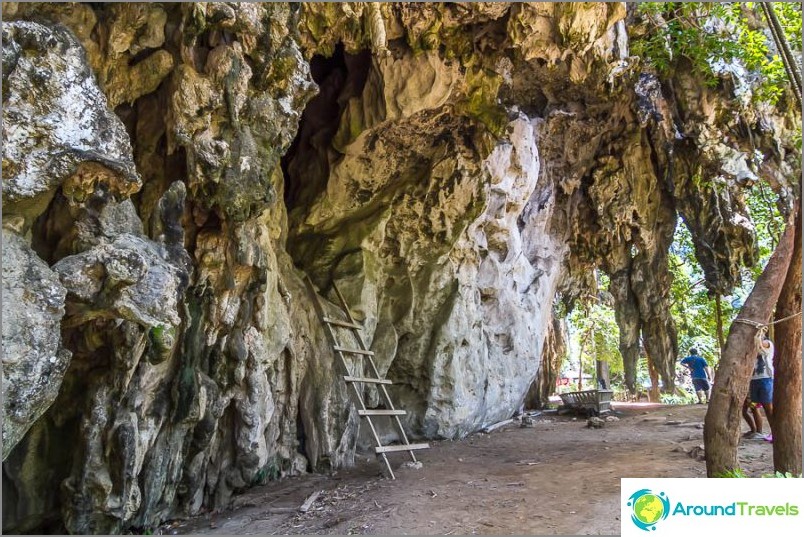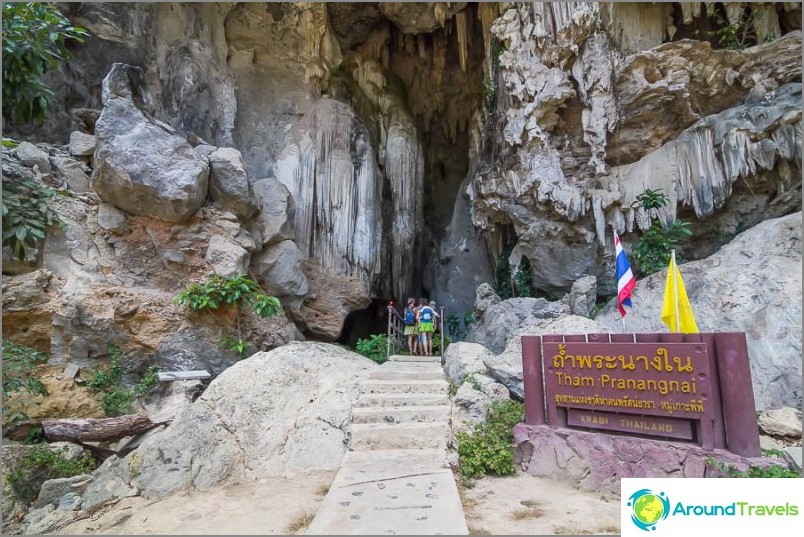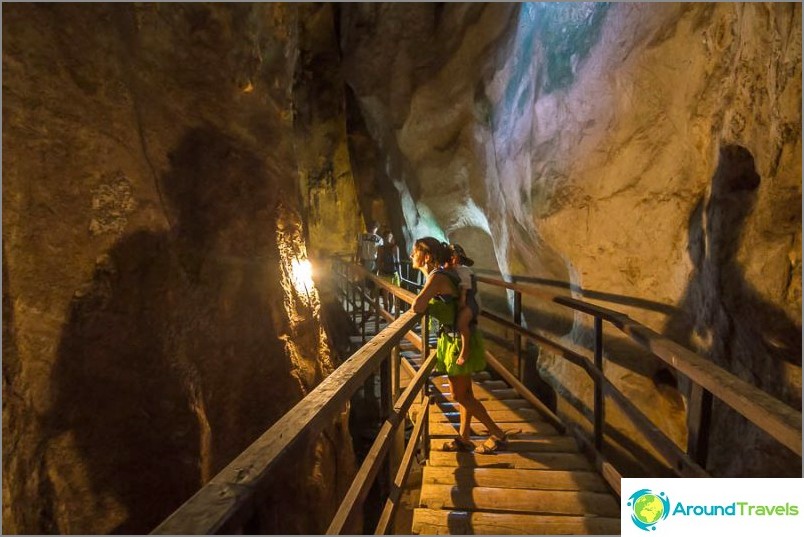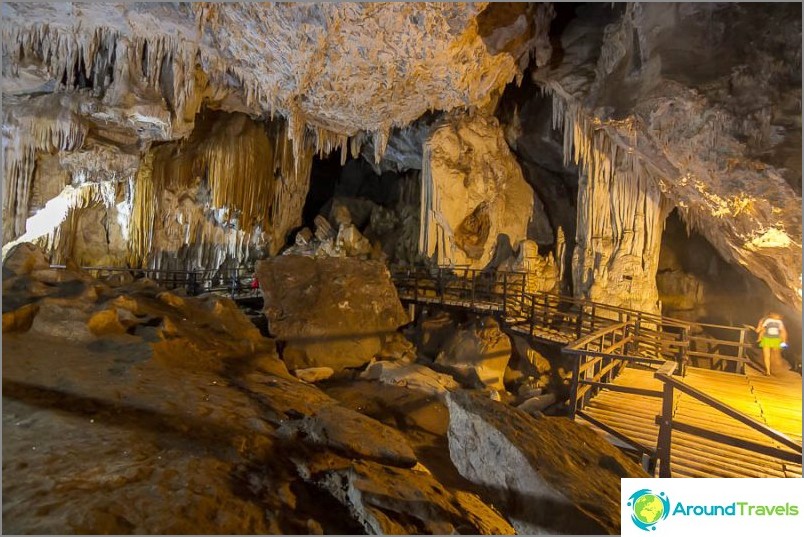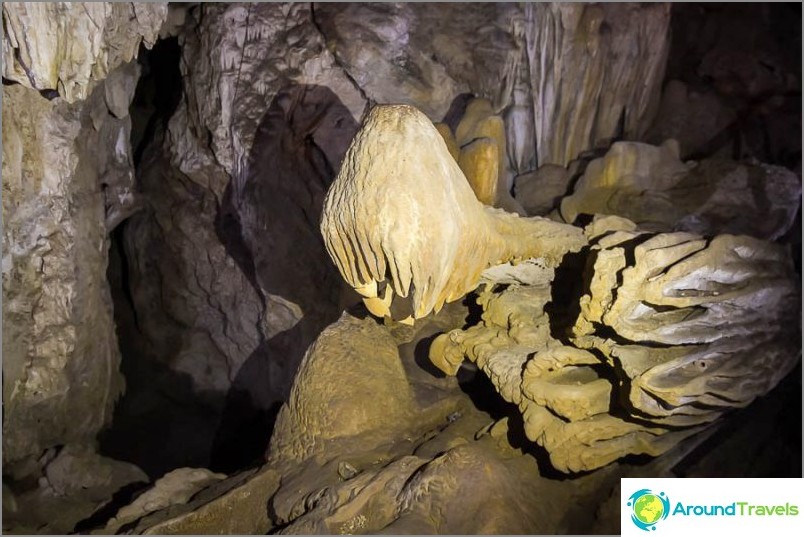 Phranang Cave
This is not quite a cave, but rather a depression in the wall. Located on Phranang Beach on its left edge. It is impossible not to notice, there are always a handful of people. True, I read that they threatened to remove all the objects of worship there, but until nothing was removed, the place was prayed for, it can be afraid to touch.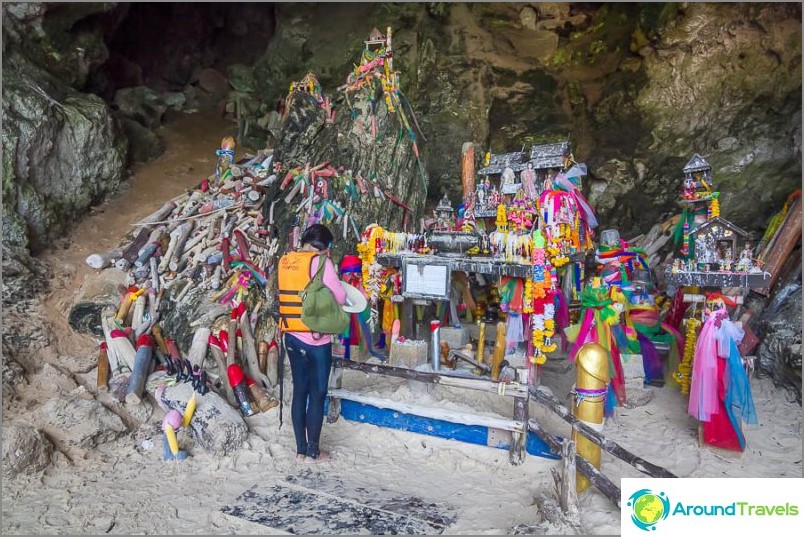 Observation Decks
There are two sites. The first in the west of the peninsula between the beaches of Pranag and West Railay. Not very popular.
The second in the east of the peninsula between the beaches of Phranang and East Railay. The view is beautiful, but the road there is not for everybody, to put it mildly. We'll have to climb the stones vertically up, getting dirty in red clay. The ascent takes about 10 minutes. From above you can see two Railay beaches at the same time. Then the path continues and you can get to the lagoon. But the path to it is even more thorny, there are almost vertical sections. I didn't have time to get there, thanks to the readers of our blog who got to the lagoon and sent photos.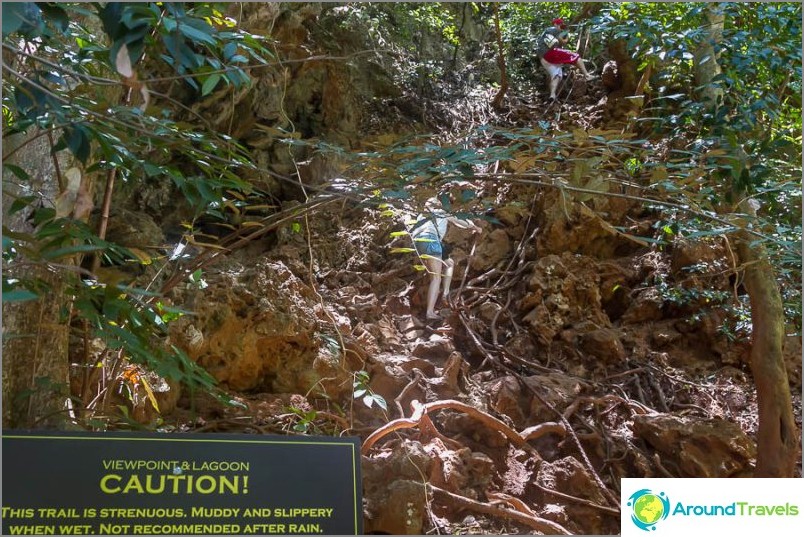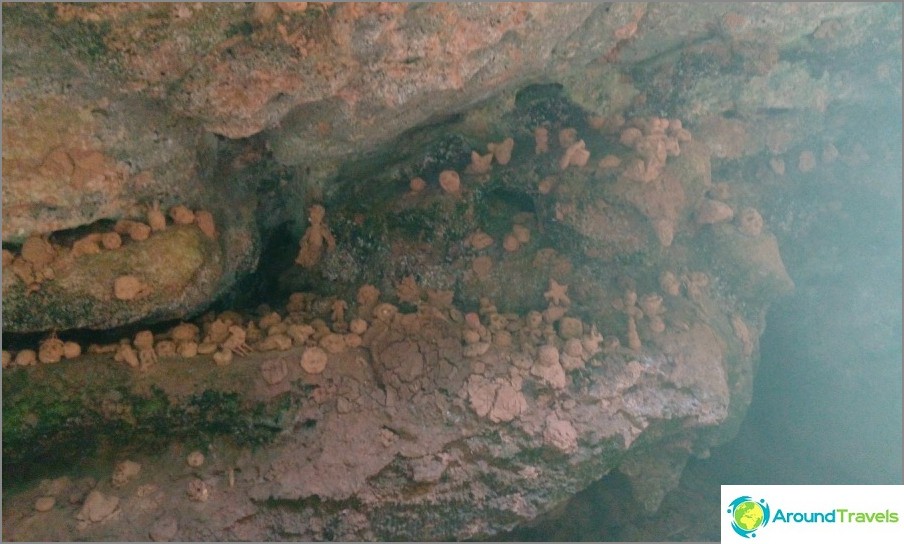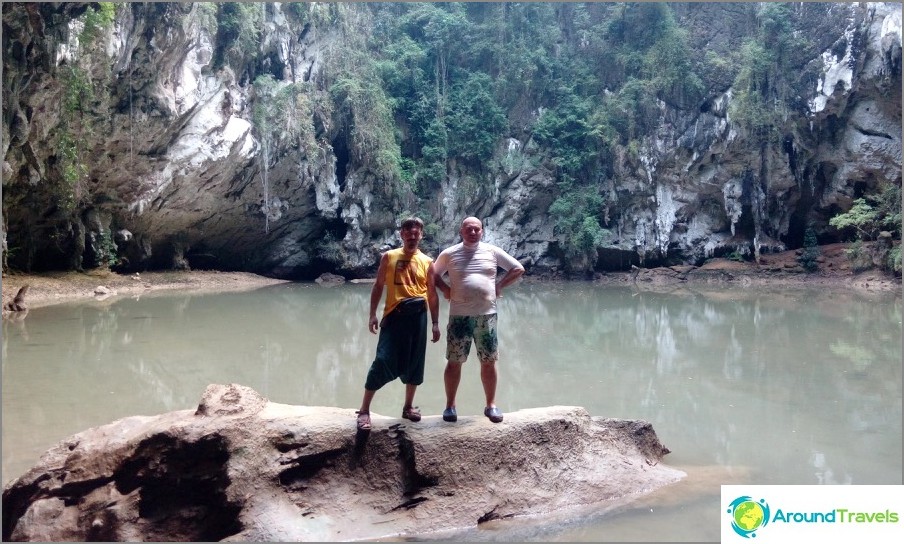 Walking street
Of course, it has nothing to do with Pattaya, just a small and short street. There is nothing special to see, there are only cafes, shops for tourists, and several guest houses. But you need to eat and drink somewhere, so the most it is to take a break here. Please note that the prices here are slightly higher than in Aonang.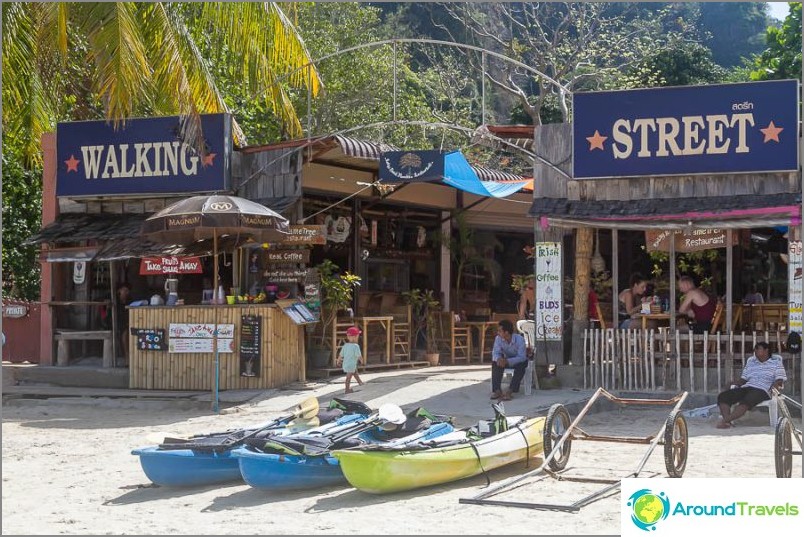 How to get to Railay
Description
On Aonang Beach, where the main road ends perpendicular to the sea and turns towards Noporattar, there is a boat ticket sales point. Actually, there is also a parking lot for these very boats. A one-way ticket costs 100 baht, in both directions (that is, with a refund) 200 baht. Buy a ticket, wait 10 minutes until enough people gather and sail to the Railay Peninsula. Swim for about 10 minutes. They sail back before sunset. If you sail after sunset, then the cost is already 150 baht one way.
It is better to arrive early, in the morning, when the main stream of people gathers on Railay, in order to wait less. You can also take the boat individually, the price will be different (for the whole boat at once), but if there are several of you, then it will be okay. Similarly, a boat can be taken to another destination, for example, to sail to nearby islands, like Chicken Island..
Similarly, you can swim to Railay from Noparattara beach. The pier and ticket office are located at the very beginning of the beach (if you stand facing the sea, then this is the leftmost part of the beach) near the green cape separating Aonang and Noparattar. Prices are the same, 100 baht one way.
From Krabi town the boat will cost 150 baht, and from Ao Nimao 80 baht. Railay can be accessed from other places, but the price will be different, for example, from Phuket 700 baht.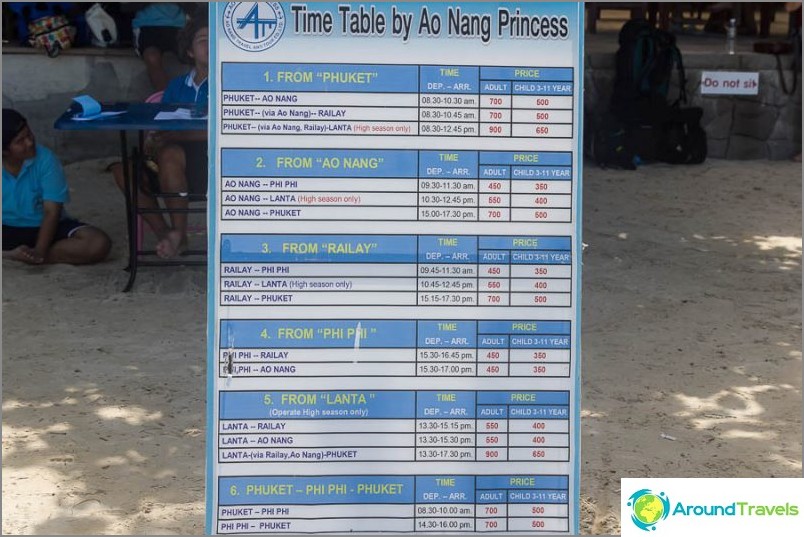 But it is very problematic to get to Railay by land, since it is separated by mountains-rocks, and the way there can turn into a hike through the jungle with extreme elements. There is also such an exotic way to get there, how to walk at high tide overland along the coast from Ao Nimao. This is a village on the other side of the Railay Peninsula, a shorter path from it than from Ao Nang.
On the map
West Railay Beach is marked on the map, just for reference, where this peninsula is located, and where boats usually dock. Well, after that, look at my photo of the map, taken on the spot (it is higher in the post), and it will not be difficult for you to understand where what is.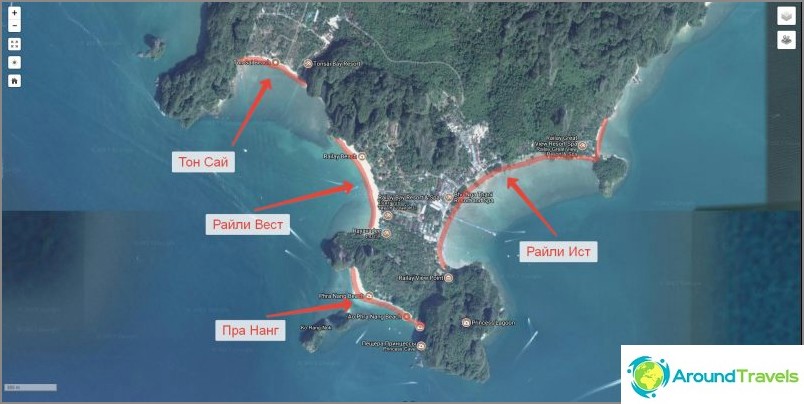 Krabi beaches
Krabi beaches: