Once upon a time we went around the order 30 apartments in Chiang Mai and reviewed these options. I no longer pretend to this feat and I want to give some information about apartments in Phuket Town. Since in Phuket we decided rent a house, then we bypassed only 10 condominiums for general development, so to speak.
Although, of course, the thought crept in that instead of a house, you can rent an apartment and thereby save money. True, then I would have to live in a city, far from the ocean. You can find my instructions for booking a house at the link: How to book a house in Thailand - 5 ways.
The content of the article
About condominiums in Phuket
First, some background information. We have personally compiled Phuket hotel overview. All other informational posts you can see in our free travel guide By yourself to Thailand. If you have questions, then first of all it is better to look first there.
Phuket hotels>
Be sure (and I insist) to check for discounts or special offers on the excellent Roomguru service. He will quickly and easily show you discounts in all existing booking systems. In Asia, for example, there are a lot of offers on Agoda.com, which are much more interesting than for exactly the same hotels on Booking.com.
There are condominiums in Phuket, but not as many as in Chiang Mai, and most of them are concentrated in Phuket Town, and not on the beaches. At least that's what we got..
Prices for apartments are comparable to renting a house, so this is a rather dubious savings. The average price for an apartment is 7000 baht per month for a simple room. While a simple house can be rented for 10,000 baht.
I also wrote about renting a house here - Renting a house in Phuket - tips. And about renting apartments here - Apartments for rent in Thailand - tips.
Apartments overview
All the apartments that we managed to get around in one day are in Phuket Town and a couple of them are on the way to the south of Phuket (Chalong Bay).
General Map
Patra mansion
Price: 4800 baht with fan, 6800 baht with air conditioning. Water 20 baht / unit, electricity 5 baht / unit. Deposit 6000 baht.
Internet: 400 baht, wifi, 3 Mbps, shared by all (the apartment is large). Terribly slow, I could not go to my mail. Residents said that when how it works, but more often like this.
Household appliances: TV, refrigerator, air conditioner (if over 6800), water heater.
Furniture and furnishings: The furnishings are adequate, although old and shabby. Overall, the furnishings make a pleasant impression. There is a bath and a balcony. The room is spacious.
Description: Located in the center of Phuket Town, but around it is quiet enough. It looks very decent from the outside. There is a large swimming pool outside. There are two computers with Internet in the lobby. Despite the fact that the site says about the minimum rental period of 3 months, we were not told this. Rooms with a fan are occupied for six months in advance. There is a parking lot.
Contacts and location: www.patramansion.com
116/23 Soi Noppakoon, Patipath Road, Muang, Phuket Thailand 83000
e-mail: info@patramansion.com, tel: 66 (76) 258103-7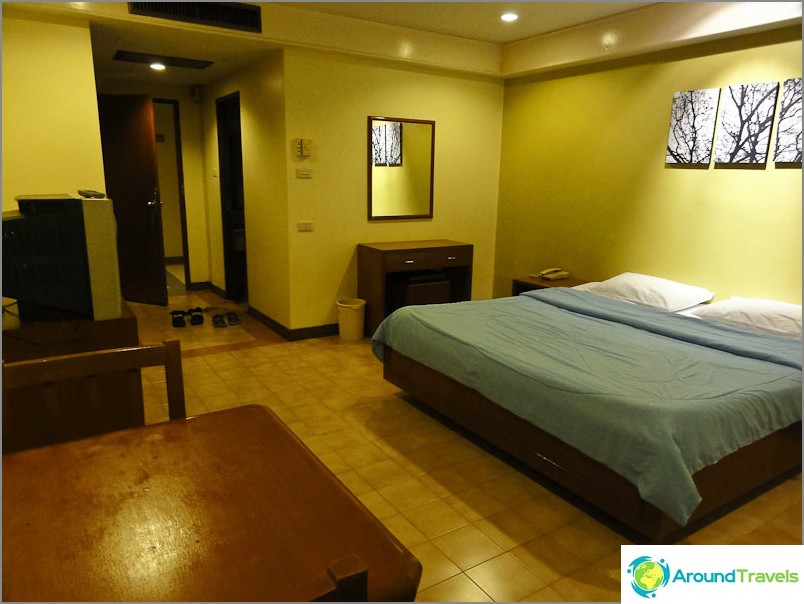 Sodsri Apartment
Cost: 5000 THB per month.
Internet: no.
Household appliances: TV, refrigerator, air conditioner.
Furniture and furnishings: Small room, compact yet very cute. The furniture is simple but not old. It's enough. There is a table and two chairs. Small balcony overlooking the mountain, if the other side is sunny and overlooking the city.
Description: One of the most attractive condominiums if not for the Internet. Half of the building has a view from the windows to a picturesque mountain. Quiet and peaceful. They don't speak English. The reception is open from 8.00 to 17.00.
Contacts and location: tel (076) 235-250-1, 084-845-2264, 081-271-0746
24/66 Soi Thepnarong, Maeluan Rd, A.Muang Phuket 83000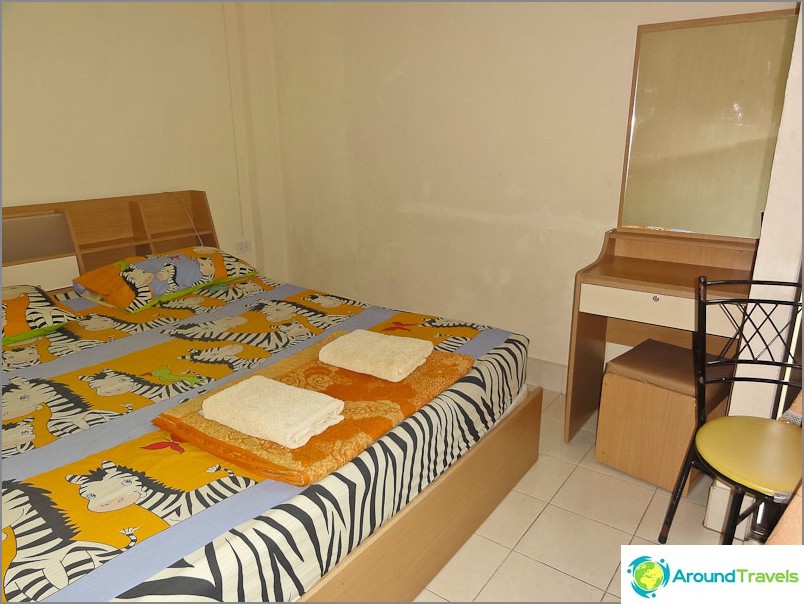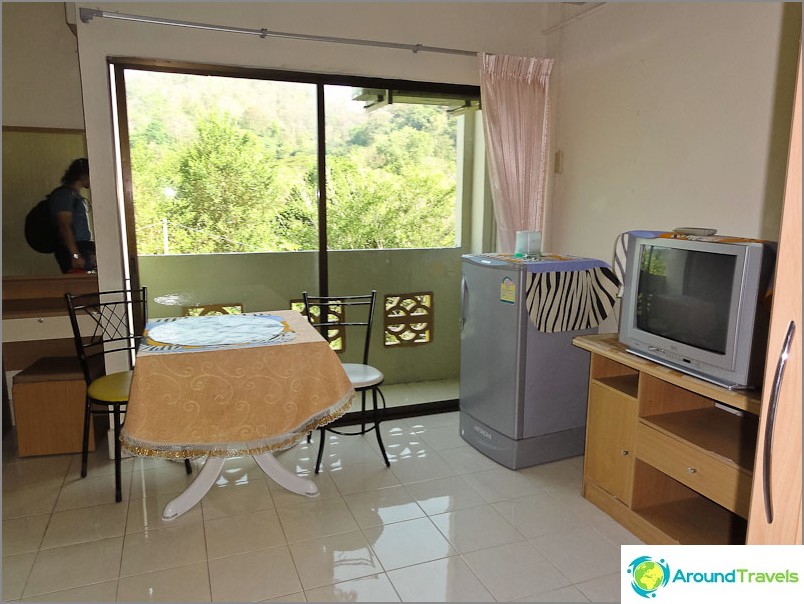 Ekkamon mansion
Price: 4500 baht with a fan, 6500 baht with air conditioning, if you shoot for 2-3 months, then they throw off a little. Deposit 10000 baht. 600 baht per day.
Internet: wifi 400 baht, 5mbit, shared for the whole house (36 apartments).
Household appliances: TV, refrigerator, air conditioner (if over 6500), water heater.
Furniture and furnishings: The room is small, 25 sq.m. Everything is simple enough. There are almost two workplaces (a table and two chairs). Everything is not very new.
Description: Located 5-10 minutes walk from the bus station. Despite the center, the jay is quiet and there is practically no noise. There is a parking lot, entrance to the building by code.
Contact and Location: romeplace.com/apartment/
47 Phang Nga Road Soi 2, T. Taladyai, Muang District, Phuket 83000 Thailand
E-mail: ekkamon79@gmail.com Tel: +6676 230074
Khao Rang View Mansion
Price: 6000 THB.
Internet: wifi, adsl. According to reviews, the quality is normal.
Home appliances: TV, refrigerator, air conditioner, water heater.
Furniture and furnishings: The rooms are small, there is not a lot of furniture.
Description: There is a parking lot, a laundry, a cafe. If the windows face the street, then there may be noise. In general, it makes a good impression. Near 7/11.
Detailed overview of the apartments
Contact and Location: phuketindex.com/khaorangviewmansion
39 / 1.6 Maeluan Road, Aumphur Muang, Phuket 83000 Thailand
Email: khaorangview@hotmail.com, +66 (0) 89 727 5540, +66 (0) 76 356 077-80 Ext 0
P.K.Residense
Cost: first floor 9700/9200/8700 baht for 1/2/3 months, other floors 8200/7200/6700 baht for 1/2/3 months. Cleaning included twice a month. Water 200 baht, electricity 8 baht / unit.
Internet: wifi, not tested.
Home appliances: TV, refrigerator, air conditioner, water heater.
Furniture and furnishings: Modern, angular furniture, beautiful but not practical. There is no normal workplace. Everything is quite new. Rooms are small.
Description: It is surrounded by houses from the road, so it is quite quiet. I don't know how the first floor differs from the rest, we were shown the room only on other floors
Contact and Location: pkresidence.com
46/14 Maeluan Rd., Taladnuer Phuket District.
Tel 076-223099, mob 089-195-0195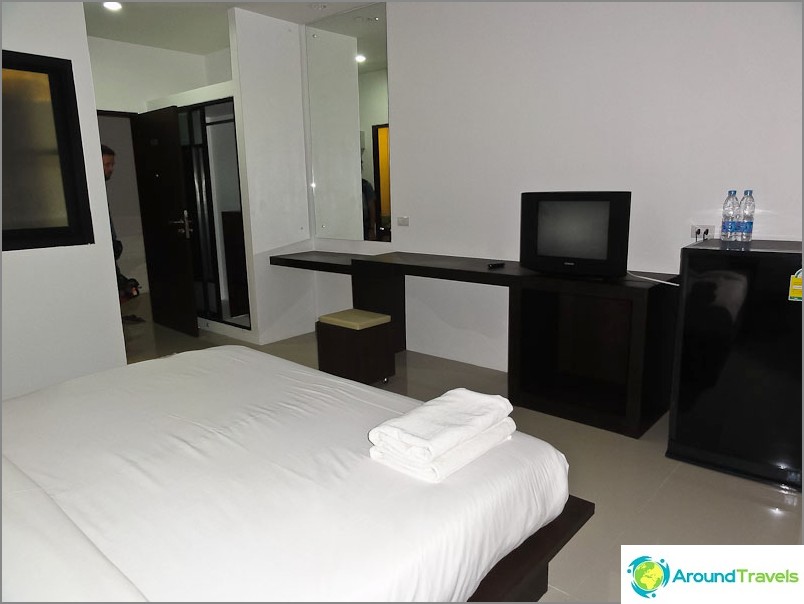 Thai apartments
Cost: depends on the owner.
Internet: wifi 3mbit, common for everyone, but there are a lot of apartments. Perhaps you can connect your own separate channel.
Description: A large building seen from afar. They did not go inside the apartments. The apartment is for sale and rent.
Contacts and location: indicated on the map.
Chalong apartment
Cost: from 10500 baht for 1 month, if you rent for a longer period, then it is cheaper.
Description: There are actually two buildings located close to each other, but not next to each other. And one of these buildings is slightly cheaper than the other. We were not inside, as there was no one at the reception at 18 o'clock. We only talked on the phone - and everything is fine according to the stories, and the photos are generally gorgeous. The rooms are large and all with kitchen cubicles. There is a small pool on the roof both here and there. The buildings are both new.
Contact and Location: chalongapartment.com
Chaofa West Suites: 46/44 Moo 10, Soi Yodsane 1, Chalong, Phuket 83130
Phompassorn Apartment & Spa Pool: 38/13 Moo 10, Soi Yodsane 1, Chalong, Phuket 83130
Tel 086 2826221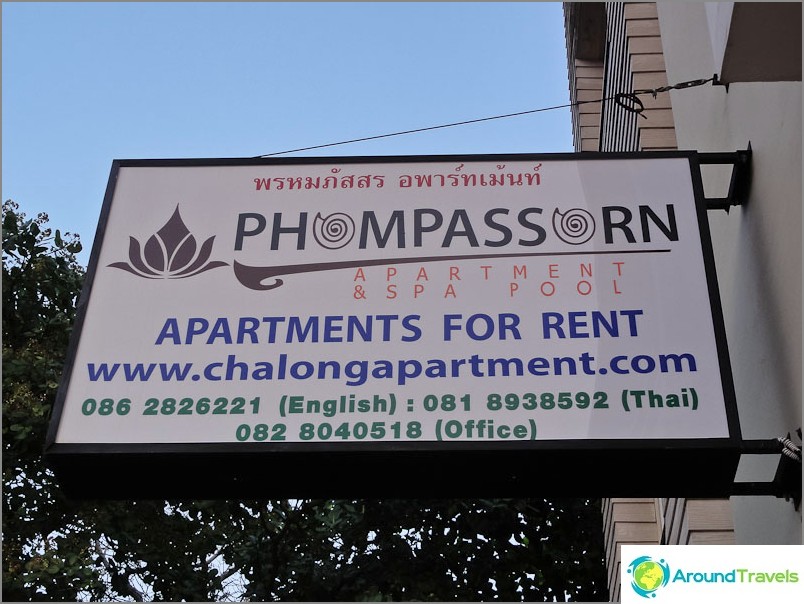 The best mansion
Cost: 12,000 baht per month. Water and cleaning included. Electricity 5 baht / unit.
Internet: LAN, free.
Home appliances: TV, refrigerator, air conditioner, water heater, fan.
Furniture and furnishings: Furniture is scarce and shabby. There is no workplace. There is a kitchen nook, partly in the open air, initially there were no tiles, but they promised to give.
Description: This is not really an apartment, but rather one-storey houses located under one roof and located around the pool. Looks pretty, but very cramped.
Contacts and Location: 12/42 Soi Boonnada, Moo 2 Tambon, Chalong Muang, Phuket 83000
Tel 076-282-628-9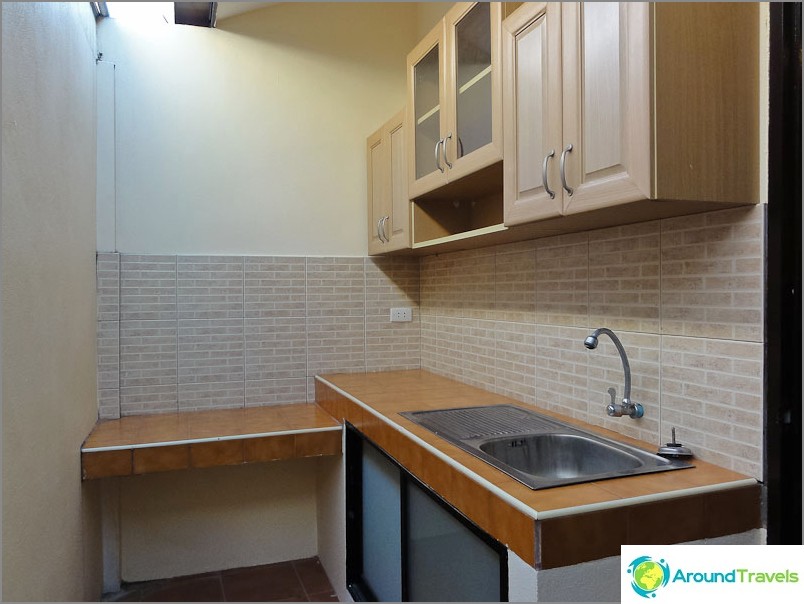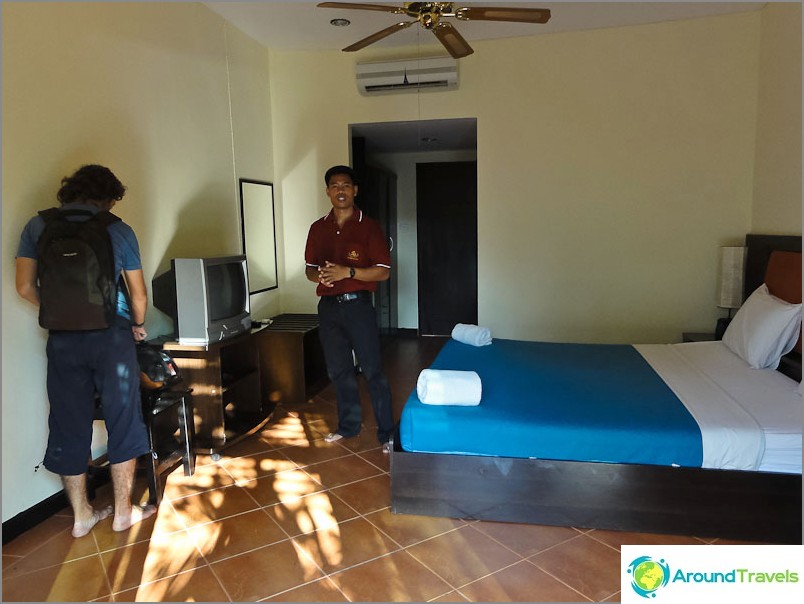 Here is a link to more condos:
phuketindex.com - about 25 apartments collected on the site
P.S. If you lived in any condominium in Phuket and described it, then throw a link in the comment, it can help others too.