I will tell you my personal experience of finding an apartment in Bangkok, especially since I did it already in Chiang May and Phuket, that is, I have enough experience. For example, we managed to rent for two months such an apartment in the heart of Bangkok. For beginners, the article may be useful, and not only in terms of Bangkok, but in other cities as well, because the principle is the same.
Although, if we are talking about resorts, it is easier to look for a house for rent there. You can find my instructions for booking a house at the link: How to book a house in Thailand - 5 ways. General tips for apartments for rent in Thailand I have already given them, they are also worth reading.
The content of the article
Difference between apartment and serviced appartments
First of all, I would like to tell you the difference between an apartment and an apartment. In the common people (in Thailand), any apartment is called a condo, but there are some differences, and this is important to understand for searches. Often, the difference is already visible in the appearance of the building, but not always.
I recommend doing the selection of housing through the RoomGuru metasearch, if you don't like one thing, you can always look for something else in Bangkok, in this area or in another. RoomGuru is a search service that, in terms of its functionality, has long been in the top of the best in this segment, and at the same time, there are often more favorable offers for the hotel you are interested in..
Apartment
So, a condo is an apartment in a condominium, an apartment building, where each of them has its own owner. Everything is like we have in Russia. Accordingly, in order to rent such an apartment, you need to contact the owner himself or his agent. How do I find them? Either on ad sites like our cyan (ads can be in Thai), or at the reception in the condominium they can know such owners or even rent apartments on their behalf. Thus, unfortunately, it is not always possible to contact the owner who rents the apartment, even if he is there..
The main advantage of an apartment is that it is possible to rent a house at a lower price (including a communal apartment) than it would be an apartment. And the disadvantage of the apartment is that most owners do not want to bother with renting for a short time, a standard contract is 1 year, less often 6 months.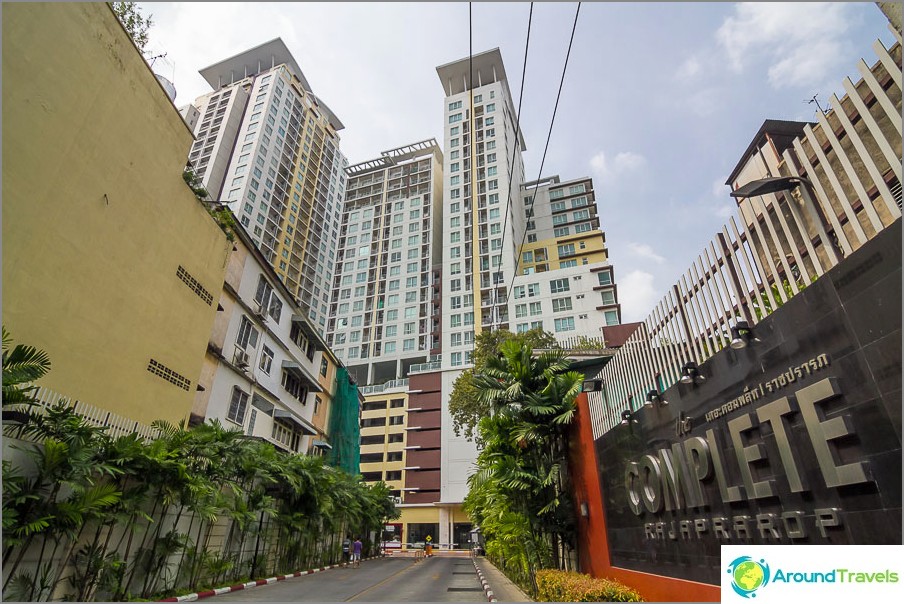 Apartments
An apartment is an apartment in a house that is all owned by one person. That is, in order to rent such an apartment, you need to find out everything at the reception. In fact, this is the same as a hotel, only in the main they rent out housing here on a monthly basis, although there is also a daily rent. It is more correct to call such a building a condotel rather than a condominium. Some regular hotels also offer discounts for long stays..
The advantage of the apartments is that there are often short-term rentals, for example, for 1 month, and services typical for hotels - room cleaning, laundry, shared wifi, etc., can be provided. Hence the prefix serviced. And the minus of the apartments is that most often it is only simple housing in the form of studios, that is, with one room and sometimes even without a kitchen and with a ban on cooking.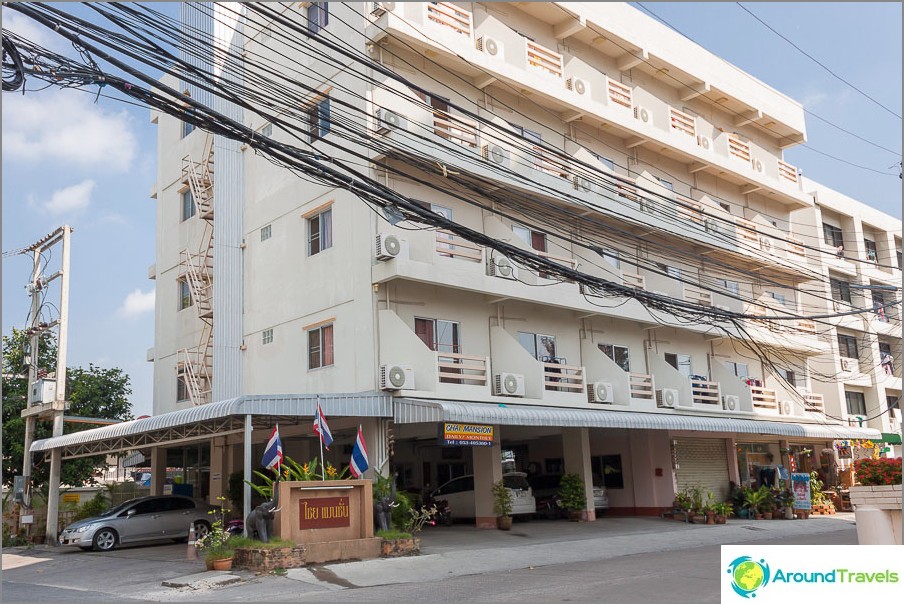 How I was looking for an apartment in Bangkok
For example, we needed a two-bedroom apartment in Bangkok in the Victory Monument area. We came to the area and originally filmed there not bad hotel for 2 days. Then we went out into the street and began combing one street after another, entering each condotel. At the reception, we were given a price list with prices, they said how much they would have additionally for electricity, water, internet, and showed us the room. In most condotels, apartments were in the form of studios, or with a maximum of 1 bedroom. Since we didn't even need one bedroom, but two, we didn't even go into the simplest little condotels. When you walk around a little, then you will already begin to understand by the appearance of the building what to expect there. As a rule, the smaller / lower / simpler the building, the smaller the area of ​​apartments and the lower the range of services.
After we found an apartment that was more or less suitable for us, I decided to run into a nearby condominium (each apartment has its own owner). It was a large building with several buildings. The guard at the entrance said that there are no apartments for rent here, but I know that Thais often do not understand what they are asked about, so I went into the territory anyway. There I saw an office «Real state sale and rent». This is exactly what I need. Employees of the real estate agency said that they have two apartments, but the rental period is only 6 months. After I looked at these apartments, I said that everything is very cool, but I need it for 2 months ... As a result of our long-term communication, another apartment was found, which the owner, apparently, does not mind renting out for a shorter period. We took it instead of the apartments that we originally wanted. And cheaper and much better in all respects.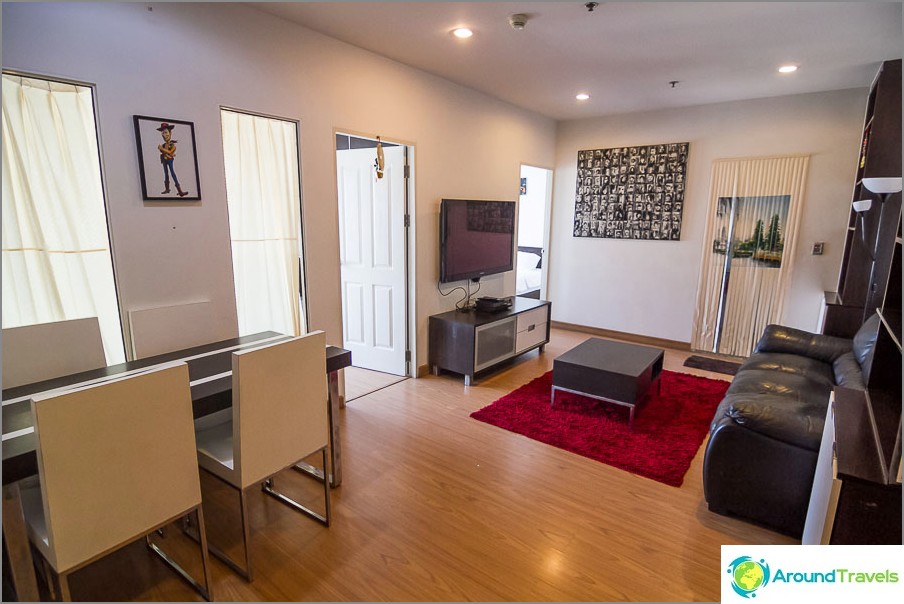 Another important point. Previously, before traveling to Bangkok, I searched for various apartment sites in the area through a search engine (condo for rent victory monument, appartments victory monument), driving in the names of condotels from the google map (there are many names, if you zoom in), as well as on special search sites, links to which you will see at the very end. I also wrote to various agents and read private ads from Thais for renting apartments. What conclusions can I draw:
Many apartments do not have their own sites, and the farther from the center, the fewer sites. Also, their sites may not work, display crookedly, or contain photographs of housing that give little.
Agents do not work with those who need housing for a short period, only semi-annual and one-year contracts.
On the apartment search sites, I personally learned quite a bit, because getting the name of the condotel and its phone number from the database, I still can't do anything about it, because I need to look at it personally. And, as I said, many do not have sites..
Searching for an apartment via the Internet is a dreary undertaking, only if you do not know a specific list of apartments that are 100% suitable for you. Therefore, it is easier to come to the desired area and bypass everything in a few days..
How to rent an apartment in Bangkok
Based on the previous part of the post, you understand that the search for a short term and for a long term is slightly different from each other, just as the algorithm differs, depending on whether it is an apartment or an apartment..
Search algorithm
Decide on the area of ​​residence. This can be almost any area, but there are those where the number of condominiums is the most: Lat Prao Rd, BTS Victory Monument, Sukhumvit from BTS Asok to Udom Suk and beyond, around BTS Chong Nonsi, etc. In principle, we can say that most of the housing is located along the BTS and MRT metro and a distance of 15-20 minutes on foot from it. We look at the districts on a Google map. Also, for most people, it is important to have supermarkets nearby (BigC, Tesco Lotus, Villa Market, etc.), their location can also be immediately seen on the map.
Go to the websites of apartment search engines and see what condominiums and condo hotels are in these areas, study photos, prices, services. Some housing will have their own websites, where you can get acquainted with everything in more detail.
Search on google by request «condo for rent bangkok area» and «appartments for rent bangkok area», or something like that, where area is the area you need. You need to search in English.
Open google maps, zoom in to the area you need and pick out the names of the condo hotels. Typically, the title contains the word appartments, condominium, mansion, house, place, or something similar. Next, we punch the name through google, perhaps the housing will have its own website. Also on the satellite map you can see the rooftop pool, sometimes it can come in handy. Sometimes it will not be superfluous to turn on the mode «street view» and take a walk around the quarter you need. But in general, this method with a map is more suitable for nerds and couch potatoes..
If you need accommodation for a short time, then you can go to AirBNB and see what is offered there. Just keep in mind, after all, this service (at least in Thailand) is more designed for daily / weekly rent, so prices per month can be high, and not every owner offers to rent monthly, and with good options, some days can simply be booked so you won't be able to move in for a long time. If you're new to Airbnb, read my post about him, which tells about how to register correctly, how to book accommodation, etc. Don't forget to get your $ 20 bonus from this link. The bonus can be used within a year after registration by making the first booking.
If you need housing for a long time (from 6 months), then go to the websites of various agencies and see the options, then write to the agency a request with your requirements.
Explore ad sites (like prakard.com/) and write / call the hosts or agents who posted this ad. This is also justified to do only if you want to rent an apartment in Bangkok for a long time..
Well, and the last thing. You arrive in the area you want and walk around the various condo hotels and condominiums. Come to the reception and find out all the information you need. Also, walking around the area, you will at the same time notice where this or that store, park, cafe, etc. is located. That is, it is not always possible to understand everything by looking only at the map, for example, is it far to go to the supermarket, and is it convenient. Suddenly there are no sidewalks on this jay, and the traffic is very dense, then even 500 meters will seem like hell. Although, of course, in this regard, google streets can help..
As you understand, it all comes down to preparing first on the Internet, and then to a real search on the spot. In fact, from this algorithm, only the first item and the last one can be left. But I will say right away that it was convenient for me personally, having arrived in the area, to already know the names of the condominium, the location of supermarkets, and more or less represent the streets.
Sometimes people ask me, but how do you recognize a condominium on the street? In fact, everything is more or less simple. It is worth trying once and you yourself will understand. Usually, this is a building with several floors, with a parking lot underneath, as well as a small room where someone is sitting. Sometimes Reception is written above the door to the room, sometimes nothing is written. In front of the entrance to the territory there may be a booth with a security guard and a barrier and a sign with the name of this condominium in English or Thai.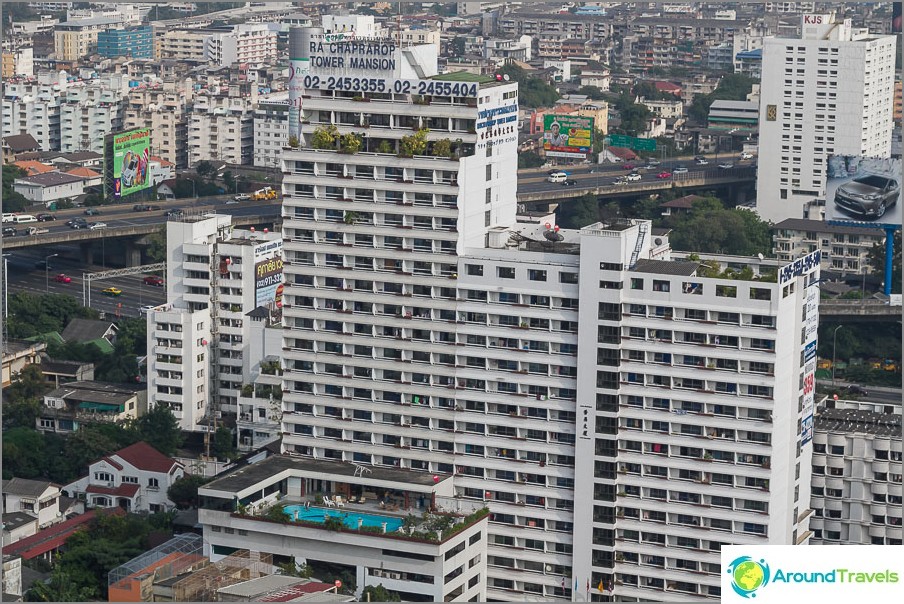 Some nuances
When searching on site, please note that all receptions are open until 16-17-18 pm, no later than, so it is better to start looking for in the morning.
Be prepared for the fact that you will need to pay a deposit. This can be a very small amount, or equal to 1-2 months of rent..
Also, you will be charged for electricity (4-10 baht / unit) and water (17-20 baht / unit) in most cases. Occasionally there is a fixed payment for water, but more often by units (cubic meters). With frequent use of kondeya in a room, a communal apartment will pour out somewhere in 1500-2500 baht, and if you do not use it, you can easily keep it at 500 baht. Also remember that an electric stove also consumes a lot of energy, and gas stoves are prohibited in apartments. Another voluntary and separately paid Internet 500-1000 baht a month and cleaning 200-500 baht at a time.
Outside the tourist and central areas, the reception may not speak English. Here google translate can help you, the ability to communicate with gestures, a calendar and a piece of paper with a pen.
Prices for apartments in Bangkok
The cost of renting an apartment depends on many factors. It is enough to look for it on your own once, having looked at a dozen options, and everything will immediately become clear.
The larger the area of ​​the apartment, the more expensive it is.
The studio is the cheapest option. If there is a division into a bedroom, living room, kitchen, then such an apartment is more expensive. Generally, the more rooms, the more expensive.
The closer the apartment is to the BTS and MRT metro stations, the more expensive it is. The same can be said about the center, in the central regions of Bangkok housing is 1.5-2 times more expensive.
The presence of technology, good furniture, design, kitchen increases the cost of rent.
Swimming pool, fitness, garden and so on, just the same increases the cost.
Apartments are often more expensive than apartments, given the same conditions.
With long lease terms, you can rent an apartment in a condominium from the owner, and the cost of the apartment also drops significantly.
Here are the prices that you can get for a certain amount. Consider they are approximate, and are only for guidance, because there are too many factors to describe all prices in a simple way.
3000-5000 thousand. Small studio with simple furniture and no additional services. The cheapest may not have an air conditioner..
5000-10000 thousand. Everything is exactly the same, only in any way there will be air conditioning, the area may be slightly larger, the room is more tidy, the furniture is better. Fitness and pool availability shouldn't be too expected.
10,000-20,000 baht. Nice studios with adequate space and furniture. Closer to the upper price threshold, there may be apartments with one bedroom, or less often with two. Pool and fitness may well be present.
20000-30000 baht. It can be «design» large studios, 1-2 bedroom apartments. In most cases, there will be a pool, fitness. Although sometimes these are very simple apartments, but of a large area.
30,000 thousand and above. Good sized 2 bedroom apartment with all services in the building. Usually, with a further increase in price, the area of ​​the apartment simply increases to 100-200-300 square meters. From the price of 50-70 thousand I have already seen houses for rent.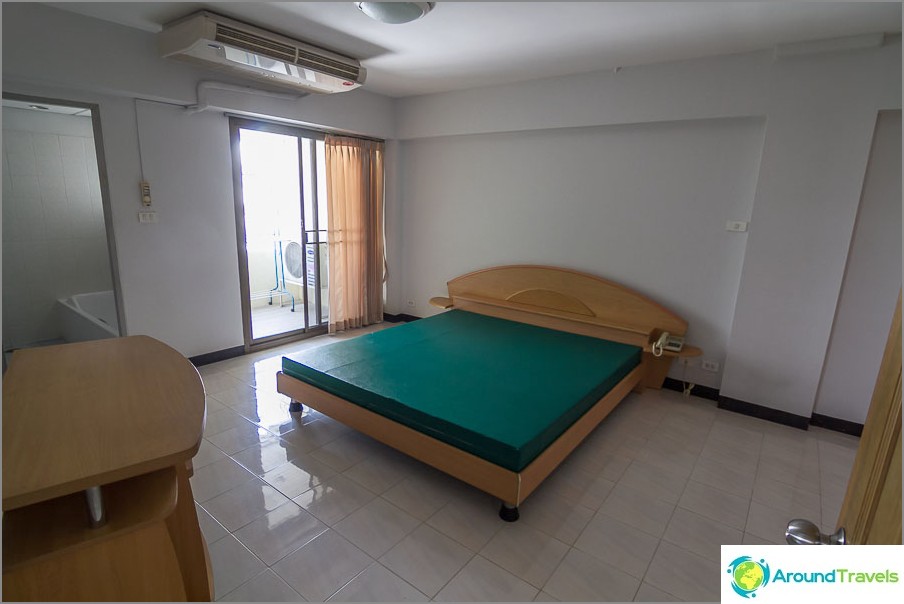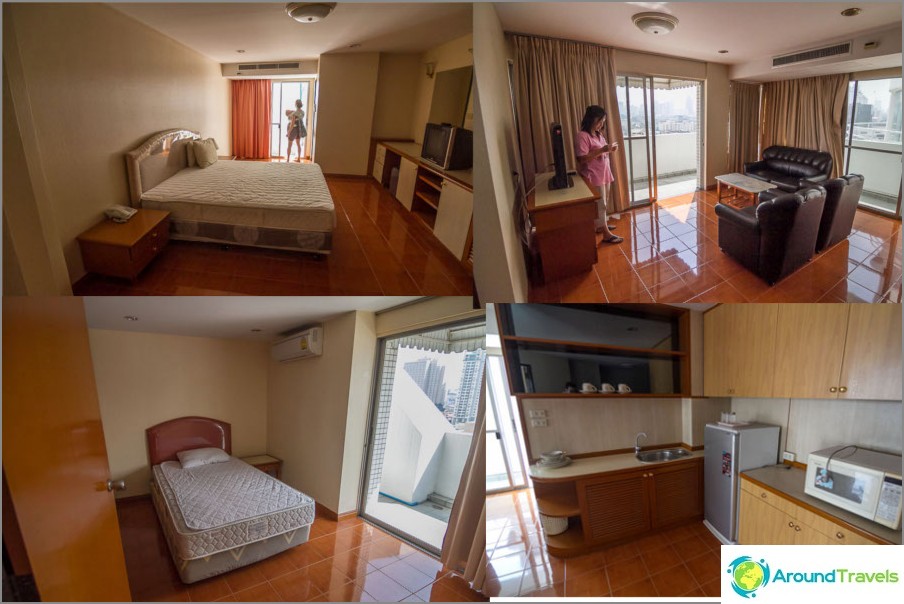 useful links
As promised, links at last. For me personally, they did not help much in their time. Rather, I just got an idea of ​​what kind of housing is, how much it costs and where it is located. The whole problem is that you still need to watch everything personally, besides, not everyone has sites, and often they are such that there is little sense from them.
Facebook
There is a cool English-speaking group on Facebook where you can find an apartment. In this group, they overstep their long-term contracts (remember, they are usually from 6 months), and thus you can rent yourself an apartment for a shorter period and a couple of weeks to several months.
Another English-speaking group dedicated to renting a property in Bangkok. Only here, on the contrary, you need to look for an apartment for a long time, usually from 6 months. There are shorter contracts, but rarely.
Apartment search engines
AirBnb.com
http://www.thaiapartment.com/
http://www.mrroomfinder.com/
http://9apartment.com/
http://www.condopass.com
http://www.hipflat.co.th/en/

http://www.soidb.com/bangkok/apartment/
http://www.soidb.com/bangkok/serviced-apartment/
ads
http://classifieds.thaivisa.com/
http://www.prakard.com/ (almost everything is in Thai)
http://www.bahtsold.com/real-estate
I don't mention the websites of various agencies here, you yourself will come across a large number of them when you search for information on the Internet..
P.S. Posted overview of 10 apartments in Victory Monument area. They are not cheap, but they may be useful to someone..
P.P.S I have stayed in Bangkok many times and in different hotels. I will not provide links to all my reviews, I will give only a few. Budget Nasa vegas - convenient for stopping near the airport and metro, Rajata - good place to spend the night near Khaosan, S3 Residense located in the center next to the park.