For several days now we have been living under the very sky of Bangkok, above, probably, only the stars and Bayok Sky 🙂 And we flew here from a glorious Koh Samui islands for a simple reason - we want to try classes with Egor in a special center for children North Light. A little later, when we work out, and we have some opinion on this matter, I will definitely write about it, whether it is worth it or not..
Our apartment at The Complete Rajaprarop
At first we stayed at a hotel S3 Residence Park, while looking for an apartment, then we moved. We chose the area near Victory Monument, although it is not the best for a long stay, but it suits us the most. There is park Santiphap for walking, there are two metro stations nearby, excellent transport accessibility to Northlightcenter and the hospital (we also want to go there a couple of times), not far from shopping centers and supermarkets. There is only one minus - the price of housing, because this is the very center of Bangkok. There was one more drawback - gas pollution, but on the 29th floor it is not felt at all, exhaust gases do not reach us. (If you want to find a hotel in Bangkok in advance, it is convenient to choose accommodation on RoomGuru, this is a service where you can compare hotel prices in different booking systems. I have stayed in Bangkok many times and in different hotels. I will not give links to all my reviews, I will give just a few. Nasa vegas - convenient for stopping near the airport and metro, Rajata - good place to spend the night near Khaosan, S3 Residense located in the center next to the park.)
So, after a day of searching, we found a suitable apartment for us. It turned out that despite the approaching New Year Bangkok doesn't have such a high season as the islands, which is great. I think that if you look for a longer period and in a slightly different area, you can find it cheaper, but it was important for us now to live in the city center.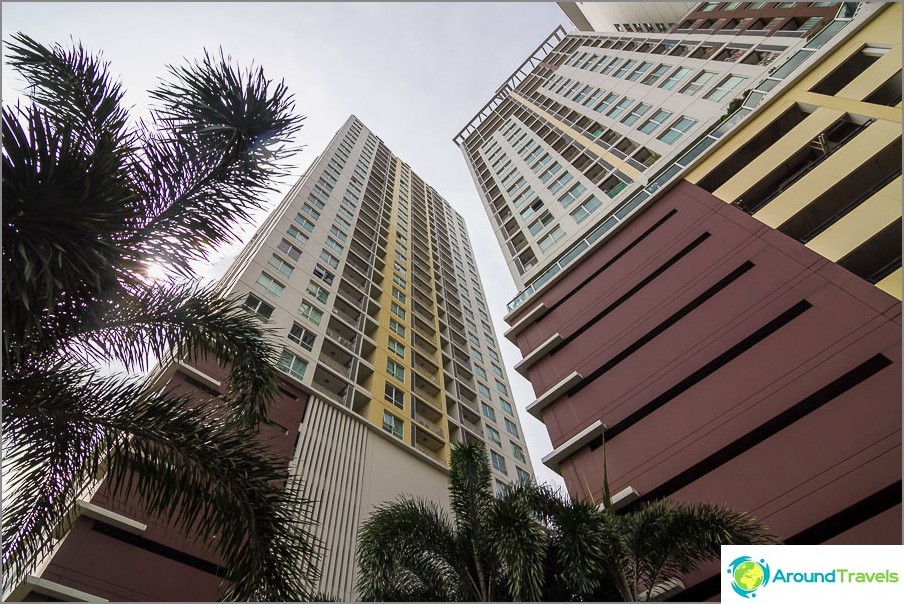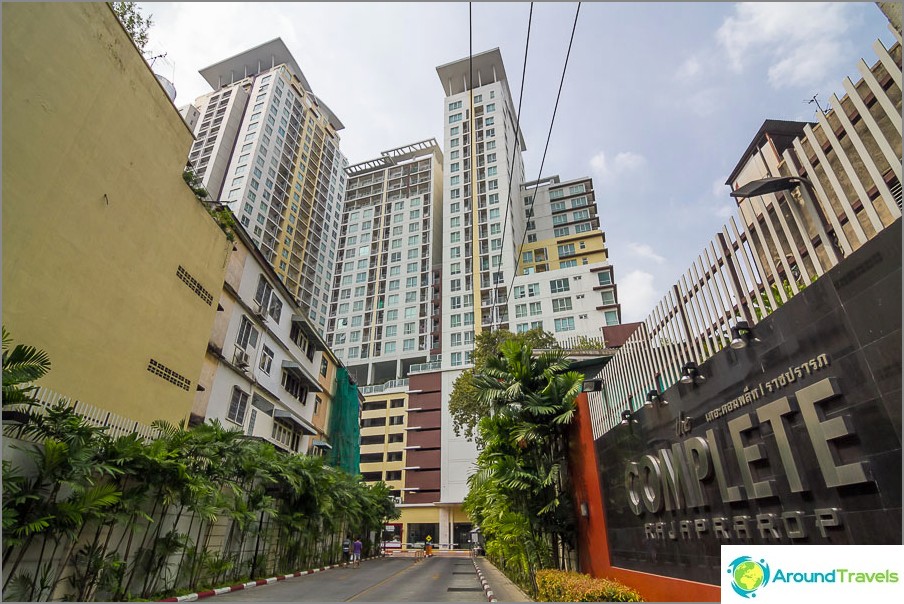 What have we found
Apartment with an area of ​​55 m2: living room + fully equipped kitchen (stove, microwave, refrigerator, rice cooker, kettle) + 2 bedrooms + 1 bathroom + balcony. Air conditioning in each room (3 pcs), washing machine, two TVs, DVD player, wifi router.
Two swimming pools: one in our building, one in the adjacent.
Fitness with exercise equipment.
Air-conditioned room on the ground floor with tables and sockets, convenient for work.
Small green park on the territory of the condominium, it's good when there is no time to go to a large park.
Water dispensers, ATM, minimarket, cafe with Thai food, selling drinking water in large bottles.
Price
Rent - 25.000 baht / month
Deposit - 50,000 baht, returned at the end of the term
Electricity - 4 baht / unit
Water - 18 baht / unit
Internet from TOT - 600 baht / month
Pool and fitness are free for all residents.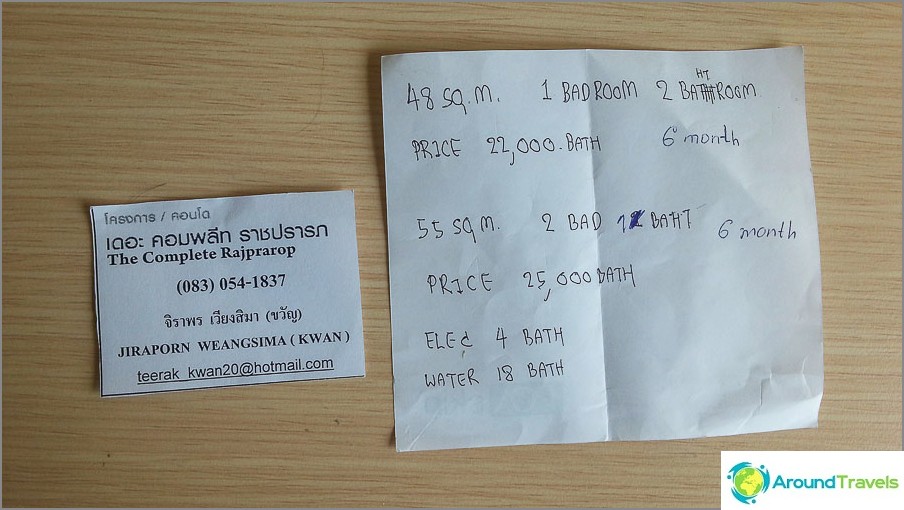 We really like our current housing, because life here is arranged to the maximum. This is the best deal we've found in a day of searching, and, oddly enough, the cheapest. There were even more expensive ones, and where it is impossible to cook, and where there is not so much equipment, and there are not so many services in the condominium. Since we were initially looking for a two bedroom apartment, the choice was quite limited. We did not even go into ordinary small Thai apartments, as a rule there are only studios there. There was an idea to rent two inexpensive studios, but the price was not much lower, and this is not very convenient, and I also wanted to have a pool and fitness nearby. About, how to look for an apartment in Bangkok, read the link, there is my search experience. And also I also did overview of apartments in our area. If you need a house, you can find my booking instructions at the link: How to book a house in Thailand - 5 ways.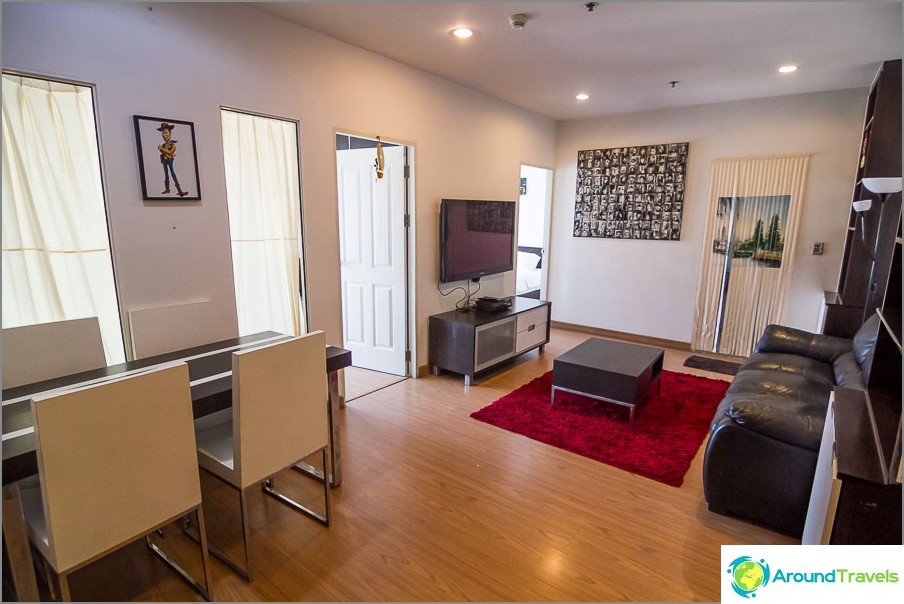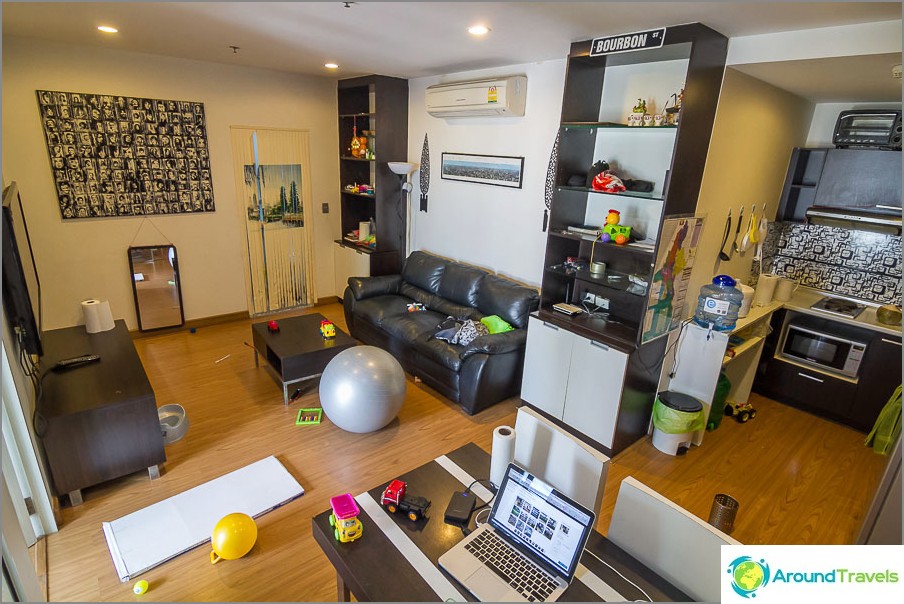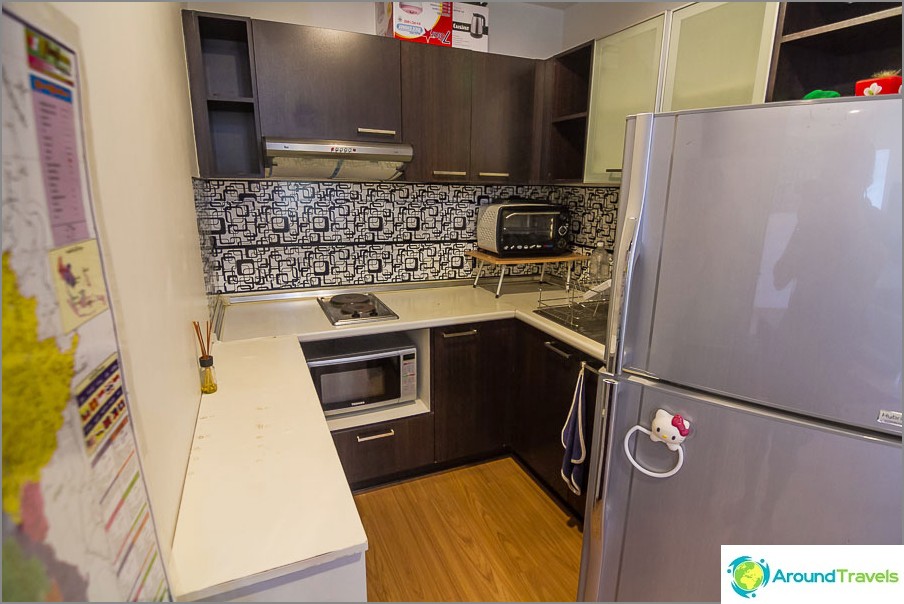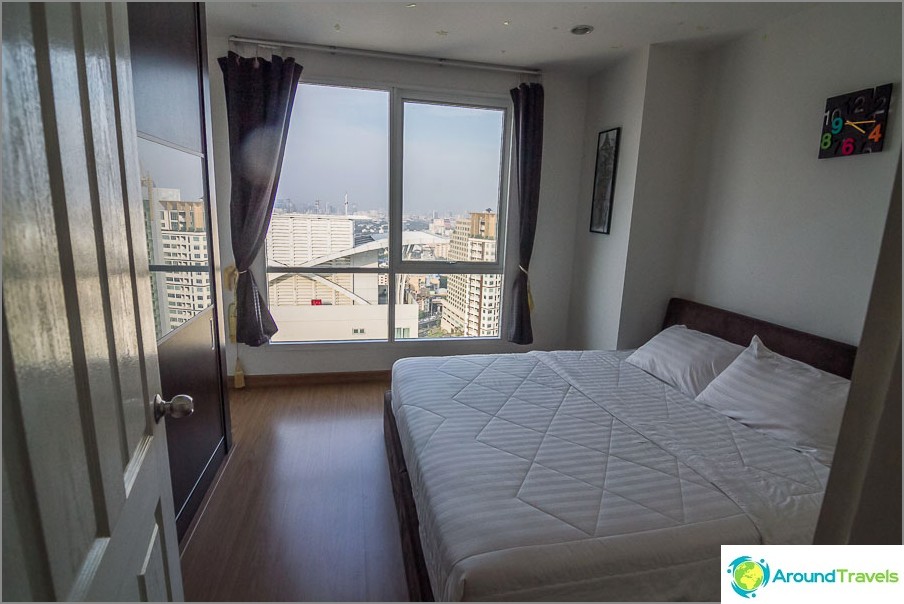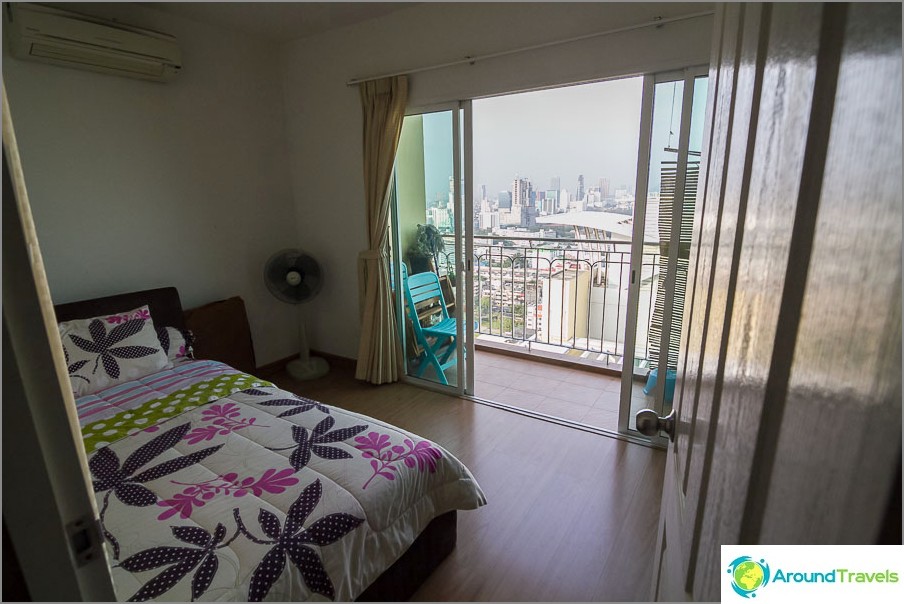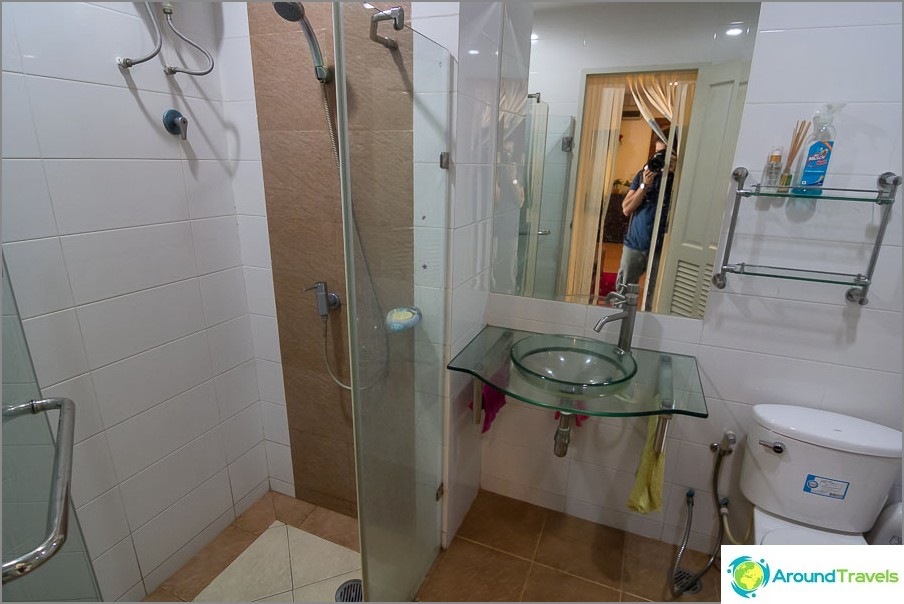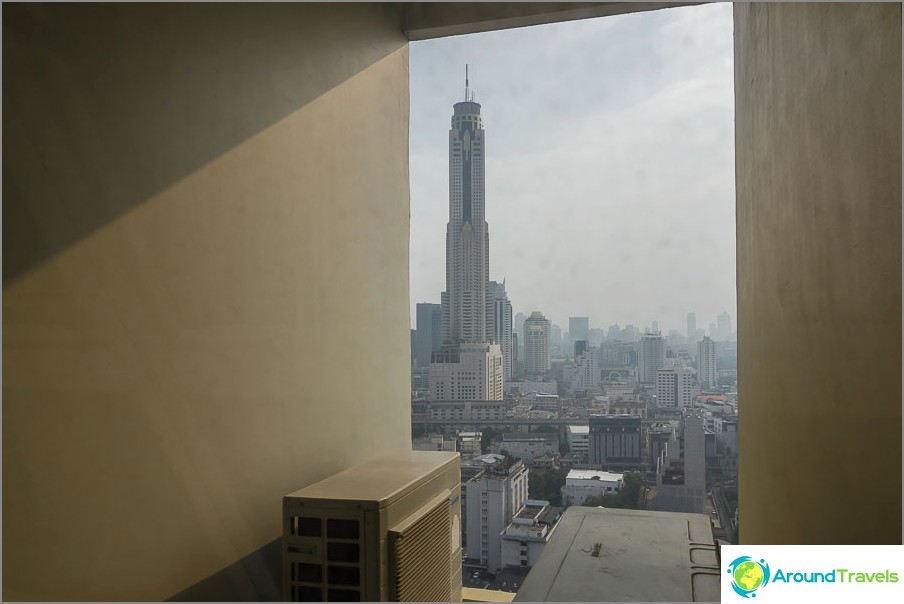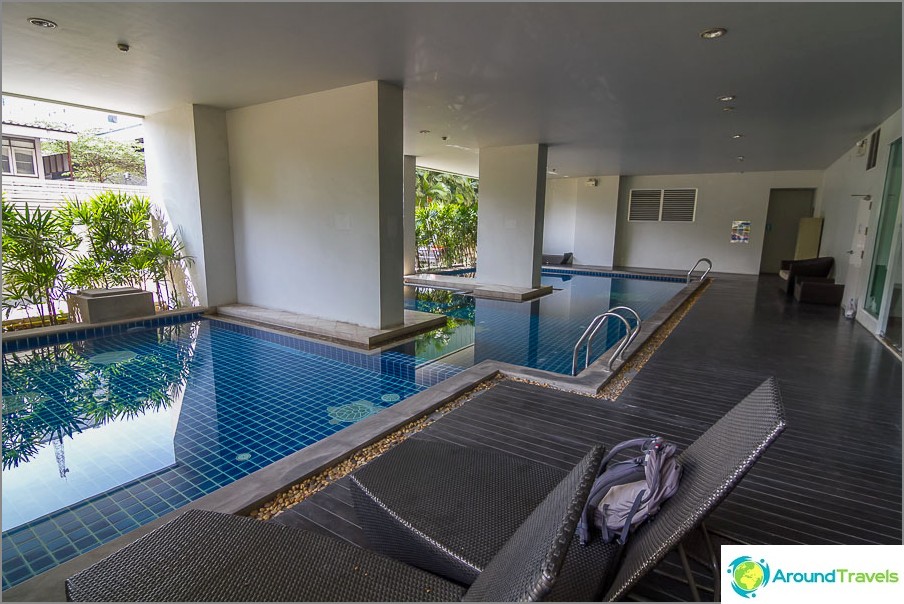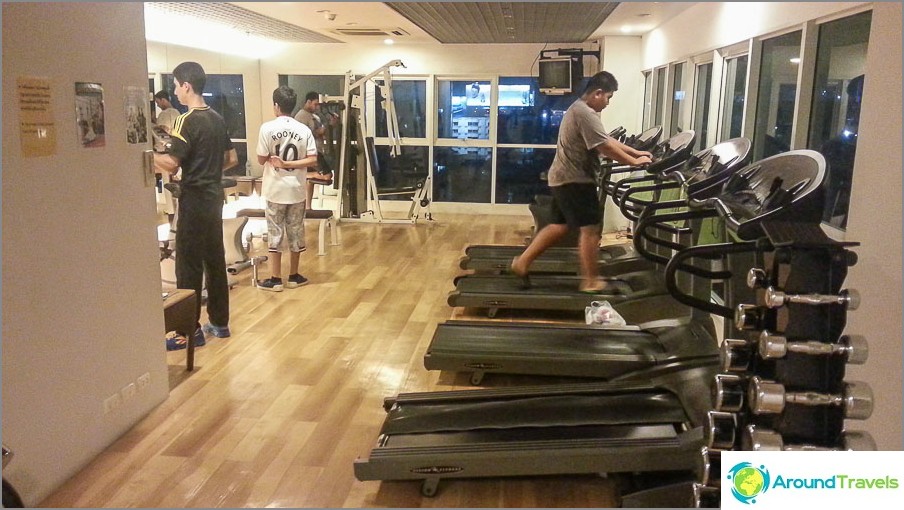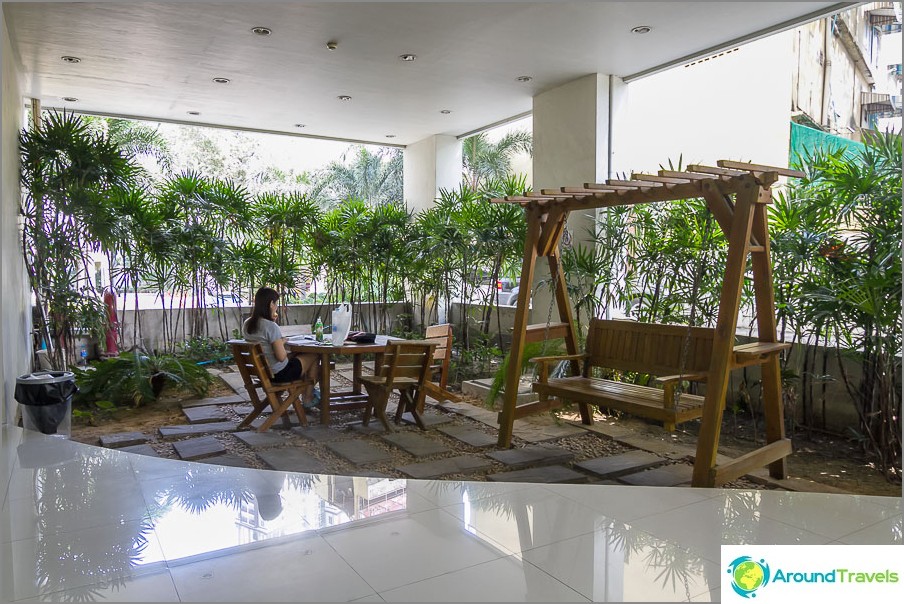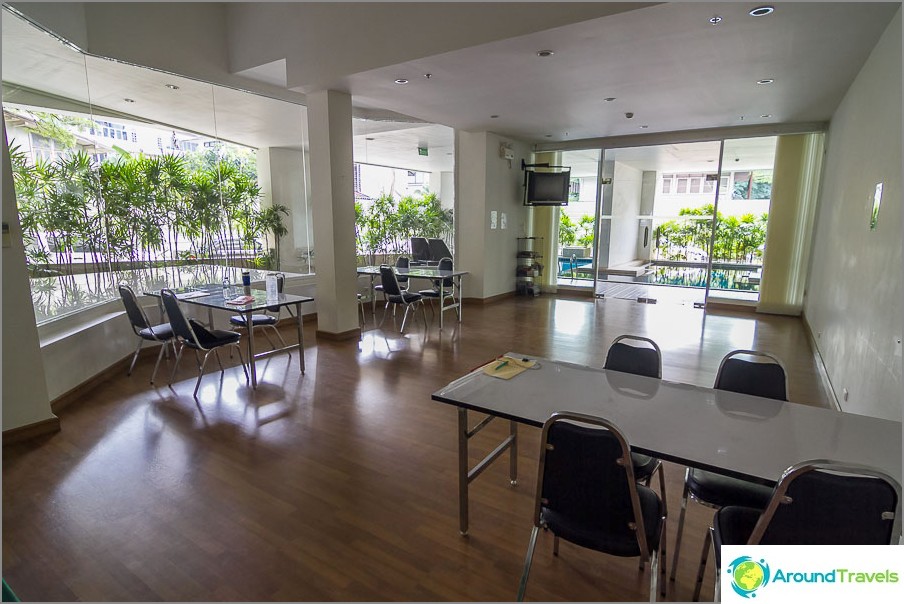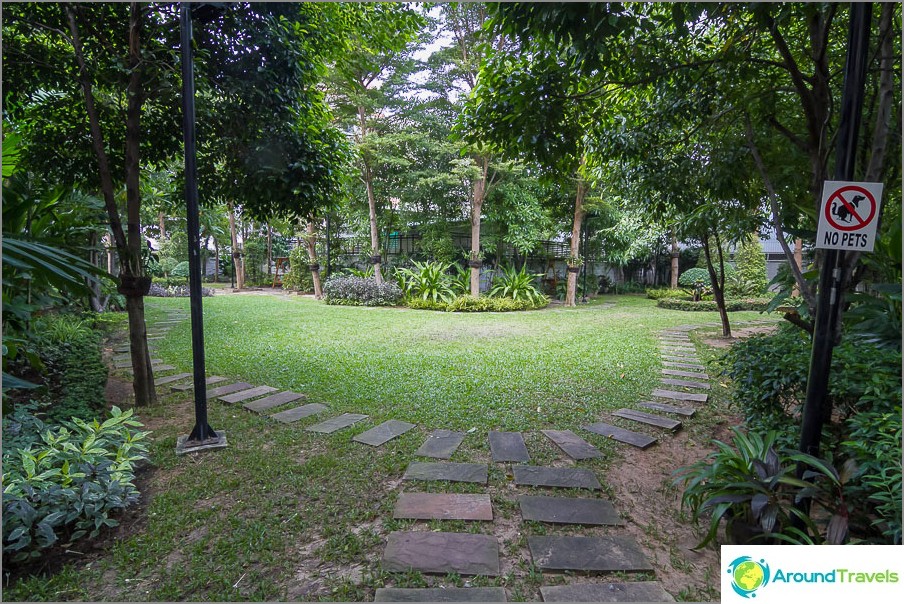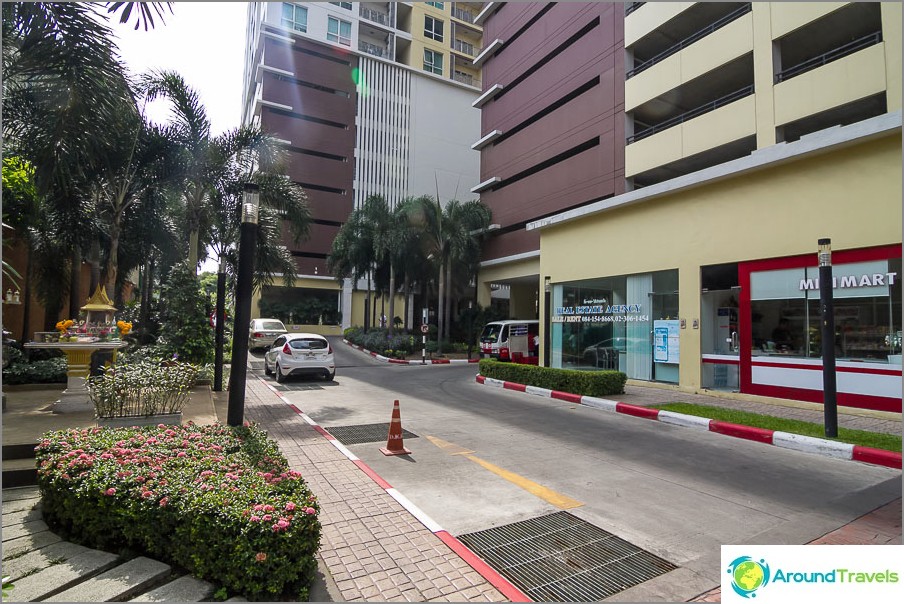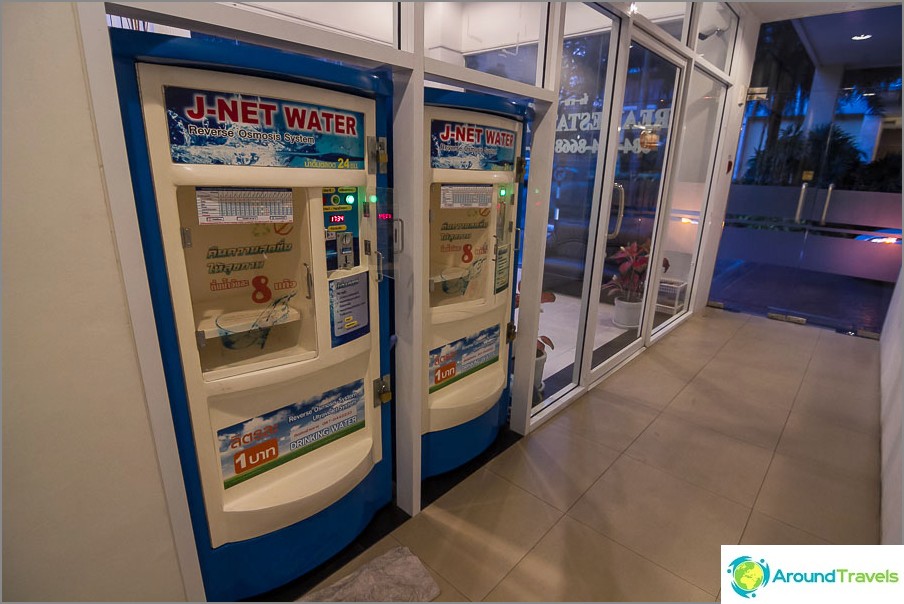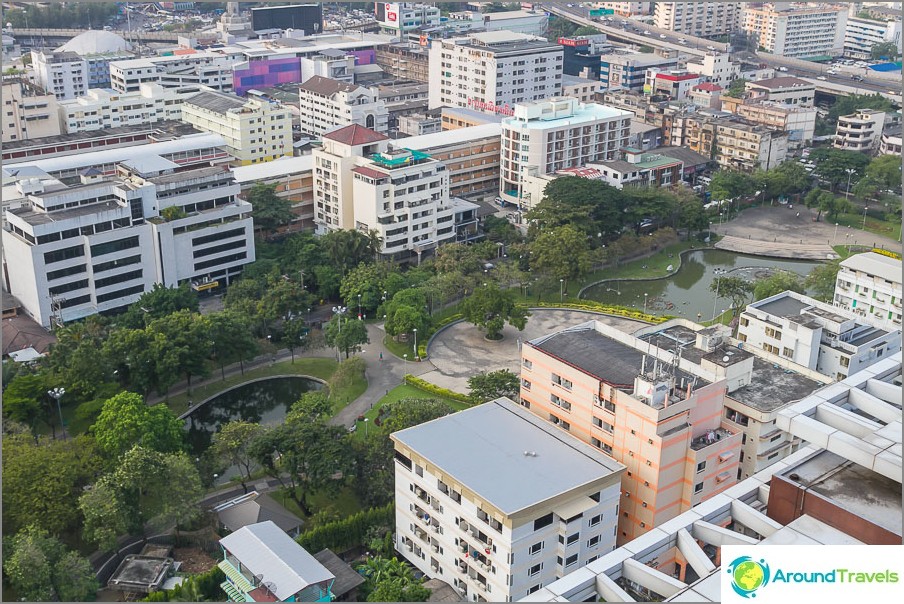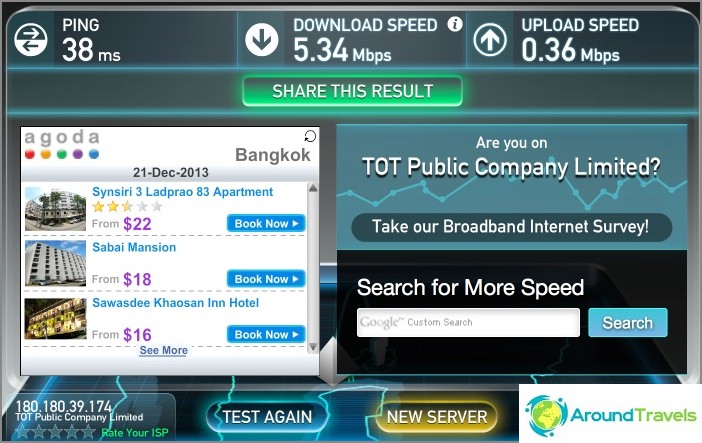 For some time I doubted whether it was worth living in this area in terms of cafes and shops, but it turned out that there are many inexpensive cafes on the next street, papaya / apples / greens / tomatoes are also sold in the shop, a bunch of makashnits with freshly squeezed tangerine and pomegranate juice, chopped fruits and other food. And also we have Tops Market in 10 minutes on foot. Well, and on Taxi in 5 minutes and 50 baht you can get to the huge two-story Big C Super Center with a food court, shops and a large playground. There, in fact, there are other shopping centers nearby..
Unusual
And now I will describe what is unusual after living in an apartment in Moscow. First of all, it's unusual to live so high. You come up to a window or a balcony and it will take your breath away. It seems that he was never afraid of heights, but for some reason it was dumb. And when you go in the elevator, your ears get a little clogged, strange. Secondly, it is unusual that you need to use a card everywhere: go to the lobby - you put the card, press the button in the elevator - you need to attach the card again, go into the apartment - again the card, the enemy will not pass. It's great that one card is for everything, not a bunch of keys. Thirdly, it is very unusual that there is everything you need for life: a swimming pool, fitness, drinking water, a shop, you don't have to go anywhere on purpose. For several days I catch myself thinking that I would continue to live like this, you get used to the infrastructure 🙂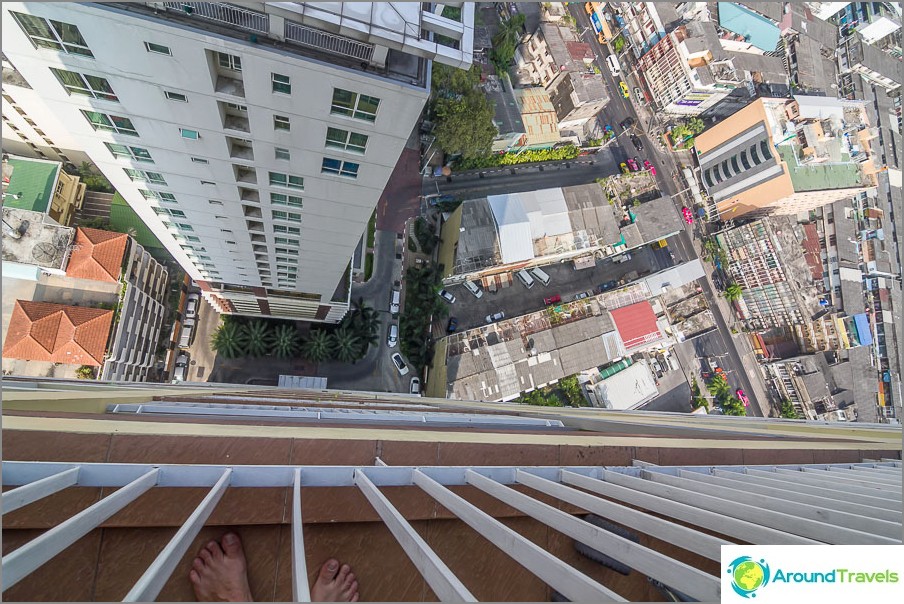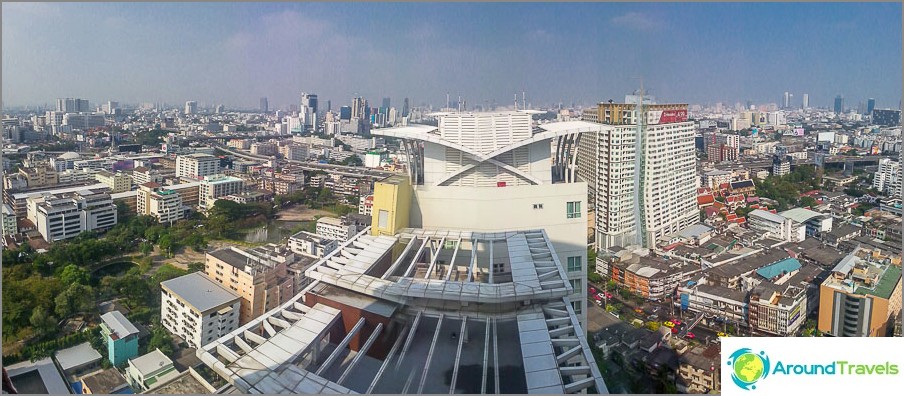 It is too early to write impressions from Bangkok, we have just moved in, we are setting up our life, we'll find out where what is here, we have not yet begun to work with Yegor. But everything will be further on the blog, stay with us 🙂 By the way, we are in Bangkok until February 4th..
The complete rajaprarop
The complete rajaprarop
https://life-trip.ru/our-apartment-bangkok-29th-floor-downtown/.
https://life-trip.ru/our-apartment-bangkok-29th-floor-downtown/.
P.S. After leaving the apartment, we were charged 600 baht for cleaning, and we washed the local bedding ourselves.