I have already shown our house on the broadcast, but the story needs a more detailed review on the blog, including in video format. We are very pleased with the house, although its price turned out to be slightly higher than what we would like, and there are other disadvantages too. Although, if you count in baht, then once we filmed and more expensive (apartment in BKK on the 29th floor).
I found the house in 1 day, combing the vicinity of Bang Tao. Perhaps if I had spent more time searching, I would have found something else better, but after being told all day that everything was booked, I really didn't want to miss this option..
The content of the article
How I was looking for a home
The scheme is traditional, the one that I recommend to everyone. If you are going to look for a home, then be sure to read my post - how to rent a house in Thailand. We booked a hotel in advance through RoomGuru and settled in it immediately upon arrival for several days.
And then I took off my bike and drove around Bang Tao, combing the streets for House for Rent signs. In December, there weren't very many of them, and when I called on the phone, I was almost always told that the house was already booked until February / March / April. It is not surprising - peak season is not the best time to look for a home. Therefore, after a couple of hours of searching, I began to ask the Thais on the street if there were houses for rent here. In one of the bike rental offices there were Thai agents (although the feeling that everyone on Bang Tao is like that), who, in fact, showed me this house.
In total I managed to find: a two-bedroom house for 16 thousand baht (35 minutes to the sea on foot), a very cool two-bedroom house for 17 thousand baht (to the sea only by bike), a super house for 24 thousand baht free in a month (15 minutes to the sea on foot ), the house for 19 thousand baht is free only in December. This is about Bang Tao. Also, through groups in VK, I went to a Russian agent girl, she showed me a modest (and very dark) apartment on Kamala for 16 thousand baht 300 meters from the sea and a double house for 13 thousand baht far from the sea. That is, as you can see, there were options in December, but all of them did not suit us for one reason or another. If you come not during the peak season, then the choice is much wider, including much more budget houses 10-15 thousand baht.
If you are traveling to Thailand for the first time, then I recommend booking a house or apartment in advance. This is done only through a realtor. Yes, they do not deal with the cheapest housing and take a commission, but this allows you to avoid unnecessary hassle in an unfamiliar country. Believe me, independent searches on the spot are difficult and not worth it. You are going to rest.
Send me a request to advise a trusted realtor, whom I myself trust. And then recently there have been a lot of scammers.
Send request>
Our house in Phuket near Bang Tao beach
Host price and contacts
Price per month - 18,500 baht.
Deposit - 5000 baht.
Water - 500 baht.
Internet 10/1 Mbps - 700 baht.
Electricity by meter - 7 baht / unit.
Phone 081-0909610
As I said, we rented the house through a Thai agent, so the price was higher than what the owner would have rented to us. However, during my searches, I called him several times (there was a sign with a telephone on the house, and I noticed this house pretty quickly), but for some reason he did not answer the phone. After signing the contract, he came up to me and said that «got rid of» from the agent, since I called him (remembered my number and that he did not pick up the phone), and then we will pay less. I hope he doesn't change his mind 🙂 I think the price is somewhere around 2-3 thousand baht agency.
Keep in mind that on Bang Tao (and maybe all over Phuket) Thais are solid agents with their commission, and many houses are not marked at all, you would not guess that they are for rent.
Interior
From the pros: a pleasant green lawn near the house, the house is fenced, a view from the bedroom to a green meadow, a large three-compartment refrigerator, a washing machine, a lot of furniture (there is a desk, several wardrobes), air conditioning in each bedroom, a bathroom in the bathroom, bars on the windows and mosquito nets, large TV. Those who have already been to Tai know that a normal refrigerator and even more so a washing machine are quite rare phenomena..
Cons: the house is a little old, the kitchen is a bit dark (there is only one working lamp in the ceiling), there is no hot water (the water heater does not work), there are not enough chairs, there were no pots and pans, the rim of the toilet is broken.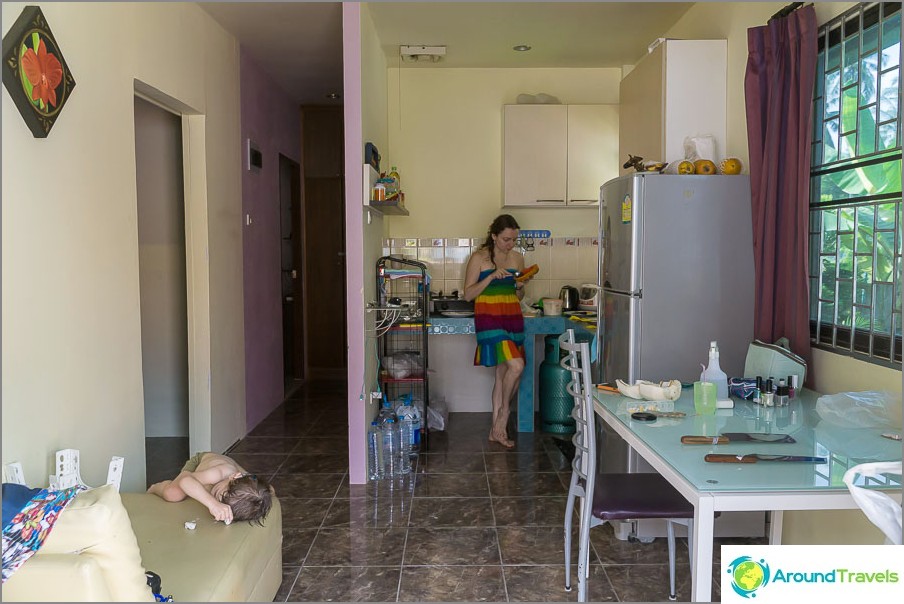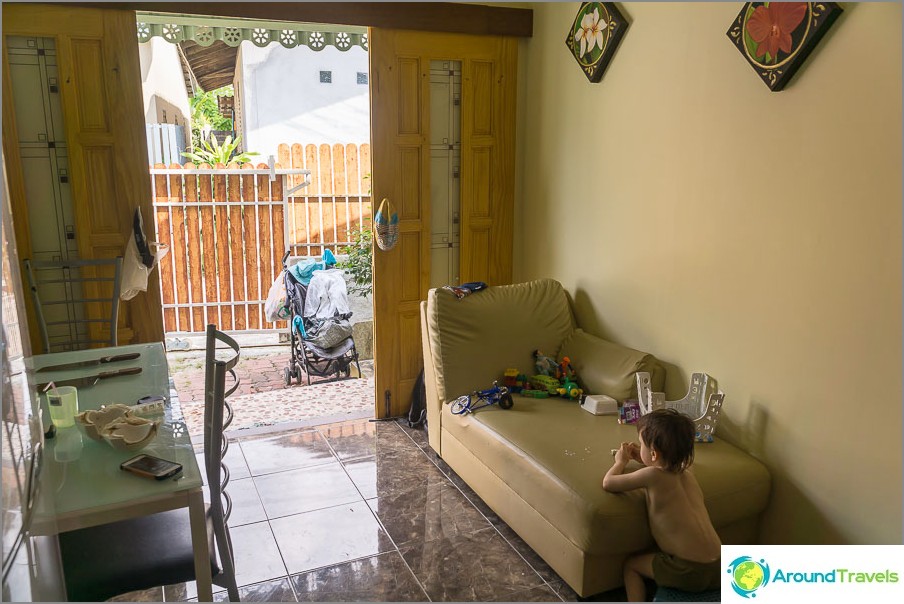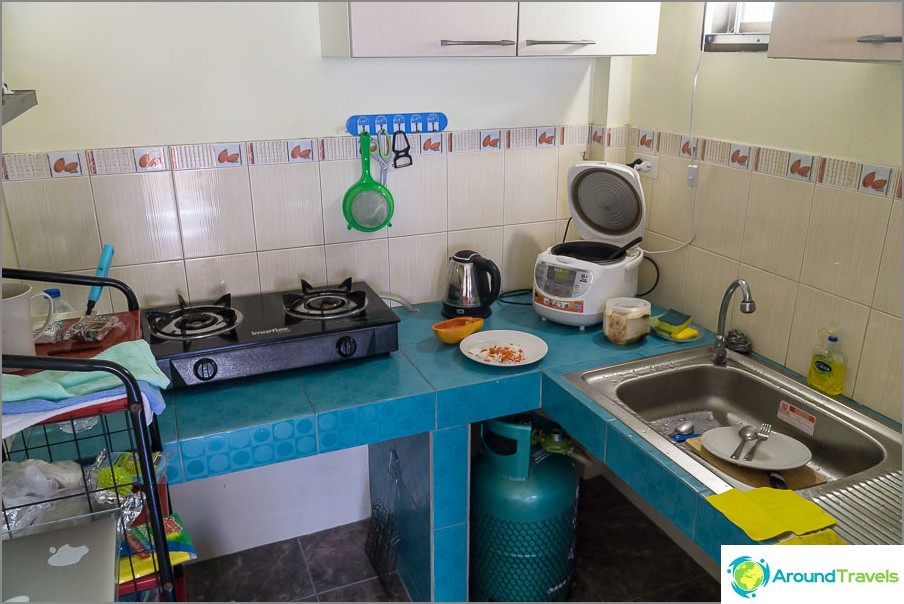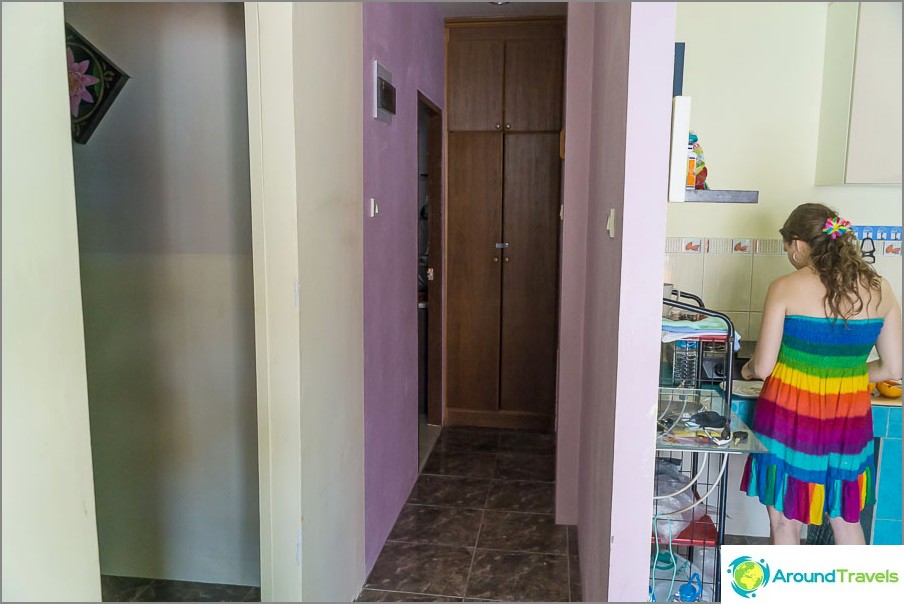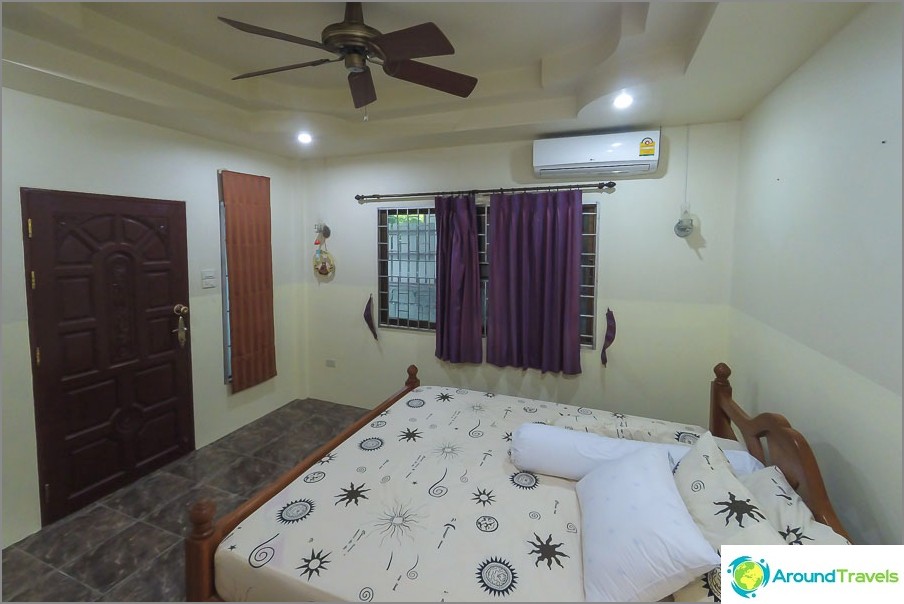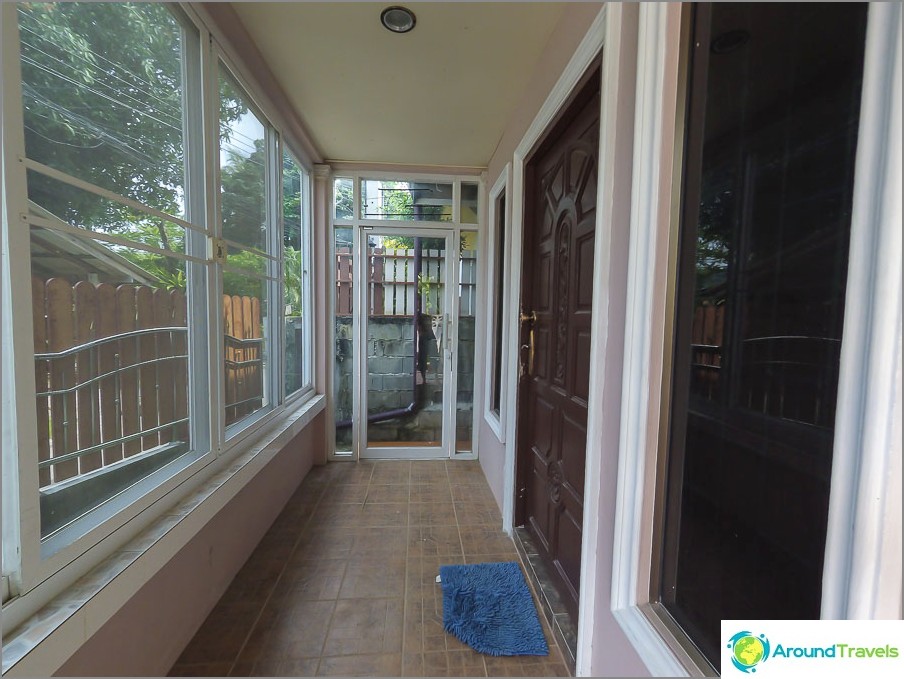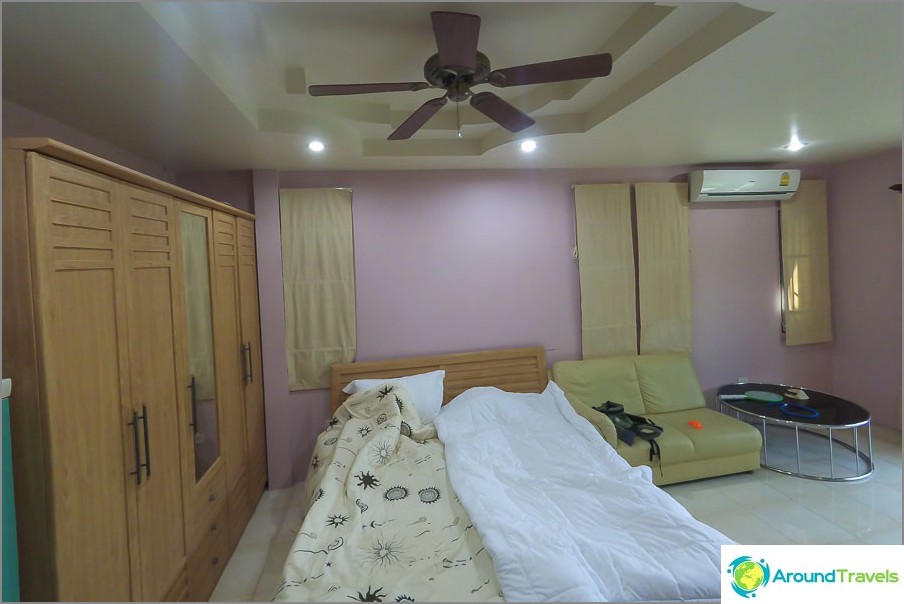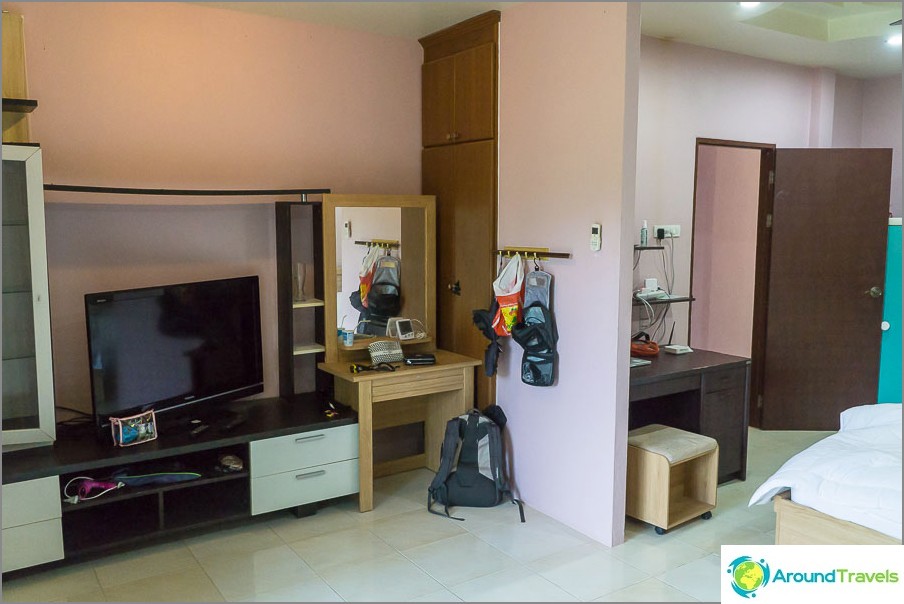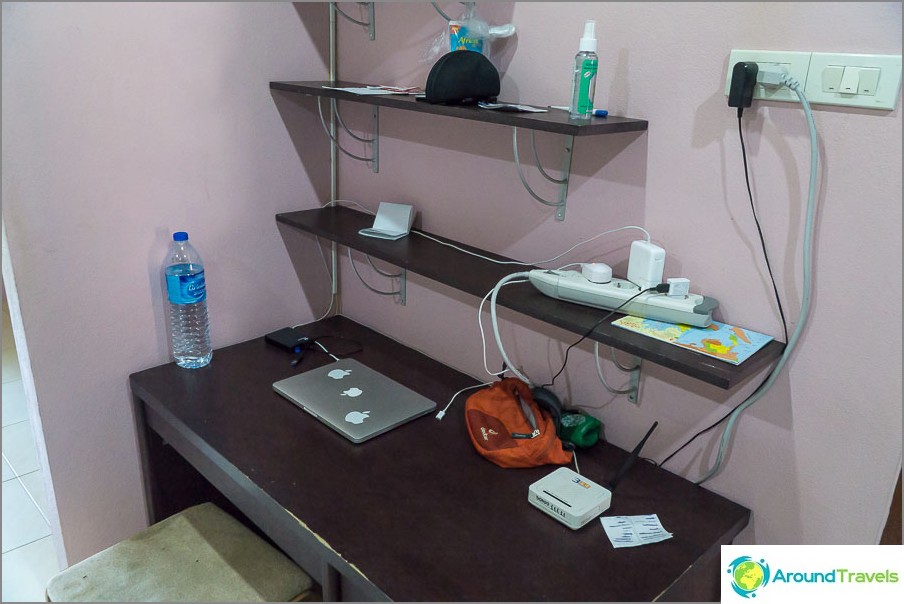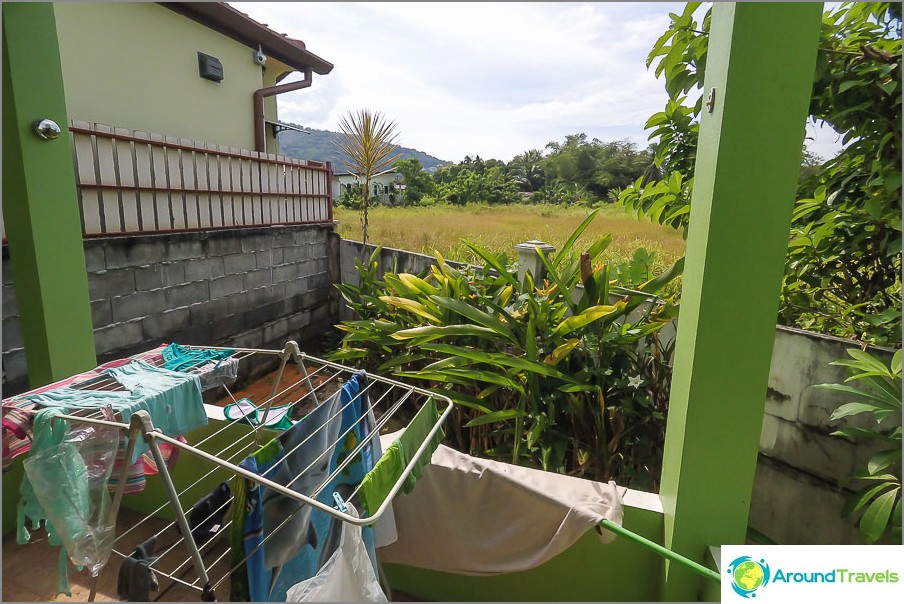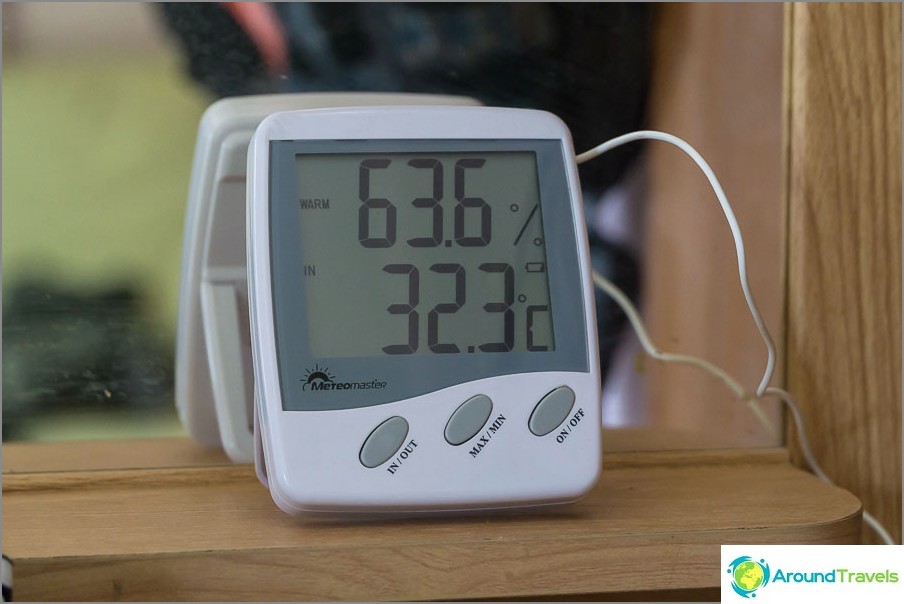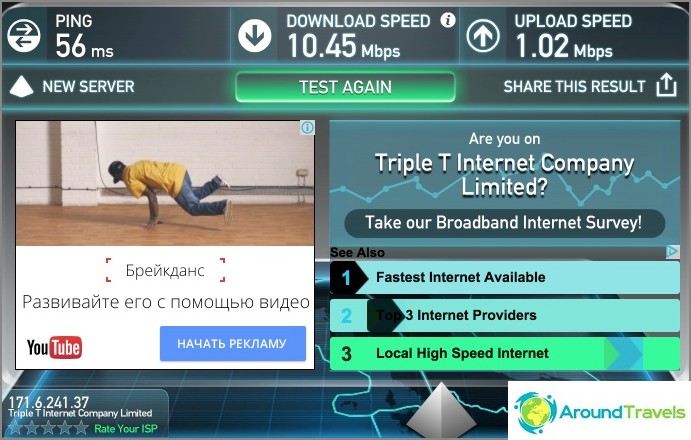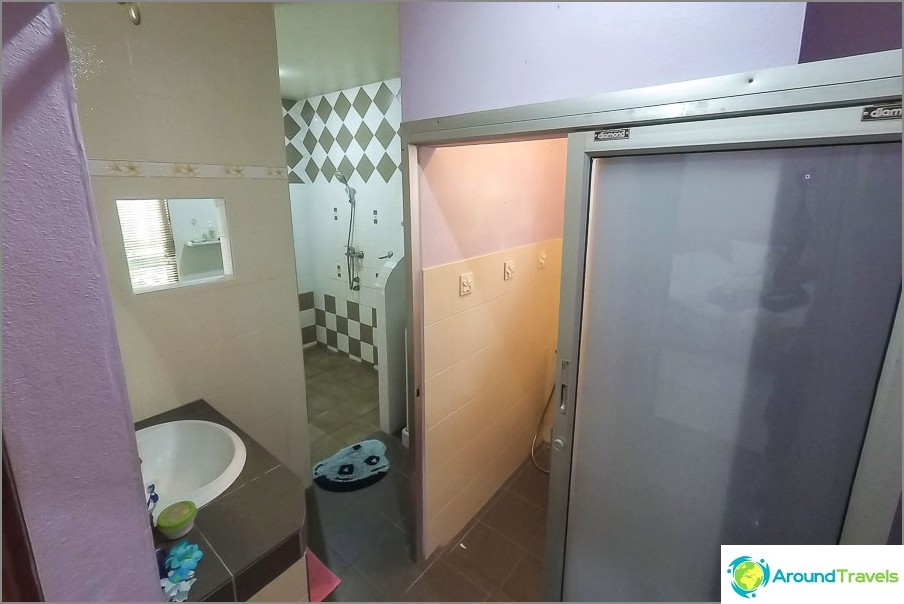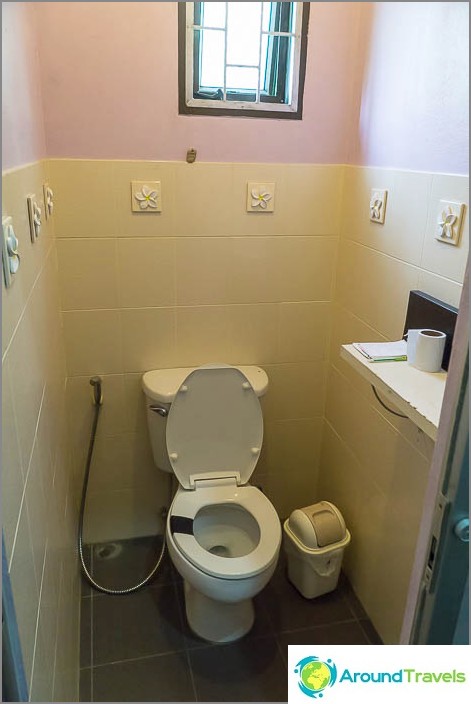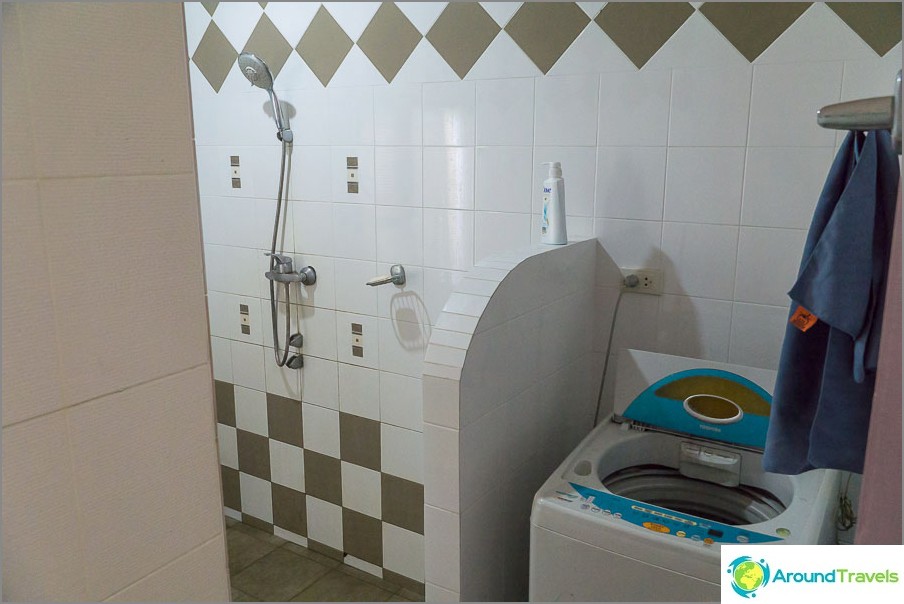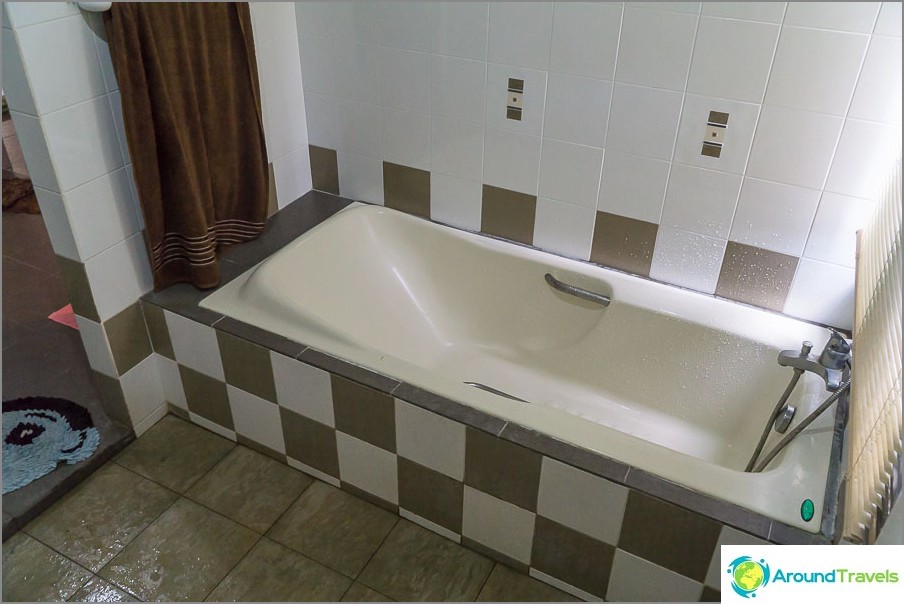 The house is double, but it would be possible to rent a single, if there was a choice. We use the second bedroom only for Yegor's daytime sleep, it is dark there during the day. And as you can see, all the minuses are small and you can put up with them or fix it somehow, since the owner is not particularly eager to fix something. We have already bought a saucepan and a frying pan, a couple of table lamps too, all that remains is to resolve the issue of hot water, if at all. There was also a problem with the router, my MacBook did not want to connect to it (thanks, the 802.11d protocol is not disabled), but the issue was solved by changing the channel on our router, since the passwords were standard.
Neighborhood
The most important thing that we wanted from housing (well, in addition to a normal house, air conditioning and the Internet) was walking distance to everything. Before Bang Tao Beach we now go 15 minutes, to Tesco 20 minutes. To 7/11, superchip, cafes, and the market 10 minutes. Ideally! Vodomat is generally 100 meters away.
I even now regret that took off the bike, because we don't really need it. Moreover, soon they threaten with a serious increase in the fine for driving without category A, which I did not manage to do in Russia (I have category B rights, including international ones). But I already paid for 3 months of rent (it turned out 3333 baht / month for the Honda Click 125), so I'll have to use it. I even think it's Thai to do it, but they say the queues are now 2 months in advance, I need to find out how things are in Phuket.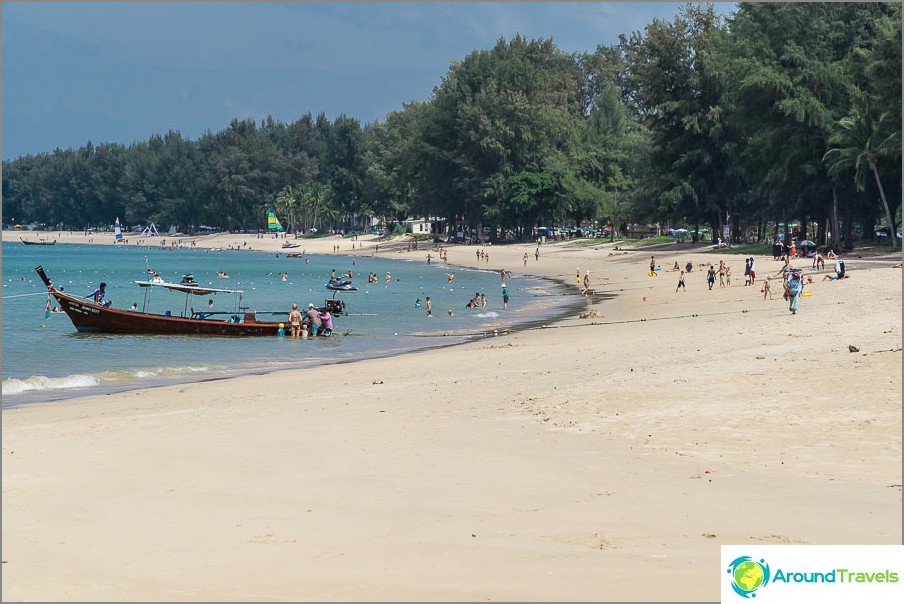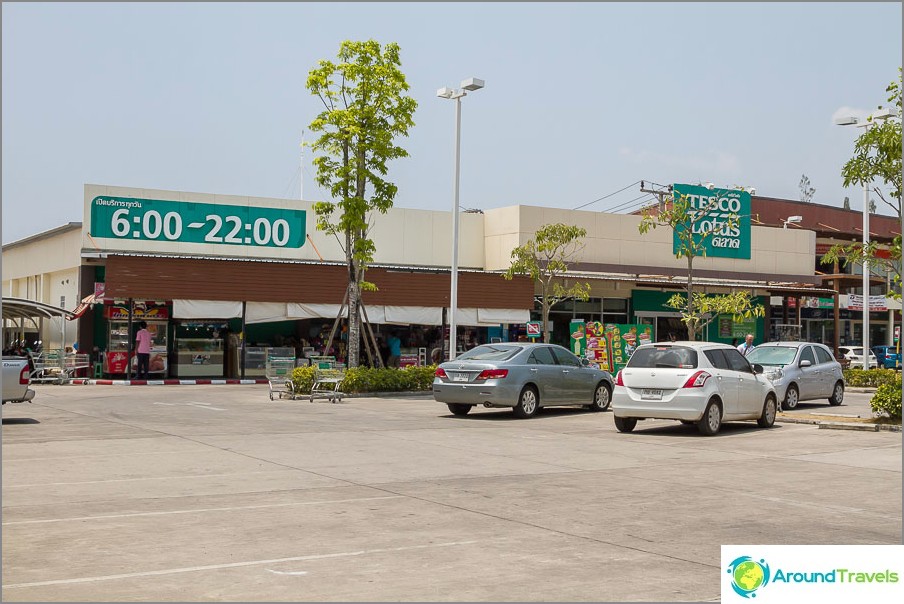 Video review
On the map
Our house in Phuket
Our house in Phuket
Our house in Bang Tao, which we rented for 4 months. Price 18500 baht / month.
More details
Our house in Bang Tao, which we rented for 4 months. Price 18,500 baht / month. More details