Now I visit Krasnaya Polyana every year in winter and summer, so there is something to write about. Here is my list of the most popular and demanded establishments of the resort, which (whenever possible) I visit personally. The post you are currently reading is a summary of the places where I have been and have lunch, or just drank coffee. There are unpretentious places with democratic prices, and there are super-duper restaurants, the price tag of which is not entirely pleasant. I would be grateful if you would share your own experience with the indicated cafes and restaurants, or even better, if you could advise cool places for my next visit to Krasnodar Territory..
The content of the article
Where to go to eat
Krasnaya Polyana
Dining room Yum and Yum
Outwardly, the dining room is not particularly remarkable; inside it opens up to you from an unexpected side. An excellent European interior combined with a buffet and quite reasonable prices leave only positive impressions. There is a parking lot right next to the front doors, there is a lot of space inside, large windows make the room very bright and light, and people really create a turnover here, constantly replacing each other at the barista table and at the tables for guests. The place is not at all pretentious, but at the same time stylish and it is difficult to call it a dining room. More about the institution - Dining room Yum and Yum - a fashionable food restaurant in Krasnaya Polyana.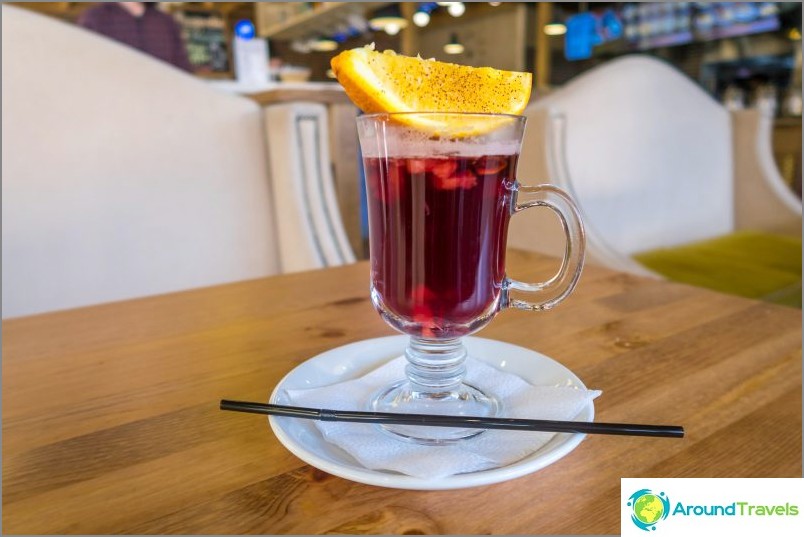 Bulki Coffee Shop in the Mountains
Beloved by both locals and visiting citizens, the place looks like a small gingerbread house, smells like a small gingerbread house, and inside you are treated to sweet desserts and hot drinks. A charming cafe, both externally and interiors, the employees of which are somehow not in a domestic way, welcoming and complacent. A very pleasant and atmospheric place to return to. There is very little space, literally for 10-15 people, but you can buy everything with you. More about the institution - Bulki Coffee House in the Mountains - lamp comfort and cocoa with hearts.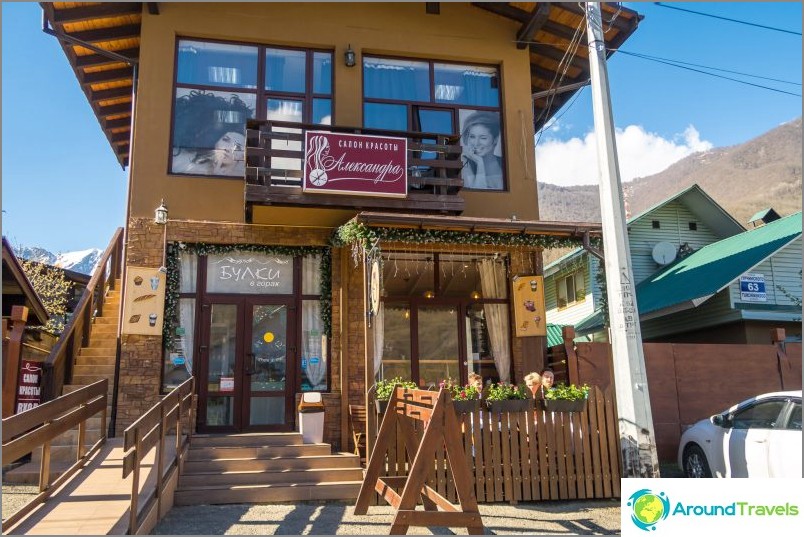 Tavern Triconi
Surprise by the side of the road for someone who comes here unprepared. Outside, it is a small building with a squat roof, while inside it is an unexpectedly spacious chalet with lots of tables, decorated with natural materials and solid furniture. Friendly staff, fast service, a wide choice of places among several dining areas of the establishment, deliciously prepared dishes and pleasant music. Plus, I highly recommend coming here between 12 and 17 o'clock: the discount on the entire menu is 50%. More about the institution - «> Tavern Triconi in Krasnaya Polyana - happy hour is really happy here.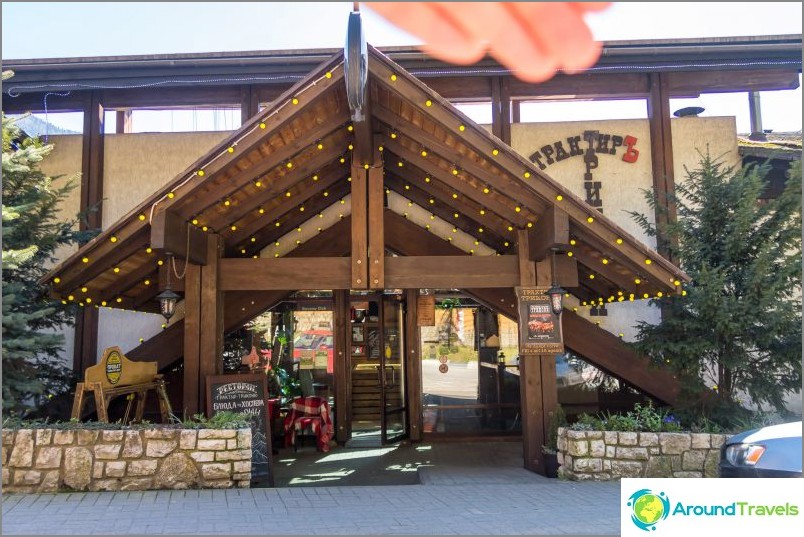 Estosadok and Gorki Gorod
Dining room Let's eat
The dining room is located on the busy main street of the village of Estosadok, opposite the Gorki Gorod, but you can easily slip by - it is hidden. Behind the walls of cafes, which are close to the sidewalk, there is a passage to the courtyard, where you suddenly find two establishments: «Let's eat» and restaurant «Friends». I did not have the opportunity to evaluate the restaurant menu, I had to eat at «Let's eat». But I took a good look at the interior, and managed to form some opinion. More about the institution - Dining room Let's eat - a cozy corner in Estosadok.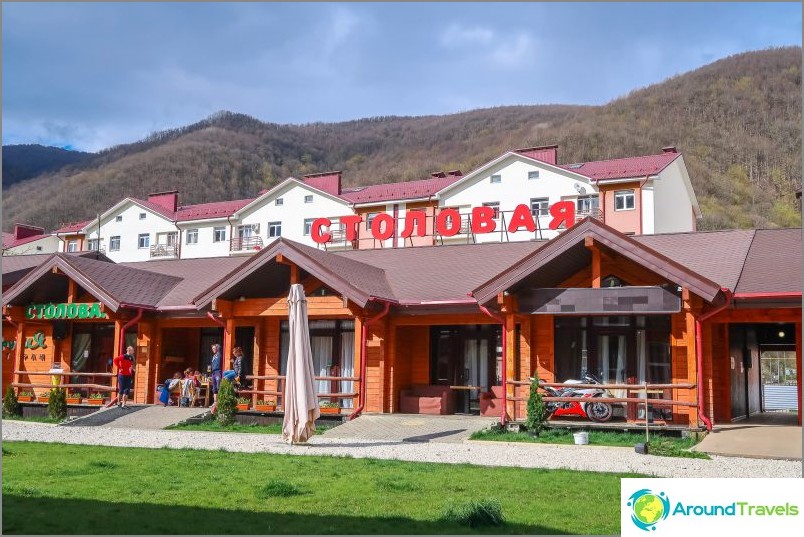 Stock Mustard
A joke cafe with serious prices. The organizers of the establishment approached the design of the exterior and interior in a very humorous and perky way. Everything is done in the style of the bygone Soviet era, but with a modern attitude towards it. Everything is so bright, catchy, defiant, daring, including the decoration of the walls and the serving of dishes. The place is very positive, not without flaws, but I definitely recommend it to visit. Just have a tasty meal and cheer yourself up. More about the institution - Stopochnaya Mustard - an islet of the USSR in Gorki Gorod.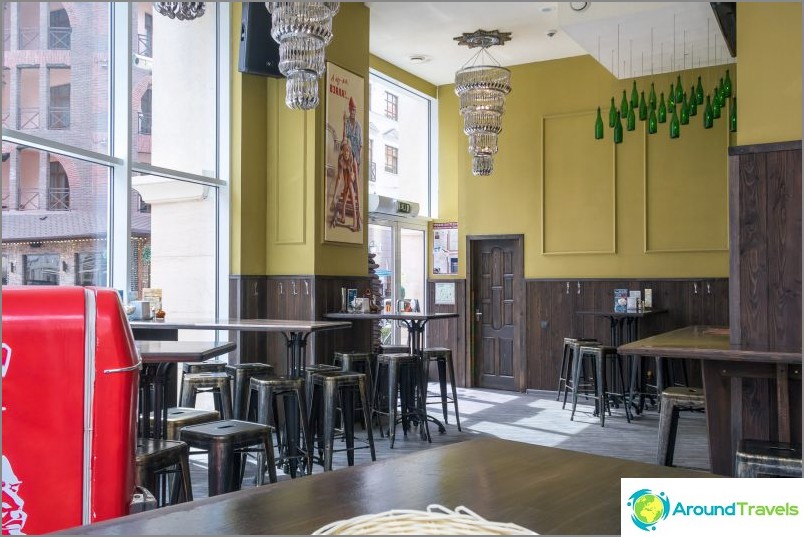 Cafe Guests
A cafe with a claim to the title of a restaurant, or so it seemed to me - everything is very solid, calm, serious. Prices are not for children, service is like in a movie about the life of rich people, serving on a cutting board, traditional for local restaurants. It is somehow very quiet inside, there is a lot of fabric decor, upholstered furniture, huge windows all over the wall, no sounds from the street can be heard at all. The food is delicious, I really liked it, and, in principle, the atmosphere inside is conducive to a leisurely rest. More about the institution - Cafe Guests in Gorki Gorod.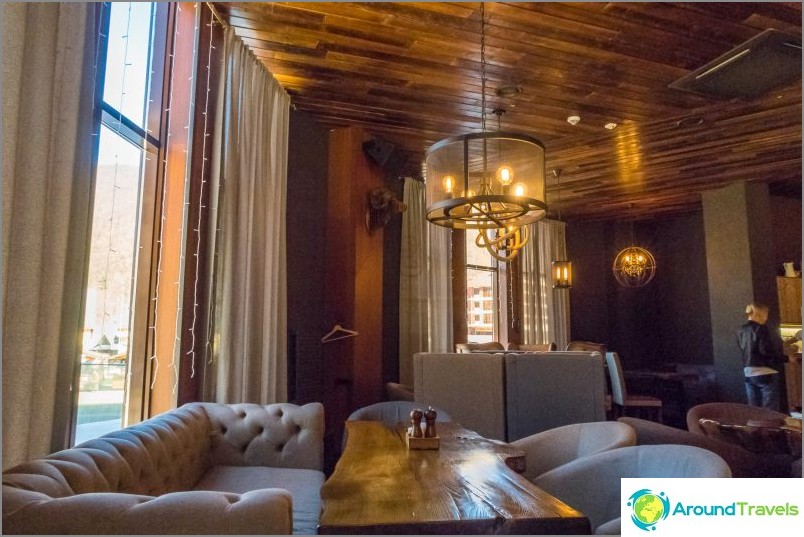 Trattoria 540 Restaurant
The restaurant is located on the lively pedestrian street of Gorky Goroda, not far from the main ski lift of this ski complex. From the outside it looks somewhat pompous, with these Roman columns, attica, gods, Athens, that's all. And when you get inside, your eyes run up with pleasure - everything is done in the style of an Italian tavern, in light colors, artificially aged, shabby, variegated, but so organically suitable for each other. The upper hall fascinated me so much that I did not even go down below, and in vain. Don't repeat my mistake. More about the institution - Trattoria 540 restaurant - an Italian tavern in Gorki Gorod.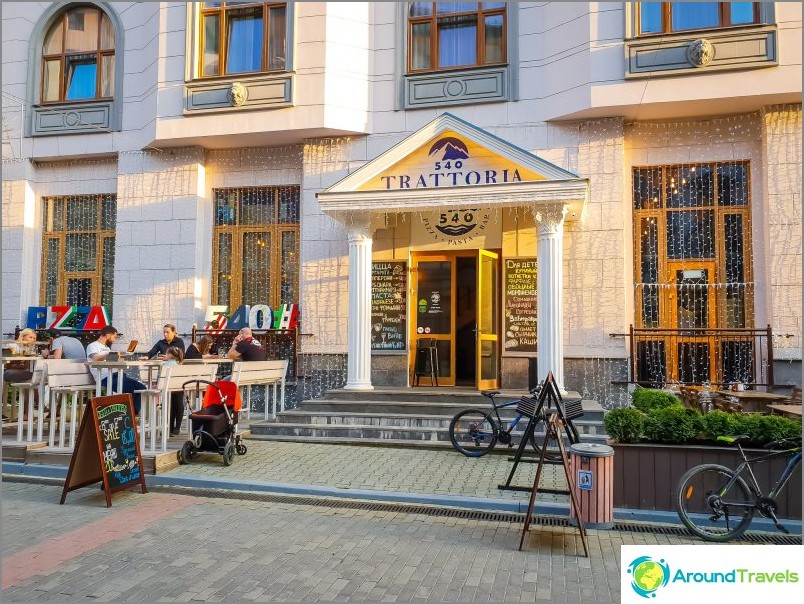 Top Restaurant 2200
Apex is the counterpart of the restaurant, which is described below in the list. Big, dear, climbing high and towering over all the hungry and cold. There are no other establishments at this height, so the guys frolic with prices as they want. I didn't even go inside, but not out of greed or awkwardness, but for weather reasons - it was very cool outside, so I drank my salad with a drink, squinting from the bright April sun. Service is polite, fast, flawless. Only people with good incomes order here on a large scale, or people like me, without a pretense of a full meal. More about the institution - Restaurant Vershina 2200 - picnic for moneybags.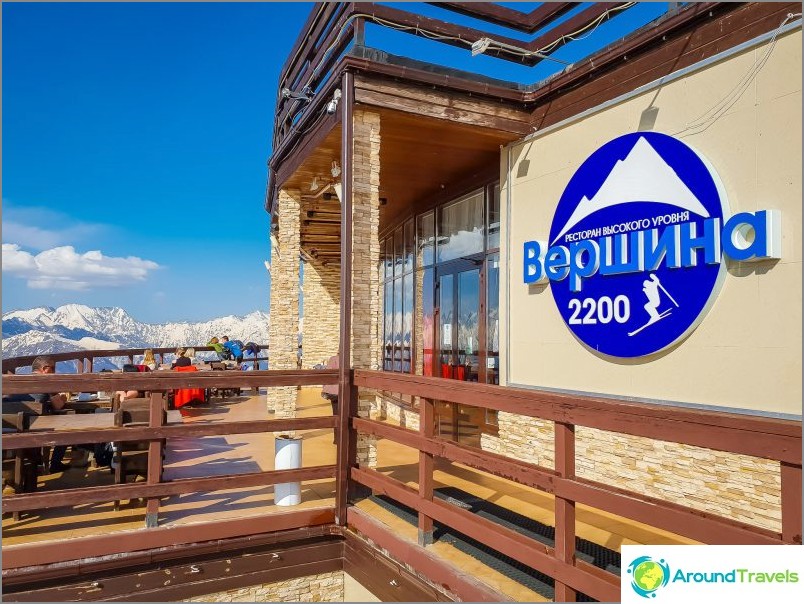 Rosa Khutor
Restaurant Height 2320
Altitude is not a restaurant where people usually go for dinner or lunch, but rather a monopolist at 2320 altitude, where you will go simply because there is nowhere else to go in the mountains. Hence the not particularly refined interior, and horse prices. I didn't order food, but I appreciated the service for working with a rogue order (tea without anything). The attitude is absolutely friendly, and even when passing through the hall, the waiters did not make faces, but smiled and suggested answers to questions. Overall a beautiful view, but expensive. More about the institution - Restaurant Height - at 2320 meters taste of food and drinks disappears.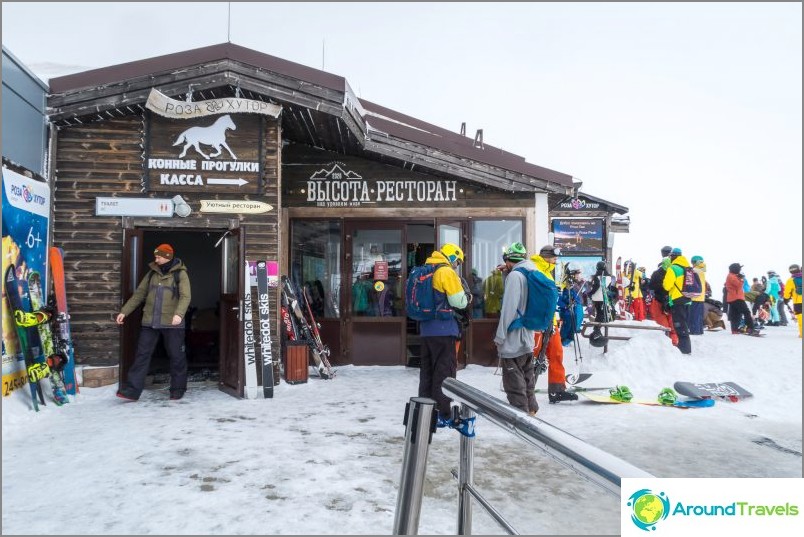 Pear Cafe
An outlet for aged people and family tourists to the Olympic Village. Pear is an oasis of peace and prudence in the middle of an ocean of youth frenzy and sports and alcoholic achievements. I tried several establishments on our patch, but only in Grusha did I find the very balance between my preferences and the possibilities of the restaurant. The audience is quieter here than in neighboring Surf, Mamont or Paul Bakery, excellent quality cuisine, pleasant service and amazing views of the sunset sky in the mountains. More about the institution - Cafe Pear - a place for adult uncles and aunts in the Olympic Village.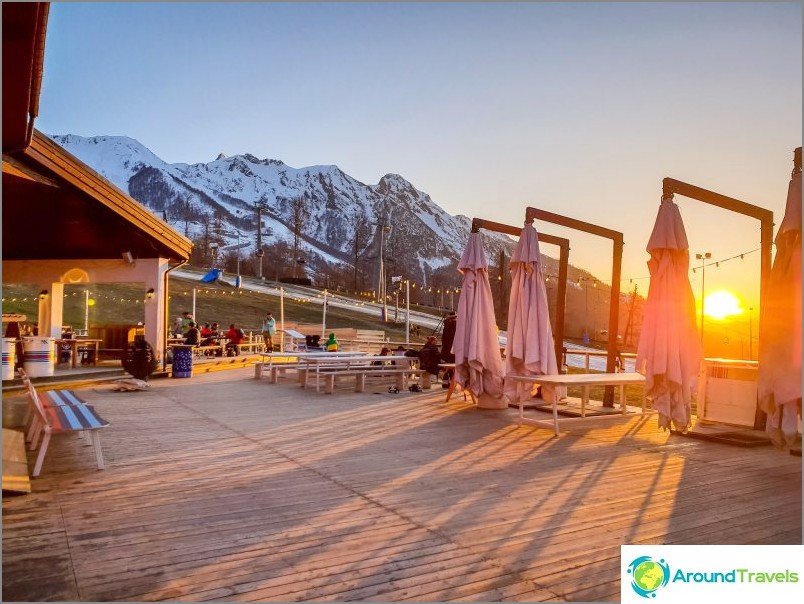 Alaska bar & grill
Alaska is a kind of heating, recreation and regrouping point. Unlike many establishments in the mountains, it is not at the end of the last route where people gather for après-ski, but in the mountains between the lifts. Young people are crowded here, who are not going to leave the mountains until the evening and they need to refresh themselves here and now. People here change constantly, come, noisily exchange news, laugh, eat and disappear outside the door. Quite a small menu, and there are special features when ordering. More about the institution - Alaska bar & grill - Ride? Sit down eat.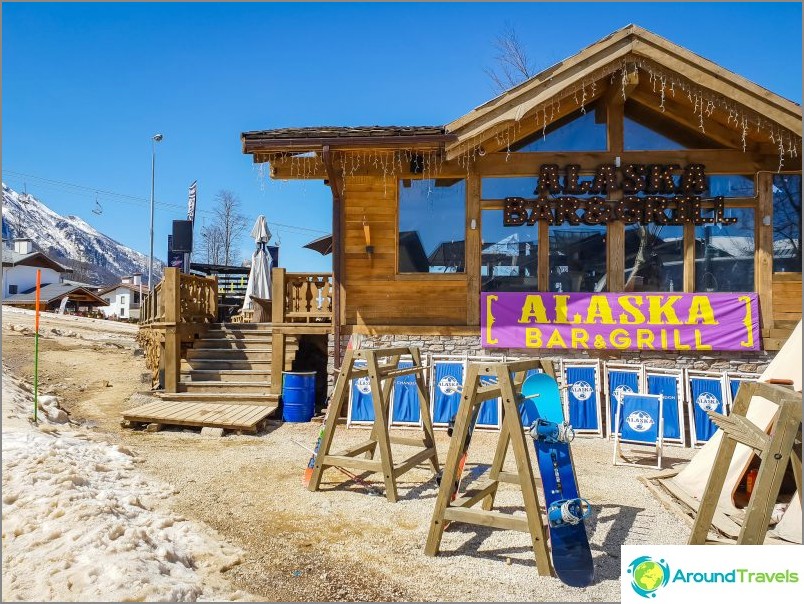 Balagan restaurant
Balagan is a former tent city in which cooks and people pretending to be based were based. Hot tea and coffee were poured, fed with pancakes, and now the tents have been upgraded to a capital structure, but the concept remains the same - a communal apartment. Common tables and benches, a feeder, a small menu, average lousy quality and prices. A usual staging post in the mountains to go in, eat and run away to ride further. More about the institution - Balagan Restaurant - from tents to restaurants.
Cafe Paul Bakery
An unexpected disappointment. I came here several times in search of a convenient place to work. And he found, but every attempt to order food and drinks - led to collapse. It's not tasty. It's not tasty. It's not tasty. Thanks to them for the pleasant interior, half-empty room and good stable internet, but. The service leaves much to be desired, as does the chef of the establishment, if it exists there at all as a staff unit. More about the institution - Coffee shop Paul Bakery in Rosa Khutor - so-so, but good internet.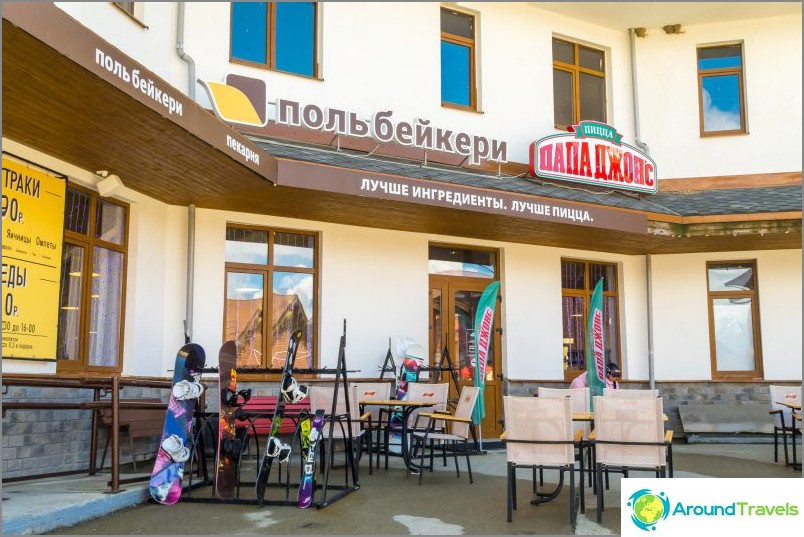 Surf Coffee Cafe
A lot of show-off from nothing. These are the buzzwords from the arsenal of vegans and metrosexuals, the network scale and high-quality soft-boiled design are smashed by the unprofessionalism of the employees, trashy music and unrealistically long service during not the busiest period of the day. I stopped by a couple of times to verify my conclusions, after that I moved to Grusha. Surf Coffee is a hangout place for young people, noisy, loud, chaotic - that's where they get high. More about the institution - Surf Coffee - coffee and noise in Rosa Khutor.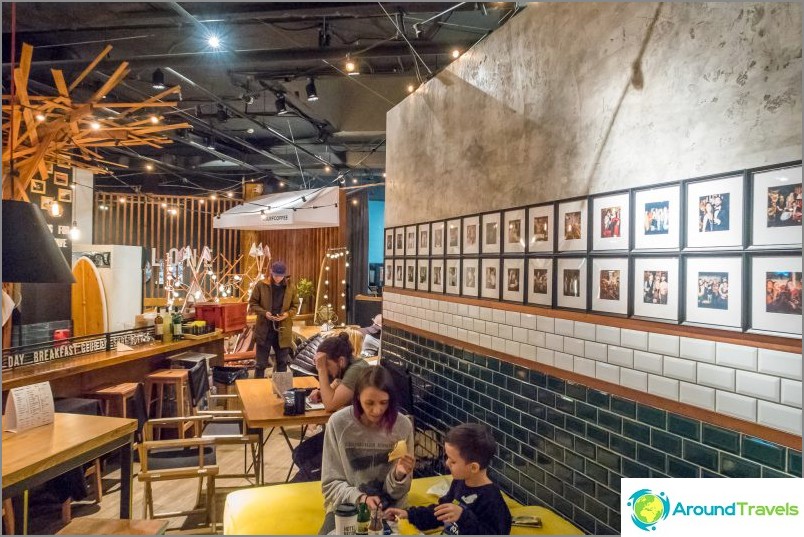 Berloga buffet and bar
An après ski establishment, that is, it is good to come here after you have finished riding. No need to trudge home, take off your equipment and get into the shower with a hungry stomach. He threw off the board at the porch - and that's it, start ordering food, no one will look askance at you - everyone is like that. A place to hang out after a tiring day, for large companies or family vacations. There is also a mountain equipment rental service. More about the institution - Berloga buffet and bar - après ski in the Olympic Village.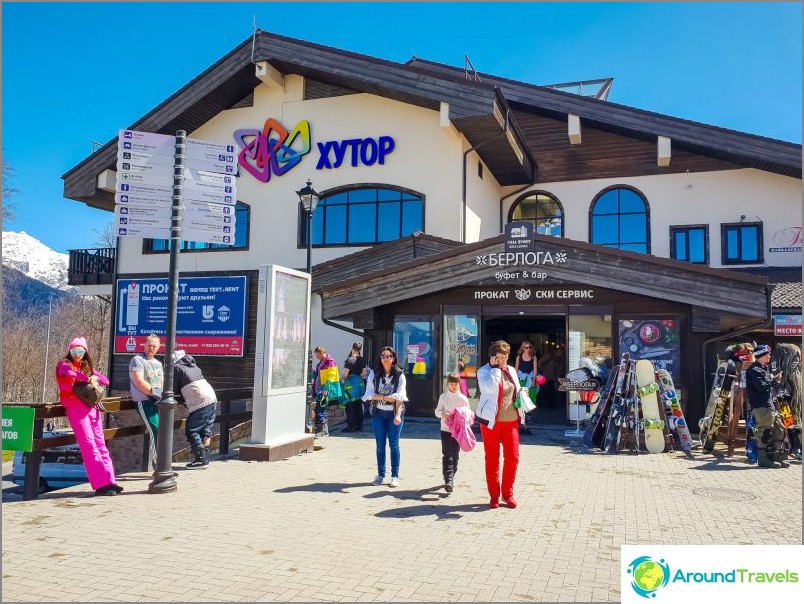 On the map
Cafes and restaurants in Sochi
Snake Cafe:
Bulki Coffee Shop in the Mountains:
Pizzeria Sicily:
Skullcap Cafe:
Restaurant Tavern Trikoni:
Cafe Parus:
Coffee shop My Coffee:
Cafe Del Mar in Sochi:
Paul Bakery:
Pizzeria Milano:
Surf Coffee:
Cafe Guests:
Stock Mustard:
Cafe Em and Em:
Dining room Let's eat:
Restaurant Height 2320:
Pear Cafe:
Alaska Cafe:
Berloga Cafe:
Balagan Cafe:
Khmeli Suneli Restaurant (Adler):
Restaurant Trattoria, Gorki Gorod:
Top Cafe 2200:
Dining room Sat down ate:
CORKs:
Fettuccine Restaurant:
GastroKub:
Pizza Fisht: