I have long wanted to change a simple Lowepro bag for a photo backpack, since nothing could fit into it, and she began to pull her shoulder so much that you would not want to take the camera with you. But since I'm not used to quickly changing things one to another, I waited for this bag to fall apart. And, by the way, I didn't have to wait long, she served only a year and a half, and that's why they are so praised. But it's not about the bag 🙂
I bought myself a Kata 3N1-33 camera and laptop backpack last fall. I chose for a long time, looked, went to the shops, I even thought about making it myself from an ordinary backpack, but I came across this Kata, which I do not regret. Although I can't say that he met my expectations 100%.
The content of the article
FAQ for Beginner Photographers
one. Which camera to choose for a novice photographer
2. What lens is needed for what and what to choose
3. Basic Digital Camera Settings
4. How to take travel photography
five. How to process photos in Lightroom and how to store them
6. Example of a photo bag and a photo backpack for the traveler
7. How to photograph the starry sky
0. What I photograph when traveling
What photo backpack was needed
And the task was this - to find a compact photo backpack, which will fit a laptop, a carcass, two lenses, all sorts of chargers and additional batteries, and there will also be a compartment for a bottle of water and some other things. Yes, and most importantly, the camera can be quickly reached. We needed such a universal option so that a photo bag, a city backpack, a backpack for small trips in a warm climate would not be required (we were going to leave for Thailand for several years).
It seems like a simple task, but I have been looking for a long time. Either the backpack is too big, but I need it so that it can also fit into a hiking backpack (after all, I won't carry a 70 liter backpack on my shoulders, and a photo backpack in my hands), then everything I need does not fit inside, although the photo backpack is bulky outside (I bought one of these, but then handed it over), then the camera is difficult to get. I went to different shops and looked. I also studied Aliexpress, there are a lot of replicas and other photo backpacks at prices several times lower than we have here in Moscow in stores.
Looking ahead, I will say that in the end I sold the purchased photo backpack and switched back to photo bags and city backpacks, after all, it's much more convenient and versatile for me, because I'm not a wedding man and I don't need so much photo equipment with me.
Life hack - when shopping on Aliexpress, you can get cashback up to 11% through the EPN service (they have a plug-in for the browser, an application for the phone). I wrote everything in great detail in my instructions, what it is and how to use it. Well, and Ali, you already know why you need it, there is a bunch of everything inexpensive for photographers.
Backpack for camera and laptop
Review of the backpack Kata 3N1-33
As it seems to me, I eventually found what I needed. And although we are not going to Tai for a long time now and this functionality is no longer needed, the Kata 3N1-33 backpack will still come in handy for short trips, when you take only photographic equipment and the very minimum of things with you.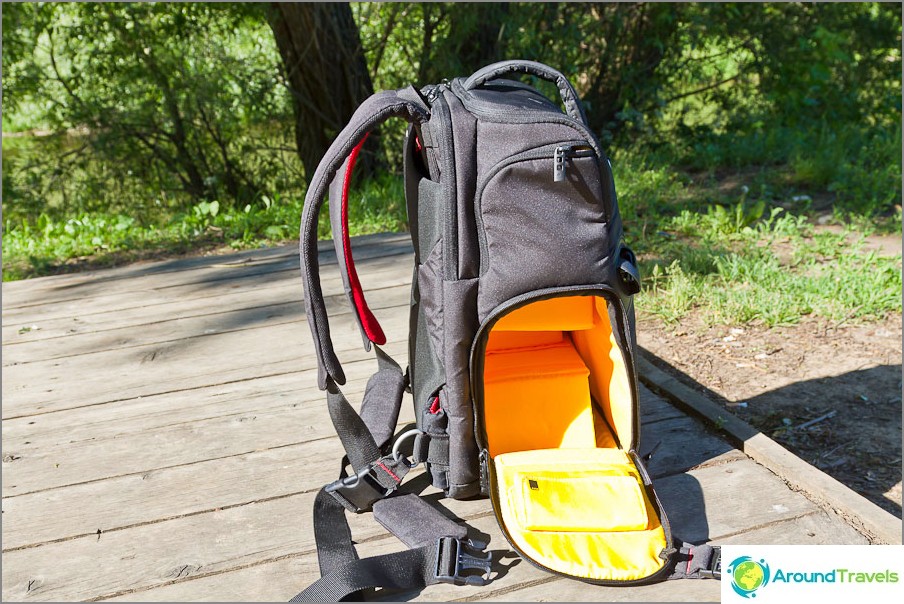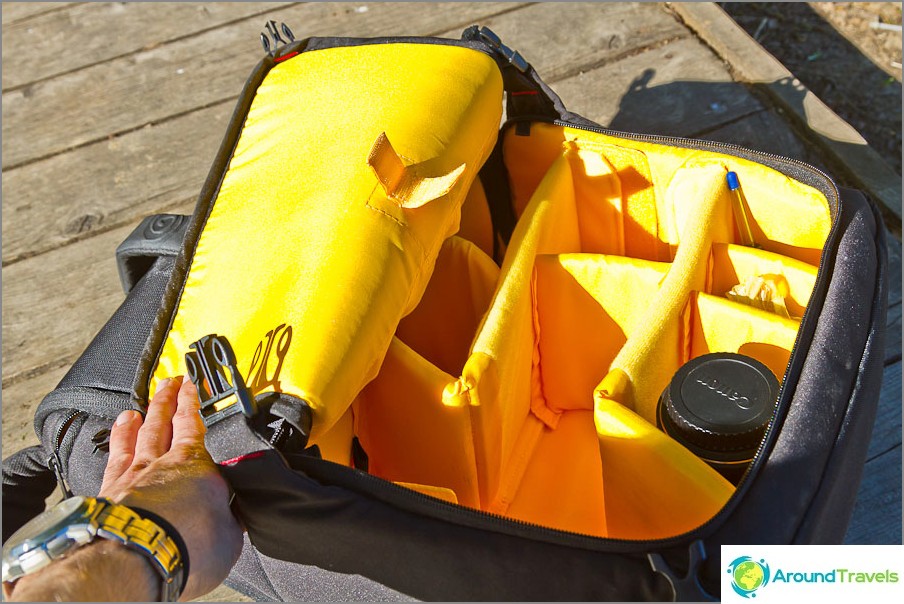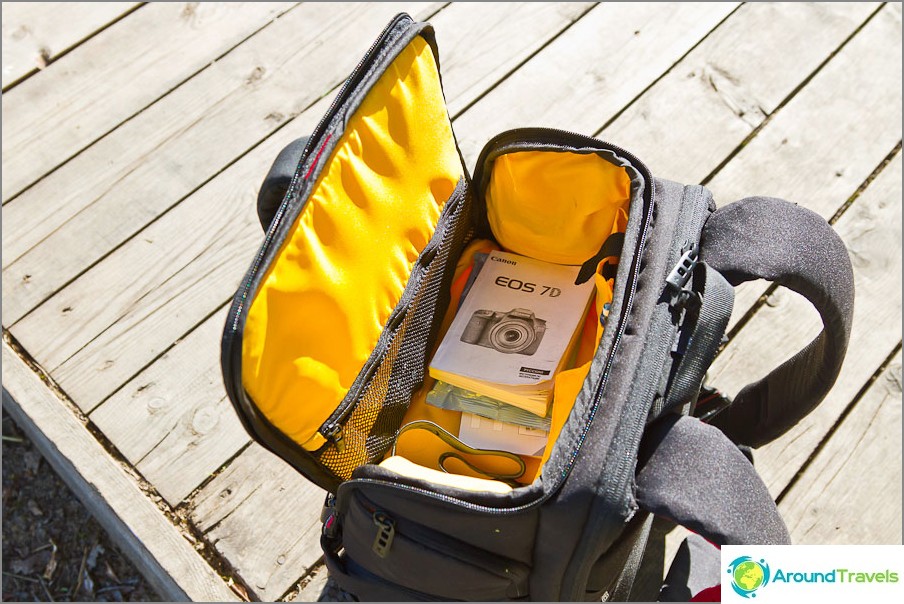 pros
+ The most important thing is the wearing system: like a regular backpack, the straps are crossed, a sling for the right shoulder, a sling for the left shoulder. There is a waist belt that stows inward when not needed. Shoulder straps can be removed too.
+ Everything is done very high quality: zippers, carabiners, Velcro, etc..
+ A lot of photographic equipment really fits. The partitions move, and a carcass with a screwed-on lens will quietly enter there (it's not a small 24-105 for me) and 4 additional lenses of a regular size will calmly.
+ A laptop of 13 inches fits with charging, or 15 inches without charging.
+ The camera really quickly gets out due to the ability to carry a backpack like a sling, and side access (from both sides).
+ Enough small pockets.
+ There is a rain cover or in Russian raincoat.
+ Fits into our hiking backpacks (Tatonka Isis 60 and Deuter Aircontact PRO 65 + 15)
Minuses
- Say what you don't say, and no matter how comfortable the carrying system is, the fastest access to the camera is when it hangs around my neck, which usually happens when I am photo-hunting. In general, although there is convenient access from the side, it is terribly annoying to climb there a hundred times to change the lens. Easier, buy a separate lens case and hang it on your belt.
- Fully loaded, it is very heavy. In principle, it is understandable, the technique is not a fluff, but you can have a photo backpack itself, it was easier to do (it weighs 2 kg).
- Still, not so much fits into the compartment for things as we would like: a bottle of water, but a windbreaker. In fairness, I want to note that if there are only a couple of lenses (like mine), then below, where the photographic equipment is located, there remains a place, and you can put something there too, removing the partitions (I put pies and spare socks when in Kharkov went :))
- No tripod mount.
- I already wrote in the pros, but this can also be attributed to the minuses - he fits into hiking backpacks, but with great difficulty.
- High price. Too pulled up, well, it does not cost so much.
Video review Kata 3N1-33