Slightly shabby, not the largest zoo in Thailand, the main task of which is to distract your children from yourself for a couple of hours. Adults are unlikely to like it here, although when planning a trip, I sometimes met positive reviews from tourists. The Phuket Zoo is a very local establishment, no frills. They contain a compact set of animals and birds, some of which are trained in all sorts of tricks, and from these tricks (often not the most exciting) the administration forms various shows. In general, they earn as much as they can, and if you have already been to such establishments, then do not go - nothing special. And if you haven't, or you urgently need to let off some steam, the guys are here.
The content of the article
Phuket Zoo
I myself went to the zoo with the worst expectations, because the reviews about it are mostly negative. And the animals here, supposedly, feel bad, and the building here is old, tired, and the shows are dull, well, and a number of other criticisms of the sights. However, in reality, everything turned out to be not so bad. In my opinion, Phuket Zoo is quite an attraction, it just depends on what to compare it with. If you have previously visited zoos like Khao Keo near Pattaya or Dusit Zoo in Bangkok, then you will not be interested here. But if you have not been to large Thai zoos yet, then in principle «just once» it is quite possible to come here with a child, you have to go somewhere for the animals.
The zoo in Phuket is located on a medium-sized territory, which can be walked around in about twenty minutes, if you just walk along the cages. Well, or you will spend about an hour if you decide to feed all the animals in turn. There are many bird cages inside the zoo. I don't remember their names, but there are so many cells that I wouldn't be able to remember even if I wanted to..
There is also a separate Bird Park - a huge net with a path inside and a single space has been created there for birds that are at arm's length from you, and if you want, you can get closer - they are not shy at all. Among the animals are: crocodiles, a pair of bears, tigers, two types of deer, monkeys, small types of lemurs, sheep, horses, elephants.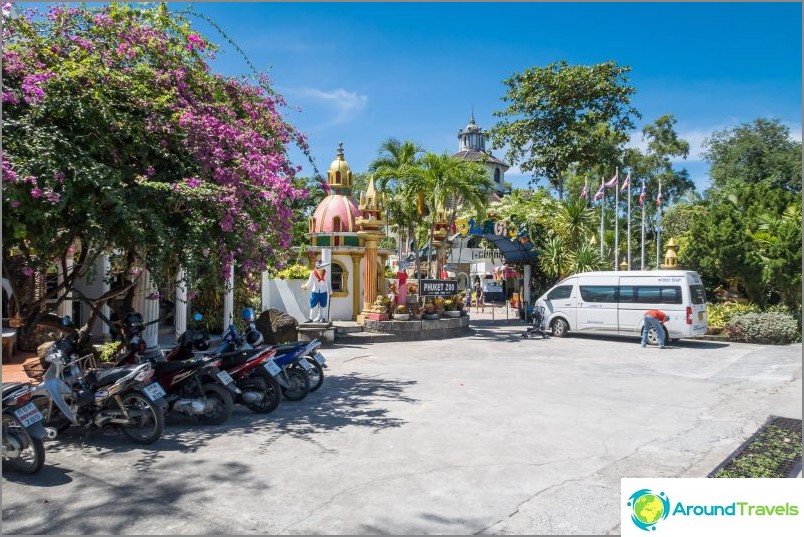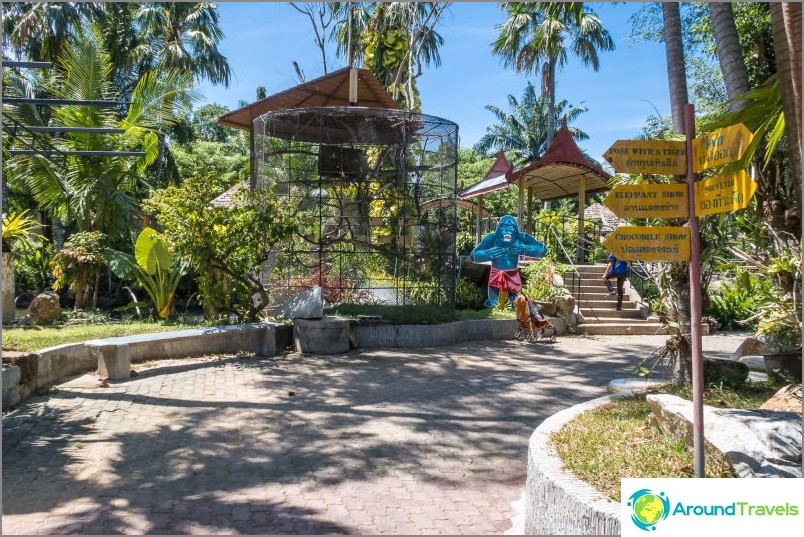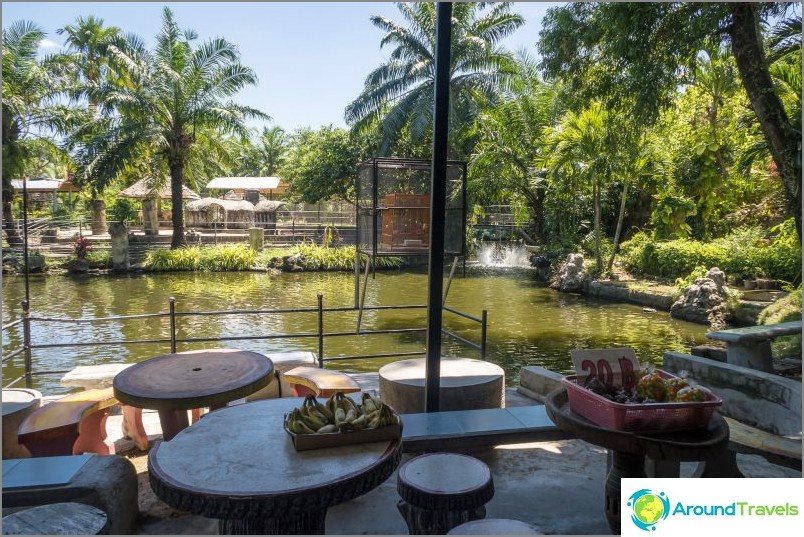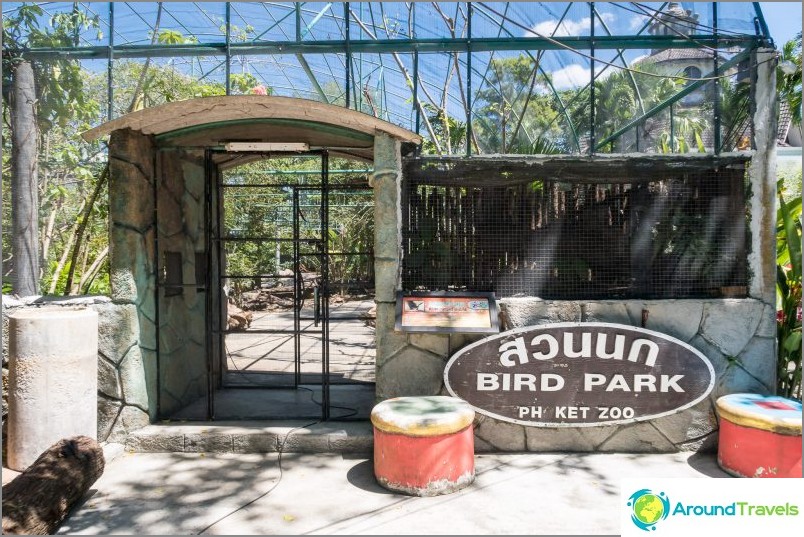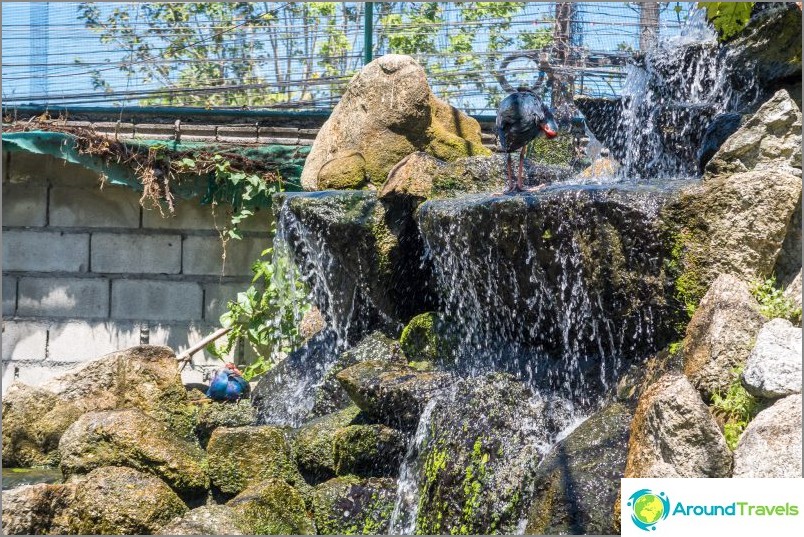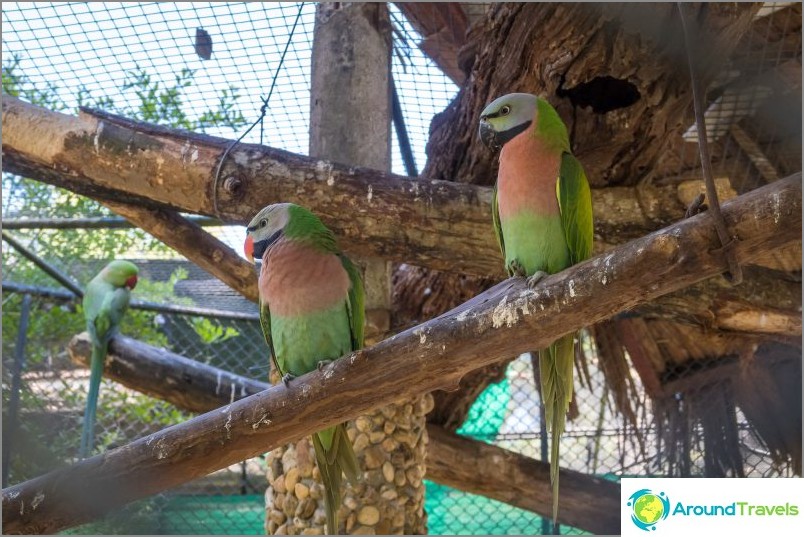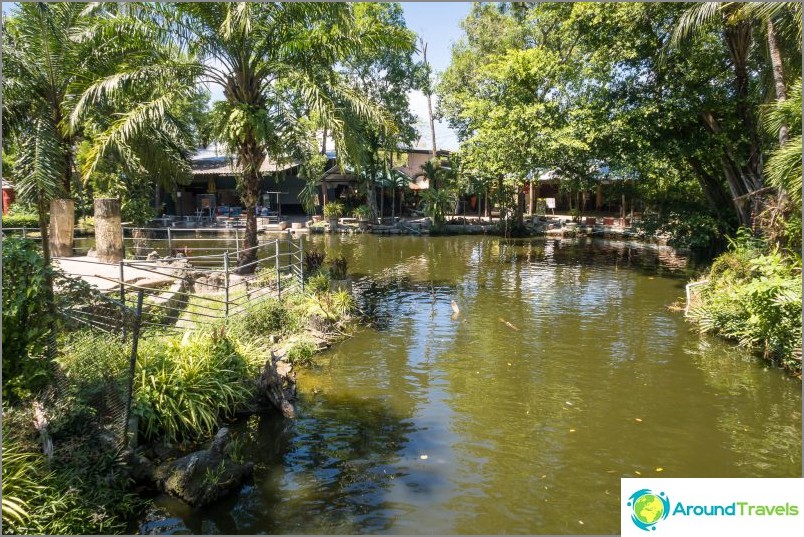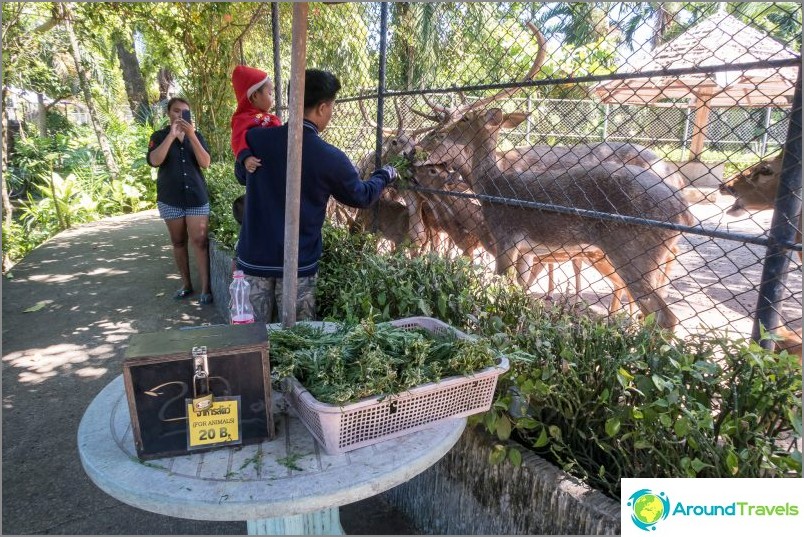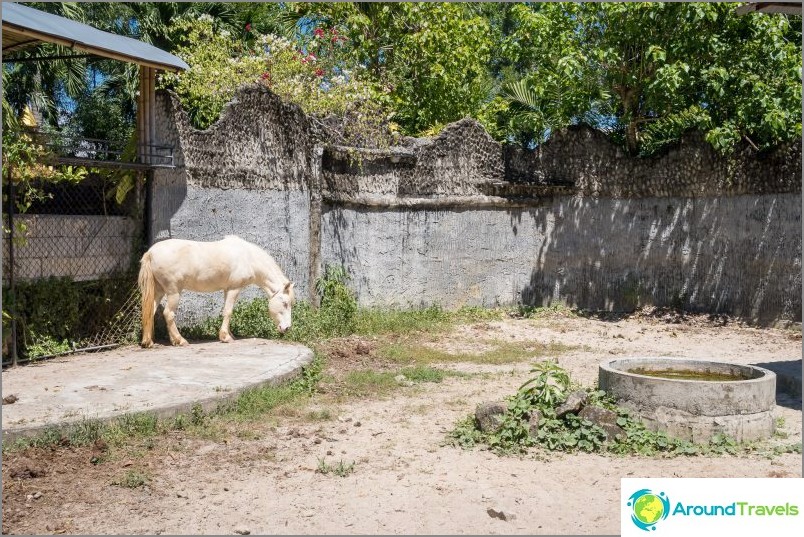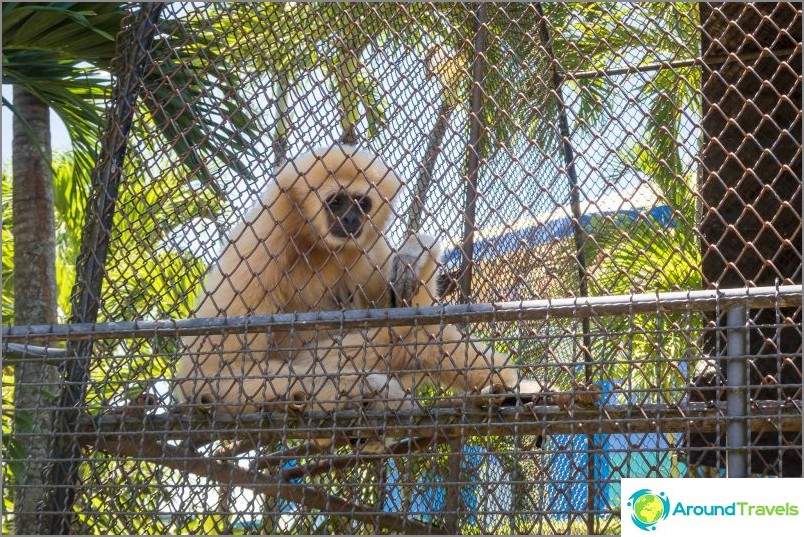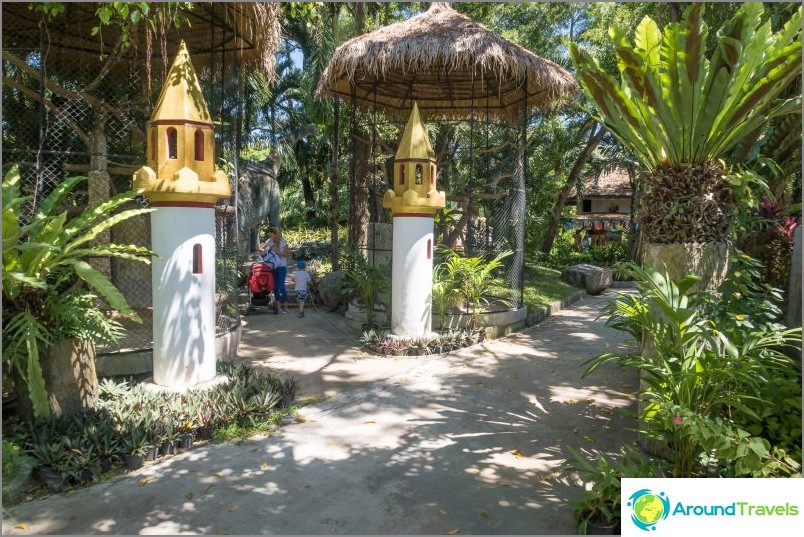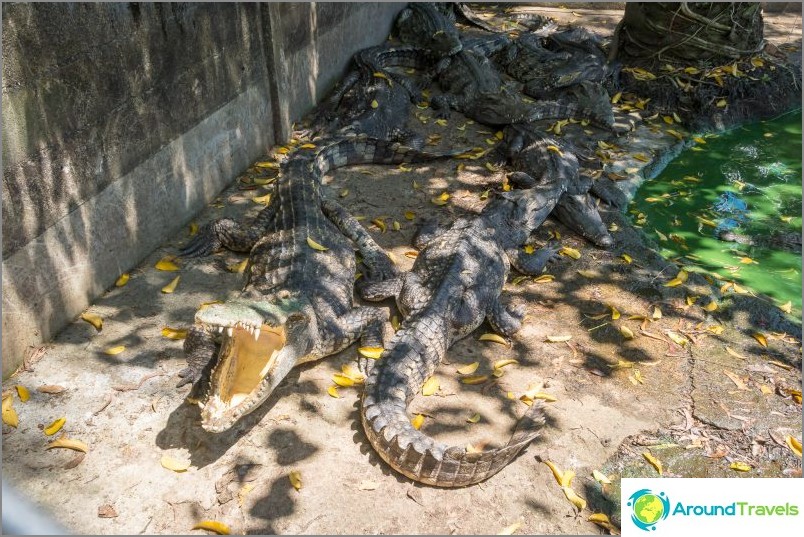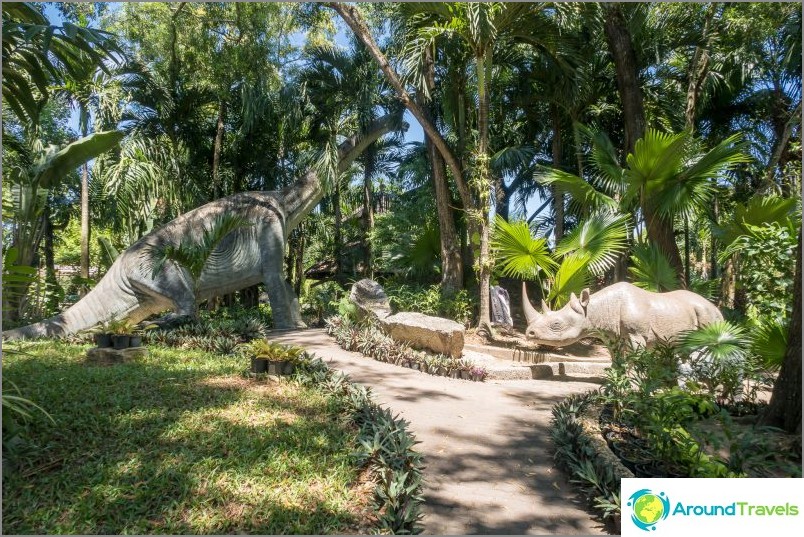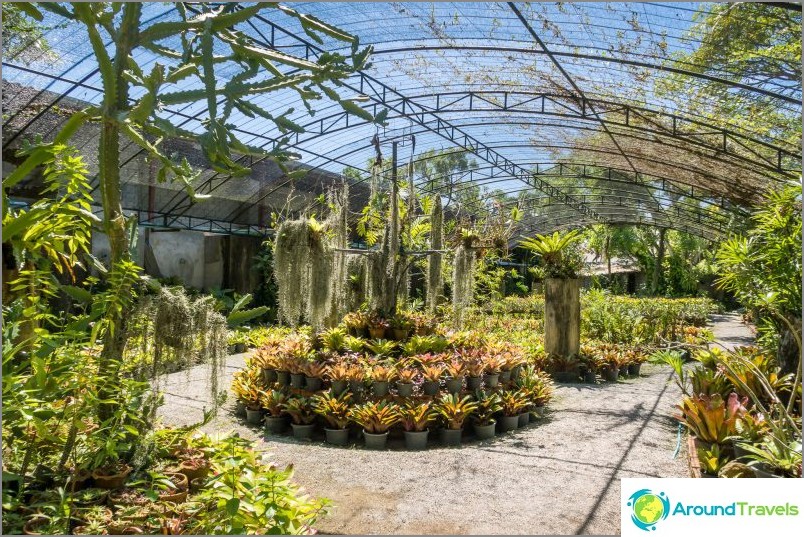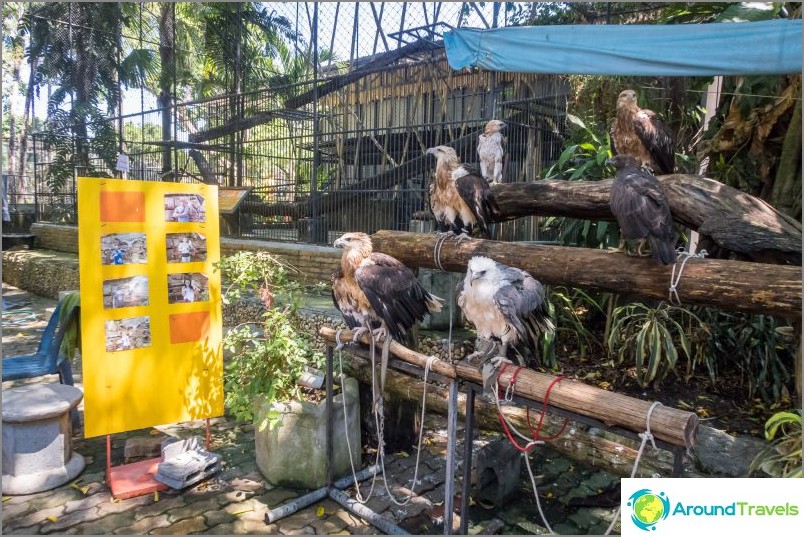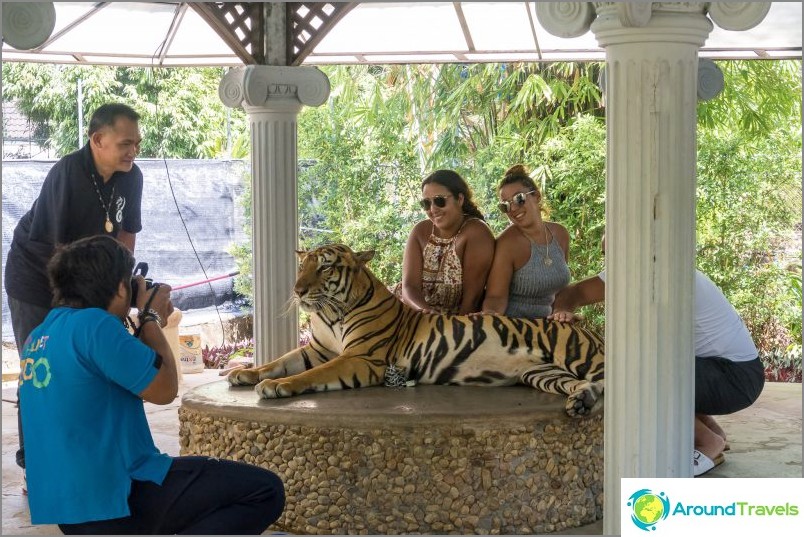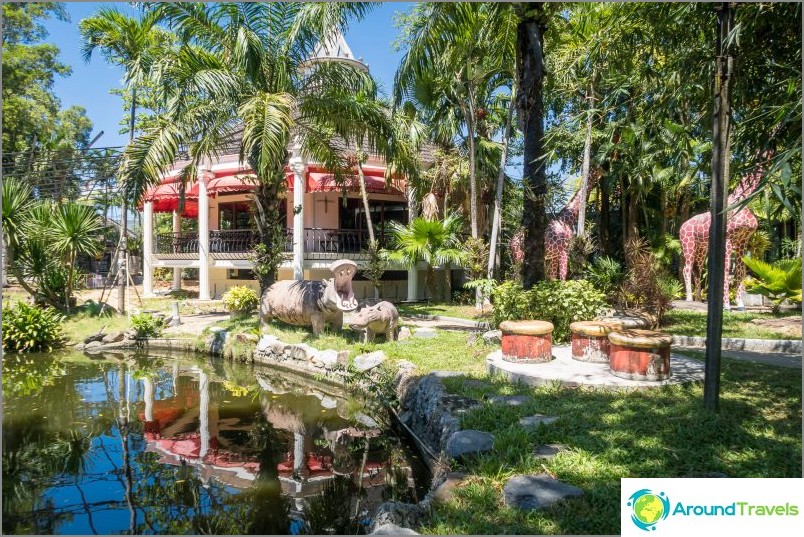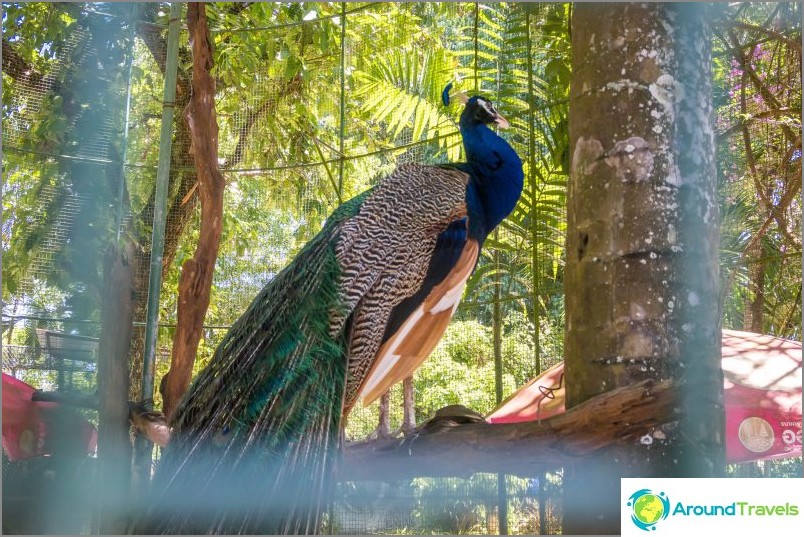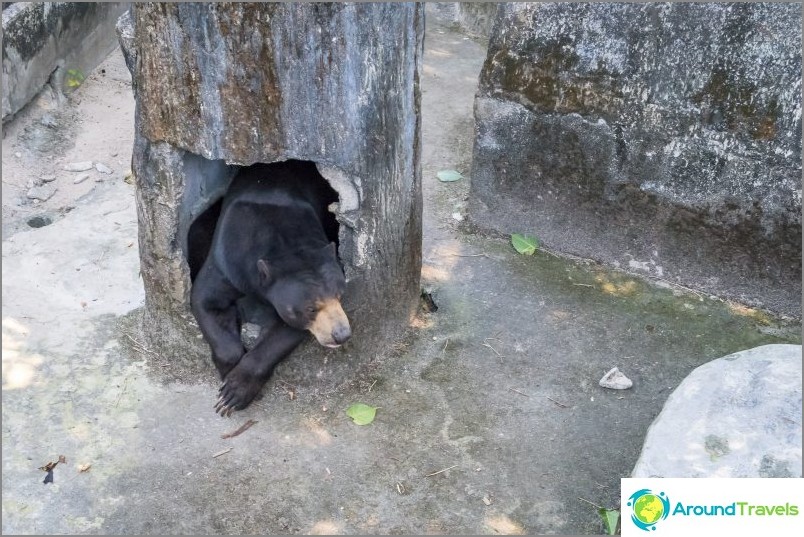 3 shows at the zoo
In total, three animal shows are shown at the Phuket Zoo: with monkeys, with crocodiles, and with elephants. The performances are held one after the other, with a break of fifteen minutes, and in general, each show is held three times a day. So, in order to optimize your vacation time, it makes sense for you to come to the beginning of the first show and watch them all at once. And then walk around the zoo, which in total will give you an extra two hours to visit. The territory is green, pleasant, paths, ponds, flower beds, animal figures for a photo for memory, in short - a pleasant walk.
What can I tell you about the show ... That's all «in thai», exotic, boring, nothing special, but kids usually like it. The weakest, as it seemed to me, is the show with monkeys. Monkeys just walk around with signs and perform primitively simple tricks, such as riding a bicycle with an umbrella, such a plan. With crocodiles, it is a little more interesting, but also - the action is stereotyped, it looks like all the same shows, with the standard pulling by the tail and sticking the head into the mouth. They will take money from you, for example, and roll it into a tube and put it in the mouth of a crocodile. At the same time, the demonstrated shamanism is even commented on for the audience into the microphone, but in Thai, so for foreigners the secret of the disappearance of their money remains a secret..
The show with elephants is perhaps the most interesting of all, probably because elephants are big, smart and funny. Elephants perform various tricks with balls and hoops, and at the climax of the performance walks carefully between tourists, without stepping on anyone's feet.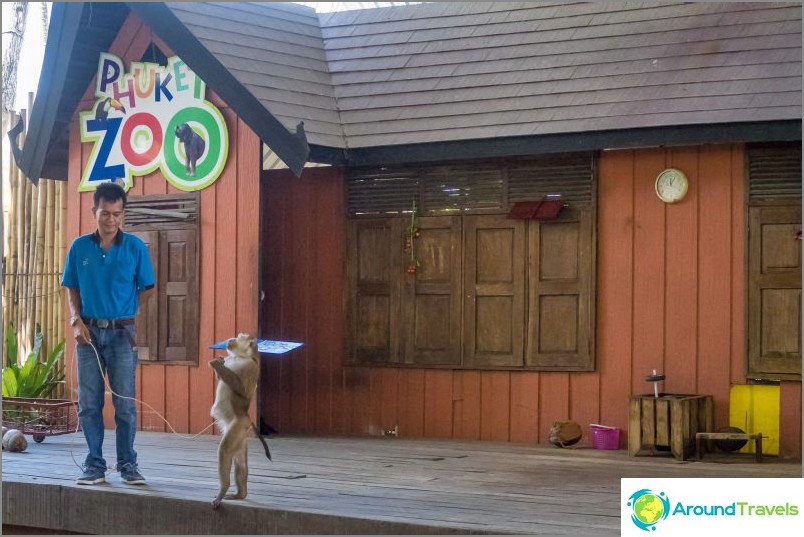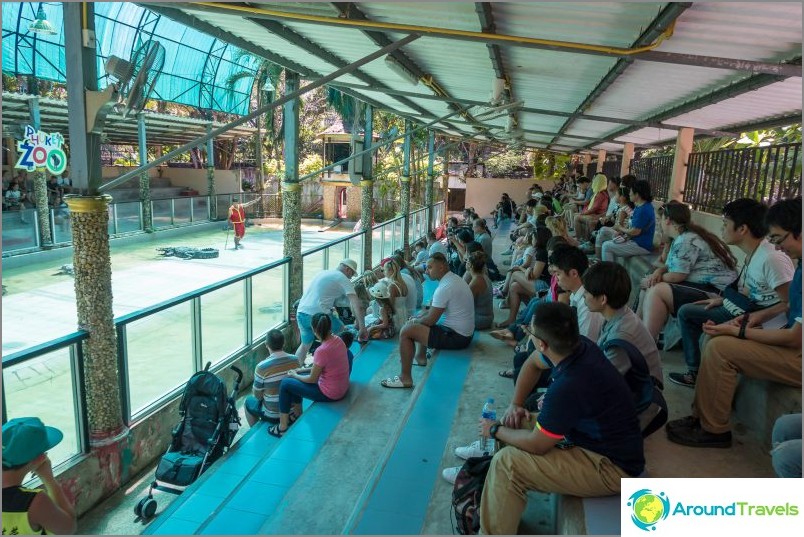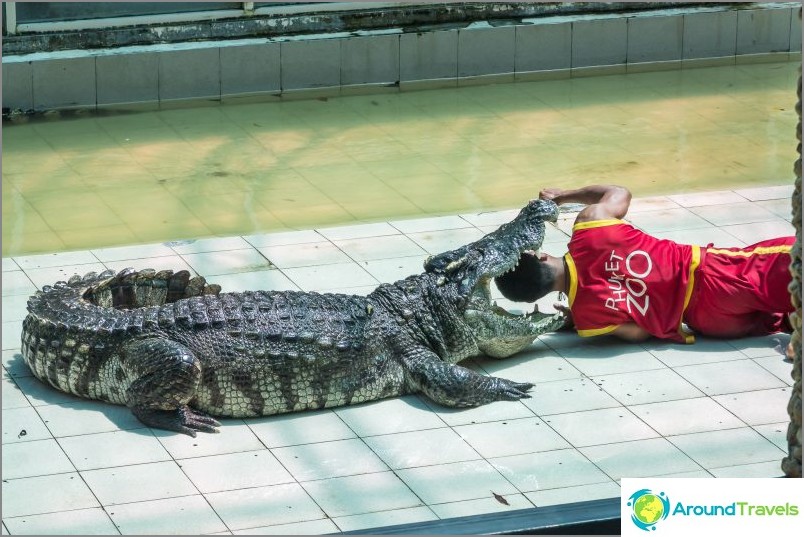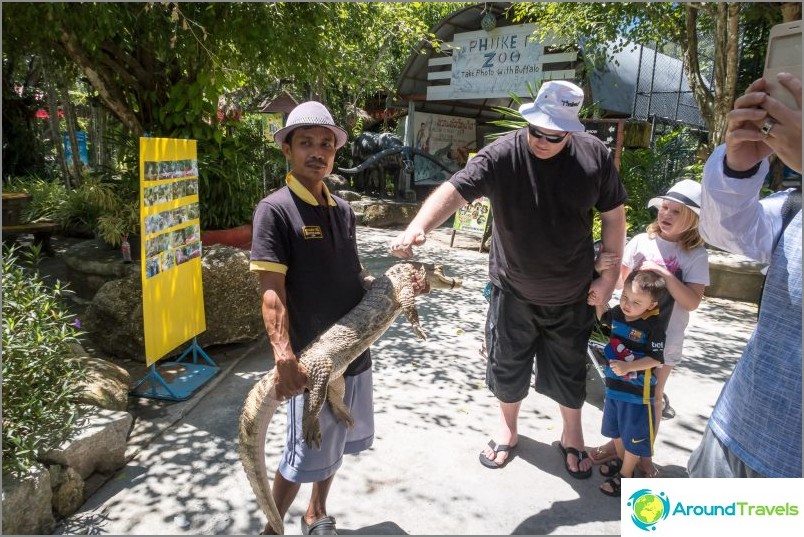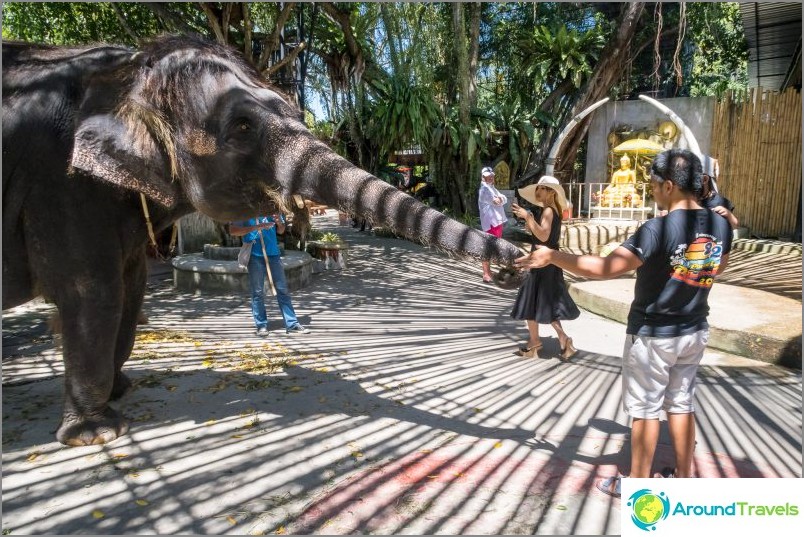 Oceanarium
There is also an oceanarium in the Phuket Zoo. Quite simple, but there are fish, turtles, all other living creatures. The aquarium has two floors and each has about 15 aquariums. Nothing much worse Phuket Aquarium, but you can see. Personally, I really liked the entrance to the aquarium - through the concrete jaws of a crocodile.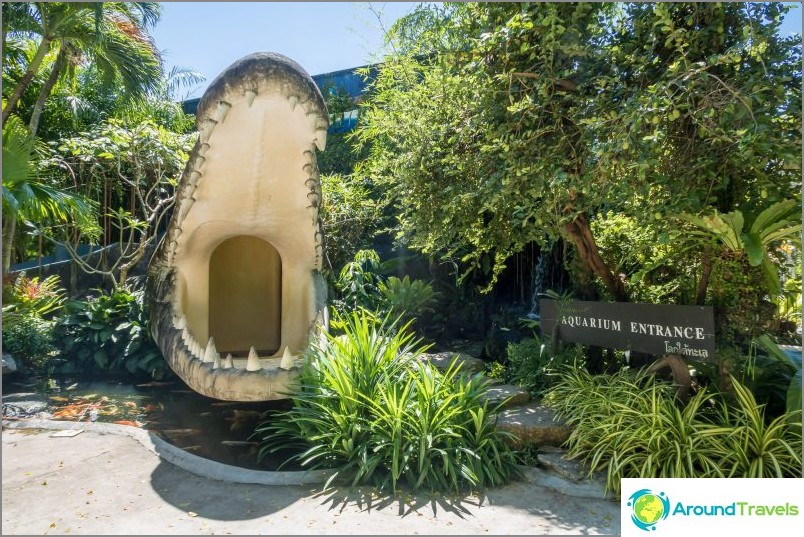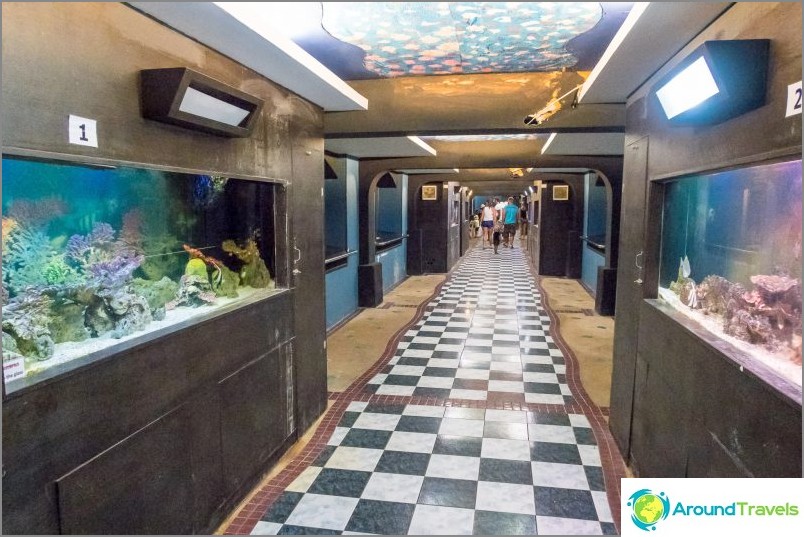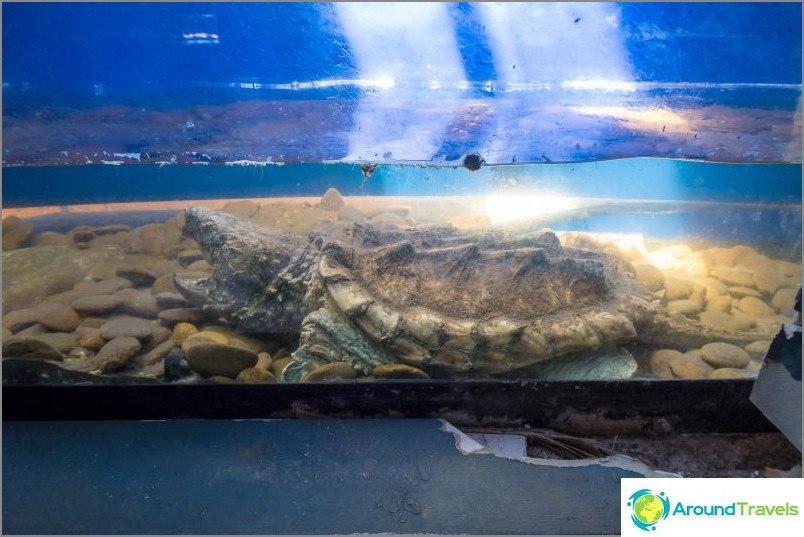 Information to visit
Opening hours: from 8:30 to 18, and the visiting time is better to match the show, otherwise there will be nothing to do there. It is hot at the Phuket Zoo during the day, and it is better to come to the first shows. There are not very many people in the season, there is no crowd. There is a separate dolphinarium nearby.
A ticket for an adult now costs 1,500 baht, for a child - 1,200 baht, which is a big deal for such a zoo. When I visited, the price was 2 times less and this is even less. Considering that it will still be necessary to take a taxi back and forth to the zoo, the price tag will be cosmic..
Excursion «Fauna of Phuket» >
In my opinion, it is better to take a guided tour «Fauna of Phuket» (or something similar) for less money than the entrance to this zoo and see at once: Dolphinarium, Bird Park, Crocodile Show and a very beautiful Bot Garden. A much richer program will come out and great for children.
If you do go to the zoo, do not rush to buy a ticket for your child, first measure his height using the ruler at the entrance. There is a chance to save money if the growth does not reach the centimeters taxed with bribes. With a stroller, you can walk around the zoo quite comfortably, but not along all the bridges, paths. Shows are included in the ticket price.
Prices for photos with animals (tiger, eagle, parrot, elephants) - 300 baht. Feed the animal - 20 baht. If the price were a little lower, then the zoo would have more good reviews. Because by the standards of Phuket, the price is normal, but in comparison with other zoos, the price tag is clearly too high..
There are stairs from the bridges over the pond, but these bridges are not necessary to walk if you are with a stroller. By the way, there is a Thai cafe (Food Court) on the territory, but because of the smell of animals I did not eat there..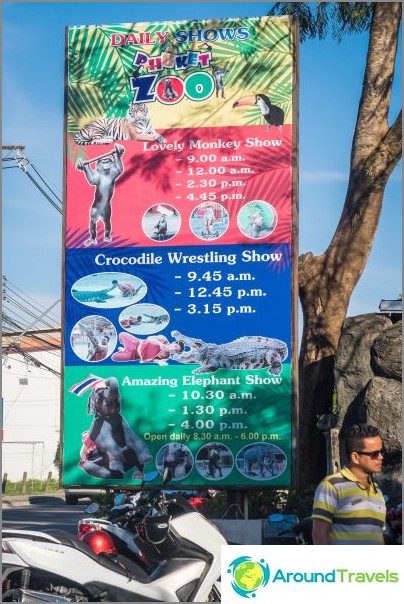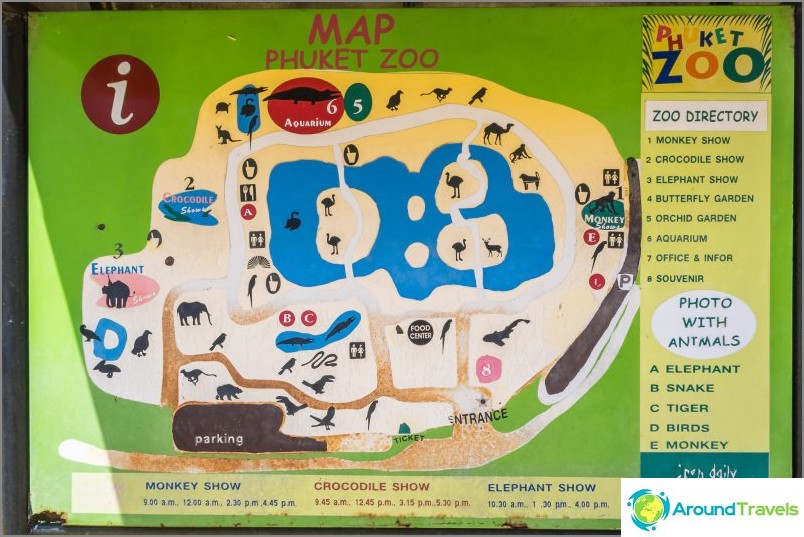 On the map and how to get there
Located near Phuket Town, between Chalong Beach and the town. If you live in the south of the island, then with Kata and Karona drive for about 20 minutes, if without traffic jams, with Patong longer.
The easiest way is to ride a rented vehicle or take an excursion for the sake of a transfer, which will come out the same as if you go yourself. If you get by public transport, you will hesitate.
Zoo (Phuket zoo)
Zoo (Phuket zoo)
Went here with the worst expectations, because the reviews prevail about him are bad, but everything turned out to be really not so bad. For the sake of children, you can go once.
More about the zoo.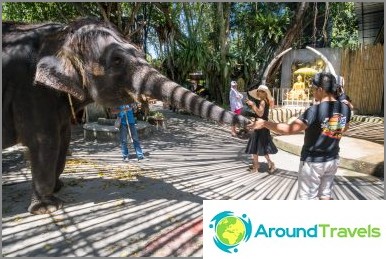 Went here with the worst expectations, because the reviews prevail about him are bad, but everything turned out to be really not so bad. For the sake of children, you can go once more..