Phi Phi Islands are two relatively large islands in the water area of ​​Krabi province, which are located an hour by boat from Phuket, and about the same distance from Krabi town. The main advantage of Phi Phi is the virgin (already in the past) jungle, pedestrian islands and bounty beaches, one of which thundered all over the world in the film «Beach» starring DiCaprio. For a long-term stay, the islands are quite suitable without reservations, but this is a vacation for an amateur and, in my opinion, Pi-Pi should be considered as an option for an excellent excursion for a couple of days.
The content of the article
Preparing for the trip
Description of the resort and why go to Phi Phi
The islands of Phi Phi Don and Phi Phi Le are the only more or less large land areas in this part of the Andaman Sea. Phi Phi Don is undoubtedly inhabited, but Phi Phi Le is considered a national park of Mu Koh Phi Phi National Park and visiting hours are set here to give nature time to recover from the influx of tourists. But, in fact, there have long been built, if not capital, but buildings: a cafe, bungalows and a couple of utility huts. Plus a tent camp. That is, you can easily stay here for a long time, though it will not be the most comfortable and far from budget location..
The Phi Phi Islands delight with a large number of beaches. All this is due to their cunning geography and puzzle-like coastline, where beaches of varying degrees of charm hide in each bay. Pee Pee is, in principle, a very picturesque place, and the beaches here look great, even the smallest and stony ones. Incidentally, this is their main drawback - shallow water and a difficult bottom. Almost all beaches are completely bare at low tide and almost everywhere you need to know the places to enter the water, where there are no stones.
The Andaman Sea is considered more attractive by divers and snorkelers than the Gulf of Thailand on the other side of the mainland of the Kingdom of Thailand. There are more live corals, a richer underwater world and more interesting and safe diving sites. I wrote in more detail about the points for snorkeling in a separate article - Best Snorkeling in Thailand - TOP 10 Sites.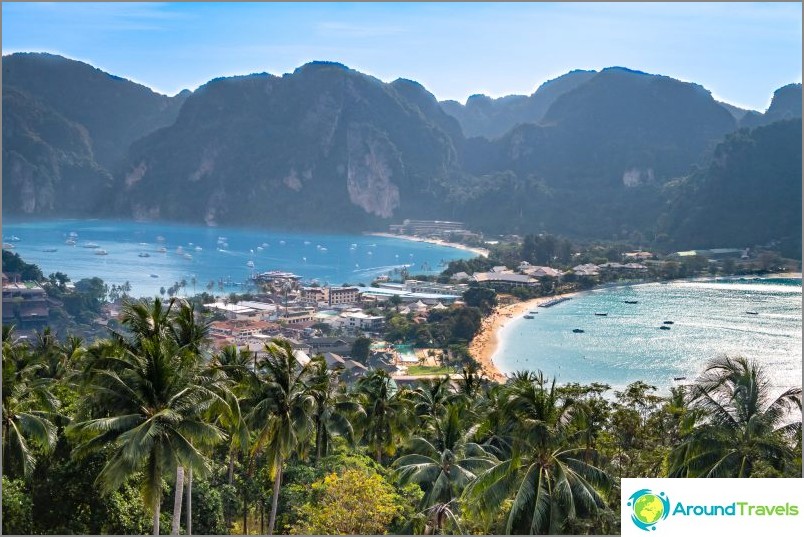 Which beach to choose
I usually look at beaches in terms of infrastructure and living comfort. Because usually only two main categories of tourists come to rest: vacationers and winterers. So I usually divided all the beaches into those where it's fun to come for a couple of weeks, and those that fit perfectly into the longstee framework..
However, in the case of Phi Phi, I doubt that there are many winterers living here - the island is suitable for longevity, but with a lot of reservations. I can't imagine wintering here with my family and a child. There are no hospitals, no large stores, no roads, the danger of a tsunami is present, everything is imported, which means it is more expensive than everywhere else. So on Phi Phi I will highlight completely different characteristics of the beaches, and they are all considered only in terms of short-term stays..
The most developed beaches are located on the central isthmus of Phi Phi Don near Phi Phi Town: Tonsai (near the pier) and Lo Dalam (party beach, so most of the bars). Here, on the isthmus, the entire infrastructure is concentrated: hotels, shops, cafes, restaurants, travel agencies. On the beaches there is a lot of free space on the sand, it is convenient to wander along the sea, but in terms of swimming, it is so-so (Lo Dalam is better).
A little further, on the edge of Phi Phi Town, is the left side of Tonsai. It's quieter there, fewer people, but it's only 10 minutes to get to the center of life. It is average for swimming, sometimes many boats are parked. If you go even further, about 15 minutes through the jungle, you will Long beach, probably the best in terms of a beach holiday from the nearest beaches to the village, and in order not to hesitate to walk through the jungle to the town, it is easier to swim in a taxi boat.
Overview of all beaches on Phi Phi>
And the most beautiful, in my opinion, are Lo Ba Kao, Well and Lam Tong. If you look at the neighboring Pi-Pi Le, then Maya Bay beach and satellite islands: Bambu Island (Koh Mai Pai) and Mosquito Island (Ko Young).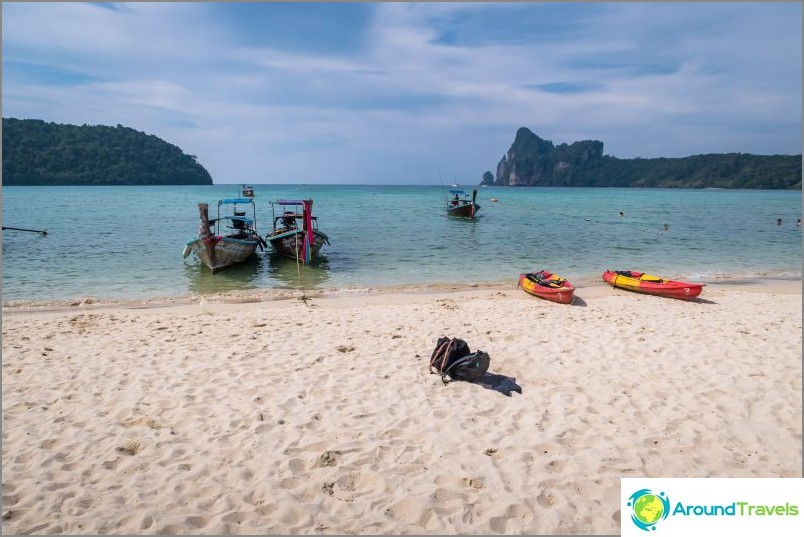 How to choose a hotel or house
As you can imagine, the size of the island does not allow local residents to be so chic as to build private houses for rent. Personally, I have not heard about such options and have not met on the network. Phi Phi Don is a small island with a shortage of flat space for building houses, but there are many proposals for hotels and resorts. So, speaking about the choice of accommodation on Pi-Phi, you have to think about the choice of the hotel and the beach. And here you have three main options as I see it.
If it is important for you to be in the thick of things, you have come to hang out, actively move around the district and the water area, eat, drink in new places and are generally used to comfortable living conditions, then choose a place for yourself on the isthmus. That is, one of the two main beaches: Tonsai and Lo Dalam. In addition to luxury hotels, there are plenty of cheap hotels and guesthouses here. If the task is to save money, then only here it is worth looking.
Living close to the center of tourism and trade, while remaining at a comfortable distance from the crowd, noise and hectic youth - this is the left side of Tonsai, Ao Hin Khom beaches and adjacent to them Long Beach. These beaches are located on the outskirts of civilization, but at the same time from here you can walk to Pee-Pee Town, do your own business there, and after their completion, you can again find yourself in a pleasant wilderness and desolation. Listed in order of distance. Hotels are more expensive here.
Well, a complete separation from the main parties of the island, surrendering to the care of the hotel administration, which will provide you with everything you need on vacation - this is the far end of Phi Phi Don: Lo Bo Kao and Lam Tong. Casual tourists no longer get here, without a boat from Tonsai you can only get to this region on foot through the mountains, and this activity is not for the lazy. Minimum infrastructure, maximum relaxation. As far as I know, it is Lo Bo Kao chosen by those who are going to spend more than a week on Phi Phi. A place for centenarians, if I may say so.
How to get to Phi Phi
The Phi Phi Islands can be reached from any major settlement on the west coast of Thailand, from Phuket to Satun. But the main two starting points are still considered: Phuket and Krabi. There is also Koh Lanta, but everything is simple there: the only pier on the island, three hours by ferry for 400 baht one way. That is, first you need to fly to Phuket or Krabi, and there are airports..
Phuket Island is located north of Phi Phi, 2 hours by ferry. The cost of crossing from Rassada pier in Phuket varies from 350 baht on a regular wooden slow boat, to 1500 baht on a speedboat. The most profitable option for a trip to Phi Phi is as part of the excursion, surprisingly. It turns out to be much more profitable than planning an independent trip..
Krabi is located a little closer to Phuket, but it also has its own nuances. On Phi Phi, you can sail both from the city and from the resort area near the village of Ao Nang. In principle, it does not differ much in price and time of the crossing: from Ao Nang 1 hour 45 minutes and 450 baht one way, and from Krabi town 1 hour 30 minutes and 350 baht. I have a more detailed breakdown of all options in a separate article - How to get to Phi Phi from Phuket and Krabi.
Phi Phi climate and weather
The best month to visit the Phi Phi Islands was February. I say «was considered» because lately, expatriate residents in Thailand have noticed weather patterns that are not typical for a particular season. The monsoons seem to have shifted, and the earlier dry months are getting rainier and vice versa. So the facts below are information compiled from observations of nature in the past. And how it will be during your arrival - only Buddha knows.
Phuket and Phi Phi are located relatively close to each other, so in general the weather here is very similar, as is the average temperature of the water / air per year. The only difference is in the precipitation schedule. From May to December, there is an increase in the intensity of rainfall and the amount of water falling out. January, February and March are relatively dry and very sunny, they are considered the most suitable for visiting the islands.
You will find more details about the weather in Thailand in this article - Thailand Monthly Weather and Water Temperature.
If you go to Maya Bay, where the beach movie was filmed, then be sure to read my post with tips The whole truth about Maya Bay.
Upon arrival at the resort
How to get to your hotel
On foot or by boat. Seriously. Of the two Phi Phi islands, only Don is inhabited and offers hotel reservations. For the entire Pi-Phi Don, there are only two piers capable of receiving more or less large ships: on the beach Tonsai (the main pier of the island) and on Laem Thong beach. If your hotel is located on one of these, then consider yourself lucky to avoid the additional cost of a boatman. All other beaches of Phi Phi Don Island can only be accessed by boat.
By the way, if the hotel is not entirely of the budget category, then at the Ton Sai pier you will be met by a hotel employee with a trolley on which he will carry your suitcase to the hotel reception. Comfortable!
If we are talking specifically about the delivery of you and your luggage to the resting place, then personally I do not consider options for walking along mountain dirt roads to the beach Lo Mo Di, For example. Yes, even on Viking Beach I would rather go by boat, for some 100-150 baht, than jump with suitcases along the crooked sidewalks of the embankment, which also ends long before the Viking Resort. In most cases, you just have to be prepared for the fact that with the first step on Pi-Pi Don, the usual benefits of civilization end for you. You sailed to paradise, and in paradise there is no taxi ride.
What to see from the sights
In my opinion, in the case of the Phi Phi Islands, you need to immediately understand one simple thing: they are the attraction. That is why caravans of boats and double-decker boats come here from Phuket, from Krabi and from the island of Ko Lanta. Pee-Pee Don can still somehow boast of a couple of viewpoints where people gather for the sunset or just come during the day. But otherwise, the main attractions of the entire area are the authentic nature of the islands..
The water area with amazingly beautiful landscapes, curly mountains with steep slopes, the islands themselves, like from the National Geographic channel. Their beaches of dazzling white sand. Maya Bay Beach, where the movie was filmed, round Bambu Island. Secluded lagoons with incredibly clear water. Well, do not forget the gorgeous underwater world, where you can dive with a high quality camera. Caves and grottoes, scattered in different parts of Phi Phi. There are no waterfalls, rivers and lakes (a couple of reservoirs on Pi-Phi Don do not count). Read separately from me about a tour of the islands of Phi Phi.
The authentic infrastructure of the small island can also be attributed here. Everything is close by, everything is close, low buildings, pedestrian paths, moving between beaches - only by boat. On the second day of your stay, you begin to recognize people, and people recognize you. This small, cozy world (which, by the way, not everyone likes) with its small houses and ropes thrown across the road (like a speed bump) is the second main attraction, after the fantastic sea views and nature of Ko Phi Phi.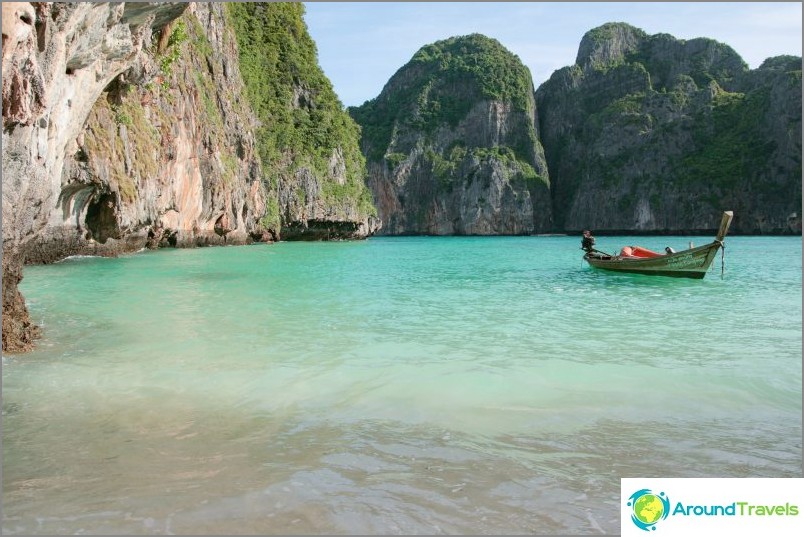 Where to eat, in which cafes
Restaurant Knock Out is a decent restaurant with a great bar. Shakes and cocktails - beyond praise.
Garlic 1992 - I've had dinner there myself a few times and left with a different experience each time, but people keep recommending it. Perhaps the reason is that they cook delicious Thai food with adaptation for farangs. This means that opinions are immediately divided into two camps - who likes it, and who «may pet - may aroi». I.e «not spicy - not tasty».
Efe Mediterranean Cuisine Restaurant - Turkish and Mediterranean restaurant with an original interior, huge portions and an excellent chef.
Monkey Bar Cafe - a local establishment built in a very beautiful place. One of those where you come to sit in peace and quiet. Uncrowded cafe with gorgeous sunrises.
Aroy Kaffeine - a cozy clean cafe with air conditioning and good wifi, pleasant staff (they speak English more than passable) and delicious food.
Cafe Carpe Diem - a small institution, with a nice design and a zen atmosphere - you can lie on the pillows with pleasant music.
Only Noodles - only noodles in dozens of variations. A great example of how you can eat delicious and inexpensive authentic Thai food.
Coffee a day - an air-conditioned room - an excellent shelter from the heat. There are places inside and outside. Place exclusively for coffee break - only drinks on the menu, and no food except desserts.
Dow Restaurant - they cook very tasty, but they only accept cash. All this is offset by portion size and price..
Thank you cafe - seemingly such a discreet institution, but in fact it turns out to be one of the best places on Phi Phi Don, where you can eat deliciously perfectly cooked seafood.
The Mango Garden is an original design in the style of its name. Great breakfasts, necks and serving sizes.
ACQUA Restaurant - A good choice for breakfast in Phi Phi Don. prepare surprisingly good coffee, stable internet, clean rooms, friendly staff.
Amp Cafe - a small cafe with Thai cuisine. Unpretentious interior, stands right on the shore Tonsai Bay by the sea. The staff doesn't speak English, maybe that's why there are so many Chinese here.
Anna's Restaurant - Nice atmospheric place with Thai food that is adapted to the tastes of the Farang people. Music, staff - perfectly matched. A lot of people, but this is the price of popularity and sometimes you have to wait until the table is empty.
Transport on site
In my memory, the Phi Phi Islands, and in particular Phi Phi Don, became the only inhabited island in Thailand, where the rental of equipment is not offered. The island is so small and compact that everything is within walking distance. And the remote areas and beaches of Phi Phi Don are located behind the mountains, along which there are dirt roads in some places, but they are used purely for the needs of local farmers or a delivery service. Often, cars here run along short sections of roads in the mountains, and work as elevators on wheels..
Local residents are also mostly pedestrians, with the exception of the lucky owners of bicycles and rare motorbikers. What is characteristic: with any appearance of wheeled vehicles with a motor, you can observe that they are used exclusively for practical purposes, and not as in other parts of Thailand, where they do not go to the toilet on a scooter. The main transport on the Phi Phi Islands is taxi boats. There are many boatmen here, their services are not more expensive than the average hospital.
Phi Phi on the map
Phi Phi Islands Map
Phi Phi Islands Map:
P.S. Ask questions, I will add if something is missing. And leave your feedback about the rest on Pee-Pee, how you liked it there or how you didn't like it 🙂